dfcu Bank to extend financial literacy program to Luwero District
Ride Cashless with SafeBoda! You can top up your SafeBoda credit through the app using either MTN or Airtel Money OR Come by the SafeBoda offices on Bukoto street between 10am to 4pm to directly pay cash for credit!Click here to download the app
Residents of Luwero are set to benefit from dfcu Bank's financial literacy program through the banks Savings & Investment Clubs and Women in Business (WIB) flagship programs.
This was announced today during the handover of 600 bags of cement valued at close to UGX 17 million (seventeen million) that will go towards the completion of the Luwero District Head-quarters construction. The event took place at the district headquarters.
Speaking at the handover ceremony, the dfcu Bank Head-Brand, Marketing & Communications, Jude Kansiime said the contribution to the completion of the district headquarters is a demonstration of the Bank's commitment to enhancing its relationship with the key stakeholders in the communities in which it operates.
"dfcu Bank holds the development of the communities in which it operates in high regard. We believe that nurturing the relationship with our key stakeholders is a key enabler to the realization of the present and future development goals that help our society make socio-economic advancements beneficial to all. " Kansiime said.
"Over the coming months, we will be offering financial literacy through our flagship dfcu Women in Business and dfcu Investment clubs programs. We believe that this is one of the ways we can sustainably contribute to community empowerment.
In April 2017 dfcu bank, through its Luwero branch, participated in the Sanitation day organized by the Luwero Town Council in addition to providing food supplies to the Moslem community in Kasana, Luwero during the holy month of Ramadhan as part of its sustainability and responsibility agenda.
(Visited 1 time, 1 visit today)
Buganda Katikkiro calls upon Ugandans to embrace the new K2 telecom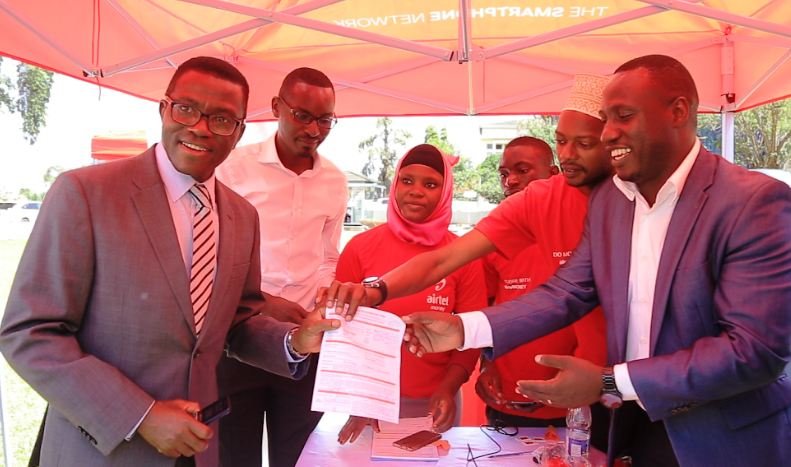 Ride Cashless with SafeBoda! You can top up your SafeBoda credit through the app using either MTN or Airtel Money OR Come by the SafeBoda offices on Bukoto street between 10am to 4pm to directly pay cash for credit!Click here to download the app
Following the recently signed Brand Endorsement agreement between Airtel Uganda and K2 telecom, the Katikkiro of Buganda Owek. Charles Peter Mayigga has called upon Ugandans to register their brand new Airtel-powered K2 SIM cards and start enjoying a stronger and more reliable K2 network.
This was at the Luwalo Lwaffe event held last week at Bulange Gardens in Mengo presided over by the Katikkiro of Buganda Owek. Charles Peter Mayigga and attended by K2 Telecom team led by CEO Godfrey Kisekka and Airtel Uganda team led by Ali Balunywa, the Sales Director.
The Luwalo Lwaffe program involves Buganda's traditional institutions to raise funds in support of the Kingdom development programs.
Addressing the guests, the Airtel Uganda Sales Director Ali Balunywa applauded the Buganda Kingdom officials for seizing opportunities that benefit the kingdom subjects and called upon everyone to subscribe to the new network and celebrate the pride of Buganda Kingdom.
"The new K2 is backed by Airtel's countrywide 3G network and high-speed internet service. Products and services such as Airtel Money, international roaming and affordable devices at any of our shops, kiosks and agents are all available to you," he noted.
As part of the event, the Katikkiro toured the K2 offices and took time to register his new SIM card at one of the SIM card registration centers set out for the customers.
"It is a new day for us at K2. We thank our partners Airtel Uganda for the harmonious working relationship that has enabled us to achieve yet another milestone. I call upon Ugandans across the country to buy a SIM card and enjoy what the new K2 has to offer," he concluded.
Airtel Uganda and Buganda Kingdom work together on a number of projects in the sectors of health and sports. These include the annual Kabaka Birthday Run, the Masaza Cup tournament, the Kabaka birthday celebrations, the Kabaka coronation, Eid El Fitri and most recently, the Airtel – K2 Brand endorsement agreement.
As part of the agreement, Ugandans will get an opportunity to buy co-branded K2-Airtel SIM cards in the 0708 series and connect onto the quality services offered by Airtel Uganda across the country such as wide coverage, high speed internet, 3G/4G network, Airtel Money, affordable packages, roaming and international services as well as all Value Added Services.
The new SIM cards can be purchased from any Airtel service center and other authorized outlets at a price of UGX2, 000 and all new SIMs will be subject to the existing KYC registration regulations.
Existing K2 customers will undergo a migration process, which will include a SIM-swap to provide them with new Airtel-K2 branded SIMs.
(Visited 1 time, 1 visit today)
DHL Express launches e-commerce workshop in Uganda
DHL Express, the world's leading international express service provider, has organized an e-commerce workshop in Uganda. The workshop is one of the company's initiatives to guide retailers and businesses as they access the booming global marketplace.
Ride Cashless with SafeBoda! You can top up your SafeBoda credit through the app using either MTN or Airtel Money OR Come by the SafeBoda offices on Bukoto street between 10am to 4pm to directly pay cash for credit!Click here to download the app
DHL Express Uganda is aiming at training Ugandan companies ranging from start-ups to large enterprises. The workshop is aimed at advising them on how to enhance international e-commerce shipping capabilities and how to target internet-savvy buyers like millennials – 68% of whom are likely to choose a retailer based on delivery options offered.
"International e-commerce is growing at a remarkable pace, and we want our customers to grab their share of the market – that means adding value to their e-commerce proposition," states Fatma Abubakar, Country Manager DHL Express Uganda. "Our customers' success is closely tied to their buyers' satisfaction with the delivery experience and the delivery options offered. DHL has developed services that both enhance the customer experience and that support web merchants as they access new markets. The workshop will showcase those services, from flexible delivery options for buyers to intelligent website analyses tailored to merchants."
For companies looking to build flexibility into their networks and to take advantage of the overseas demand that arises – sometimes unexpectedly – with the launch of an e-commerce offering, international express logistics companies can provide global networks that make door-to-door access to overseas markets and a premium service offering possible. They also provide indirect benefits to e-commerce companies by providing additional brand credibility and trust, streamlining their logistics processes, and minimising financial risks by reducing the time spent
by inventory in transit and ensuring full visibility on orders.
"We want to educate current customers and to convert potential international web merchants," says Abubakar. "We're convinced that cross-border e-commerce has a huge upside that many merchants – B2C and B2B – have not yet tapped. Our aim is to support web sellers as they go global and to stand as the international express provider of choice for e-commerce."
(Visited 1 time, 1 visit today)
CoinPesa in drive to get more Ugandans into Cryptocurrency trading
CoinPesa, a Ugandan digital currency exchange has launched its Initial Coin Offering (ICO) pre-sale with the aim of getting more Ugandans on the cryptocurrency band wagon. Dubbed the CoinPesa Champion Referral Program, it uses Blockchain technology to create digital assets through tokenization and provides a way for users to generate an actual "tangible" asset and sustainable incomes from their continued usage of the exchange.
Ride Cashless with SafeBoda! You can top up your SafeBoda credit through the app using either MTN or Airtel Money OR Come by the SafeBoda offices on Bukoto street between 10am to 4pm to directly pay cash for credit!Click here to download the app
CoinPesa CEO Suleiman Murunga said, "In this digital era, Cryptocurrencies continue to emerge as new forms of investment and payment systems. Online businesses are proliferating globally and cryptocurrency is being used as virtual money to buy and sell items off the Internet. As a digital currency exchange, our mission goes beyond just simply providing a point of access for users to access Cryptocurrency. We want to offer a platform that can be used to realize new possibilities, where users can access valuable financial services and uplift themselves through sustainable revenue generation opportunities."
The CoinPesa Champion Referral Program is a direct system where users are paid a commission for every successful reference into the platform. It has been designed to allow the program participants to build sustainable incomes around their community development activities. The ICO-pre sale will give users the ability to purchase the CoinPesa Token (CPXT) which is a utility token that they will use to pay for various services on the platform such as trading fees.
"We decided to have this program in order to get the community involved and vested in the growth of our platform. We recognize job creation and value addition as key areas of impact for us as an exchange. The region has one of the
highest youth unemployment rates. Our program provides a platform for people to get into Cryptocurrency trading to create sustainable working tools for the community that would then help them access revenue channels and improve their livelihoods," Murunga added.
Blockchain technology allows digital information to be distributed but not copied thereby creating the backbone of a new type of Internet. This new technology has gained global attention that it has built trust into systems used for transfer of value information such as money and intellectual property. Experts believe Blockchain technology can be used in Uganda, to address challenges in the country like authentication of land titles, eradicating the problem of counterfeit drugs entering the country and authenticating of university degrees.
"Blockchain technology gives us the ability to create digital assets like never before. We believe in a world that will only get more tokenized and almost anything of value will eventually get tokenized. We believe this is an opportunity
to create an actual asset that will give users the ability to treat their network like any other valuable asset. They may decide to sell it, use it as collateral or transfer it to their next of kin," Murunga concluded.
(Visited 1 time, 1 visit today)