Deacons opens in Uganda at Acacia Mall
Deacons Uganda, a subsidiary of Deacons Kenya Limited has further expanded its presence in the region by opening other outlets for Mr Price, Mr Price Home and Bossini at Acacia Mall in a bid to broaden its market footprint in Uganda.
The company has been operating the Mr Price store at the Oasis mall since April 2009. This store has created employment for 12 staff members and now with the opening of the three new stores – Mr Price, Mr Price Home and Bossini at the Acacia Mall, Deacons have created additional 23 new jobs ranging from Senior Customer Relationship Manager, Supervisors, cashiers and sales advisers.
The investment has come at a cost of USD 1.74 Million, about Ugx 4.98Billion.
"This is part of the company's expansion strategy to reach its target market in line with its business plans across the region and asserts our focus to continue offering quality and affordable products to its customers with contemporary fashion and design," said Mr. Muchiri Wahome, Deacons chief executive, during the opening ceremony in Kampala.
"Bossini offers a full range of good value for money casual wear apparel products; including ladies, men's, kids' and youth wear which are designed to fit our customers' needs. Mr price Clothing range covers all genders in outer wear, clothing, intimate wear, footwear and accessories whereas Mr Prime Home offers affordable modern living products, ranging from the latest in contemporary home textiles (bathroom, bedroom), kitchenware and home accessories," Mr. Muchuri added.
As part of its launch, Deacons announced a fashion show dubbed "Feel Good Collection 2015" that took place at their stores. The fashion show featured Uganda's top designers who competed in a fashion battle showcasing Bossini and Mr Price 2015 Collection. The winner of the competition walked away with 4million Uganda shillings.
Commenting on fashion show, Mr. Muchiri said that, "Deacons as company believes in unity and for this purpose, the company decided to partner with other designers/stylists in fashion industry to make this first of the kind fashion show in Uganda. We are glad they welcomed the idea with open arms."
Mr. Muchiri also emphasized that the brand has been successful since inception and each year recording growth in turnover, the growth has been enabled by philosophy of making quality fashionable clothing and apparel accessible and affordable to the customers.
The brand has continued to stand the test of time, and this has been replicated in other markets too. Apart from Mr Price, Mr Price Home and Bossini, Deacons is the umbrella company for other brands including, Woolworths, Truworths, Sheet Street, Identity, Angelo ,4U2, Babyshop, Adidas and Life Fitness.
(Visited 1 time, 1 visit today)
Uganda Breweries partners with Kabaka Foundation to construct sanitation facilities in city markets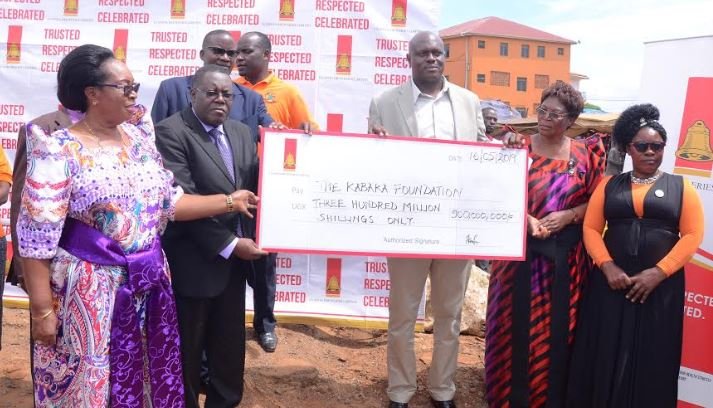 By Our Reporter
In a bid to improve the sanitation and hygiene that are health concerns in Kampala markets, Uganda Breweries Limited has launched a sanitation project that will see the brewery construct modern public sanitation facilities for the residents and traders of Nakulabye, Katwe, Mengo and Mulago Markets.
The project dubbed the "Kampala City Markets water and Sanitation" has been done in partnership with the Kabaka Foundation, which is an NGO presided over by His Majesty the Kabaka of Buganda. The 3 months project which is part of UBL's "Water of Life" initiative will cost UGX 300 Million and will benefit over 26,000 people.
Under this project, each Market will get a modern sanitation facility with eights units; a toilet for people with disabilities, a washroom for men and women, three urinal bowls for men, one shared attendants room, a water reservoir of 5000 liters, a 1000 liter over- head tank and a water pump.
Speaking during the ground breaking ceremony at Nakulabye Market, Uganda Breweries Managing Director Mark Ocitti said, "Access to clean sanitation facilities is critical to the health and prosperity of our communities, and yet, too many people especially in the markets around the city do not have access to these basic services. Uganda Breweries is proud to partner with the Kabaka Foundation to reform and improve the lives of more than 26,000 people who live and work around these markets."
Ocitti noted that this project is not the first done in partnership with the Buganda Kingdom. "UBL and the Kingdom have a long standing partnership to brew Ngule beer, the Kingdoms official beer. The beer is made from cassava and sorghum all of which are sourced locally from Buganda Kingdom."
In his remarks, Owekitibwa Chris Bwanika, a Trustee in the Kabaka Foundation said, "This project marks another milestone in achieving Kabaka foundation's aim of improving sanitation. Kampala city markets have dilapidated sanitation facilities and with the construction of these new facilities, we will now be able to address the problem of poor sanitation and the consequent spread of diseases among the residents, especially the children."
Uganda Breweries Limited has in the past years run similar projects. In 2017, the company constructed public sanitation facilities worth UGX 300 million at Port Bell and Kirombe markets. The project benefits over 12,000 residents, traders and visitors to the two areas. UBL has also previously constructed sanitation facilities in Ggaba market and Kinawataka market.
(Visited 1 time, 1 visit today)
Sheraton hosts Muslim community to iftar dinner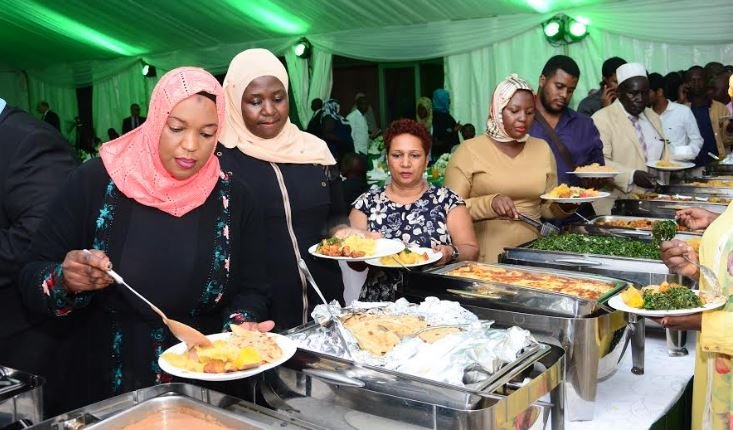 By Our Reporter
Sheraton Kampala Hotel treated the Muslim community to iftar dinner as they broke their fast on Thursday evening. The dinner was held to thank their Muslim partners, clients and guests for the continued support to the hotel and to also wish them blessings during this holy month of Ramadan.
The dinner was a blend of Middle Eastern and Ugandan cuisine consisting of special and customized meals of starter, salads, condiments & dressing, soups, main course, carving, dessert and a variety of drinks.
While addressing the guests during the dinner, the General Manager, Sheraton Kampala Hotel, Jean-Philippe Bittencourt encouraged the Muslims to keep up with the good spirit of brotherhood as they observe this Ramadan. He further thanked them for the immeasurable support to the Sheraton hotel and encouraged them to work as a team for peace and unity to be realized.
"To observe, this holy month, the hotel has set aside a special prayer place where our employees, guests and customers can say their prayer and break their fast. We have a designated area at the Victoria Restaurant where they can have a lavish buffet as they break their fast from Monday to Saturday," Mr. Jean Philippe Bittencourt further noted.
Ramadan is the ninth month of the Islamic calendar and, is observed by Muslims worldwide as a month of fasting to commemorate the first revelation of the Quran to Muhammad, according to Islamic belief. Muslims are expected to put more effort into following the teachings of Islam with the fast beginning at dawn and ending at set.
Sheraton hotel during this holy month of Ramadan has special daily Iftar menu packages for individuals, families, groups and companies hosting their Muslim clients or customers to a special dinner.
(Visited 1 time, 1 visit today)
By Our Reporter
"V-Power Weekend", a promotion that allows customers to purchase Shell V-Power at the same price as regular fuel, is back.
Launched in March this year, the promotion is open to all Shell customers and is available at over 80 Shell stations countrywide. The offer runs for the entire weekend starting Friday morning to Sunday evening.
"This promotional offer is aimed at getting car owners to try the advanced fuel formulation and experience the thrilling power and performance of our premium fuel Shell V-Power," said Emmanuel Ssebunya, Brand Manager Fuels at Vivo Energy Uganda. "Shell's new fuels contain exclusive DYNAFLEX Technology which helps clean and protect key components in vehicle engines, reduces friction between the piston and cylinder wall, reduces possibility of engine knock leading to better engine efficiency and performance."
The V-Power Weekend offer will run every month till December 2019 to give as many motorists as possible an opportunity to experience Shell premium fuels.
"Whatever car you drive, wherever you are going, visit a Shell station to get a full tank of Premium Shell V-Power at the price of regular fuel and GO WELL," he added.
(Visited 1 time, 1 visit today)