Deacons opens in Uganda at Acacia Mall

Deacons Uganda, a subsidiary of Deacons Kenya Limited has further expanded its presence in the region by opening other outlets for Mr Price, Mr Price Home and Bossini at Acacia Mall in a bid to broaden its market footprint in Uganda.
The company has been operating the Mr Price store at the Oasis mall since April 2009. This store has created employment for 12 staff members and now with the opening of the three new stores – Mr Price, Mr Price Home and Bossini at the Acacia Mall, Deacons have created additional 23 new jobs ranging from Senior Customer Relationship Manager, Supervisors, cashiers and sales advisers.
The investment has come at a cost of USD 1.74 Million, about Ugx 4.98Billion.
"This is part of the company's expansion strategy to reach its target market in line with its business plans across the region and asserts our focus to continue offering quality and affordable products to its customers with contemporary fashion and design," said Mr. Muchiri Wahome, Deacons chief executive, during the opening ceremony in Kampala.
"Bossini offers a full range of good value for money casual wear apparel products; including ladies, men's, kids' and youth wear which are designed to fit our customers' needs. Mr price Clothing range covers all genders in outer wear, clothing, intimate wear, footwear and accessories whereas Mr Prime Home offers affordable modern living products, ranging from the latest in contemporary home textiles (bathroom, bedroom), kitchenware and home accessories," Mr. Muchuri added.
As part of its launch, Deacons announced a fashion show dubbed "Feel Good Collection 2015" that took place at their stores. The fashion show featured Uganda's top designers who competed in a fashion battle showcasing Bossini and Mr Price 2015 Collection. The winner of the competition walked away with 4million Uganda shillings.
Commenting on fashion show, Mr. Muchiri said that, "Deacons as company believes in unity and for this purpose, the company decided to partner with other designers/stylists in fashion industry to make this first of the kind fashion show in Uganda. We are glad they welcomed the idea with open arms."
Mr. Muchiri also emphasized that the brand has been successful since inception and each year recording growth in turnover, the growth has been enabled by philosophy of making quality fashionable clothing and apparel accessible and affordable to the customers.
The brand has continued to stand the test of time, and this has been replicated in other markets too. Apart from Mr Price, Mr Price Home and Bossini, Deacons is the umbrella company for other brands including, Woolworths, Truworths, Sheet Street, Identity, Angelo ,4U2, Babyshop, Adidas and Life Fitness.
(Visited 1 time, 1 visit today)
Airtel Uganda in drive to boost reading culture

By Our Reporter
As part of Airtel Uganda's initiative to scale up ICT in education and promote the reading culture of Ugandans, the telco has today announced the connection of National Library of Uganda to fast and reliable free 4G network.
This announcement makes the National Library of Uganda the second beneficiary after Uganda Community Libraries Association in Kawempe.
Commenting about the initiative, Airtel Uganda Legal and Regulatory Director Mr. Dennis Kakonge said the initiative will benefit the entire country by improving access to records and the overall user experience of Ugandans when they visit the benefiting libraries.
"4G connectivity will offer an improved experience in internet-based research and online book access in Uganda. We know that lack of easily accessible content affects the reading culture of Ugandans and we believe that a stable internet connection is a positive step towards fostering a reading culture and increasing knowledge," he noted.
The Guest of Honor Kampala Central Mayor, Mr Charles Musoke Sserunjoji, thanked Airtel Uganda for this initiative which he said will empower Ugandans.
"What Airtel has done today is a major step towards enhancing enrollment in public libraries and thus promoting reading culture in Uganda. Reading aids comprehension. With access to fast internet, service delivery especially in education will be enhanced to the benefit of the community and the nation." he stated.
The National Library of Uganda is responsible for preserving Uganda's literal heritage in form of Uganda's oldest Agreements, News Papers, Photography, Literal works, assigning ISBN (International Standard Book Number) to published authors, preserving the writings of published authors, training librarians across the country, translating reading material into local languages amongst other duties.
According to officials from the National Library of Uganda, lack of reliable internet has been a major hindrance to the digitization of records in the library. They are to embark on the process now that they are connected to fast and reliable network thanks to Airtel.
(Visited 1 time, 1 visit today)
Over 200 Ugandans to benefit from TEF Entrepreneurship Programme

By Our Reporter
The Tony Elumelu Foundation (TEF), the leading African philanthropy committed to empowering African entrepreneurs, Friday announced 3,050 African entrepreneurs, drawn from all 54 African countries, selected to join the 5th cycle of its $100million TEF Entrepreneurship Programme.
The announcement was made at the Transcorp Hilton Abuja, following a presentation of the selection process by Accenture Development Partners.
This year, over 216,000 applications were received, an increase from last year's 151,000. Nearly 90,000 were submitted by female entrepreneurs, an increase of 45%, illustrating the Foundation's strategy to achieve greater gender balance.
In Uganda, the number of selected applicants grew from 165 applicants in 2018 to 259 applicants in 2019 with entrepreneurs running businesses majorly in the agriculture and manufacturing industries.
The selected Entrepreneurs will each receive non-refundable $5,000 of seed capital, access to mentors, and a 12 – week business training programme, directly focused on the needs of African entrepreneurs. On July 26 – 27 2019, they will gather at the TEF Entrepreneurship Forum, the largest annual gathering of African entrepreneurs and the entrepreneurship ecosystem on the continent.
TEF Founder, Tony O. Elumelu, CON, who celebrated his birthday on the same day, said: "Every year, we face an almost impossible task – to select 1,000 entrepreneurs, from the hundreds of thousands that apply. Our entrepreneurs are hungry to effect change. We know we are only scratching the surface, we see the depth of entrepreneurial talent, that all of us – government, business indeed African society, must harness to transform our economies and livelihoods. We must rally together to empower them and accelerate the change we want on the continent".
In her speech, Her Excellency, Mrs. Aisha Buhari, the wife of the President, Federal Republic of Nigeria, commended the Programme's impact on the continent, charging the selected entrepreneurs to contribute to the advancement of the African continent. "Indeed, I am confident that these Tony Elumelu entrepreneurs will inspire deep confidence and be of immense value not just to Nigeria but to the entire continent," she said.
Speaking on the announcement, the incoming CEO, Ifeyinwa Ugochukwu, said, "The Tony Elumelu Foundation Entrepreneurship Programme has successfully empowered 7,520 entrepreneurs in its first five years of the 10- year programme.''
Marking the fifth anniversary of the 10-year programme, this year's selection includes 2,050 entrepreneurs, supported by the Foundation's partners in addition to the Foundation's annual commitment of 1,000, bringing the total number of entrepreneurs empowered by the Foundation to date to 7,520.
"Last year, we launched TEFConnect – the digital networking platform for African entrepreneurs and open to all – to further democratize the access to opportunities for the thousands of entrepreneurs that cannot directly benefit from our Entrepreneurship Programme. This further demonstrates our commitment to empowering our entrepreneurs and our belief that entrepreneurship holds the key to unleashing the true potential of the African continent", she said.
The Foundation's growing list of partners includes the International Committee of the Red Cross (ICRC), the United Nations Development Programme (UNDP), the Federal Republic of Benin (Seme City), the Anambra State Government, Indorama, the Government of Botswana and the African Development Bank (AfDB).
(Visited 1 time, 1 visit today)
Taxify promises fast and effortless movement as it rebrands to Bolt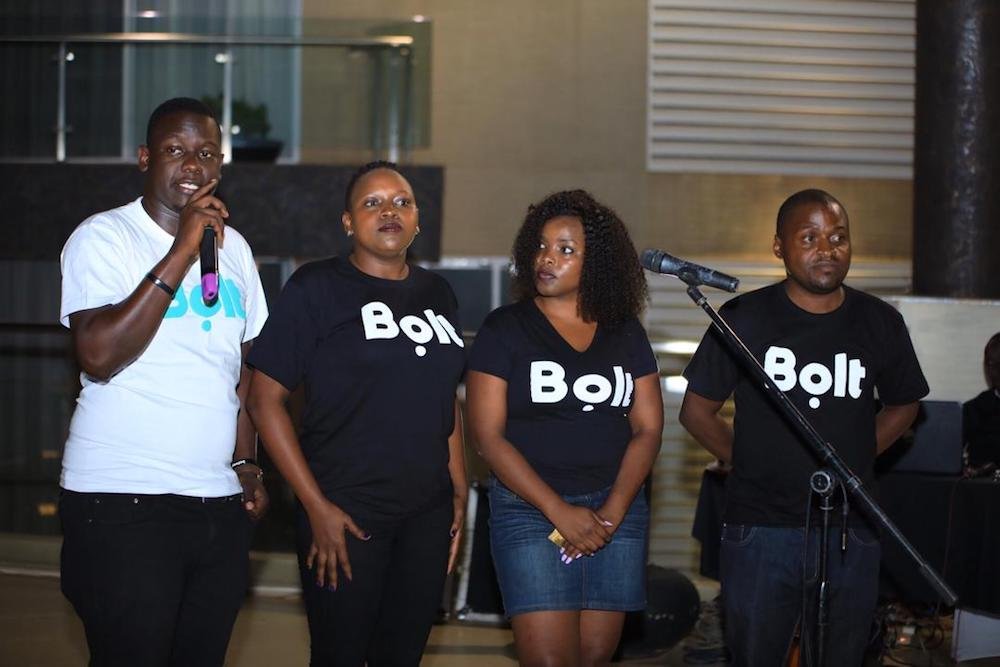 By Our Reporter
Taxify, an international ride-hailing platform, recently changed its name to Bolt and also introduced a new logo. The transportation network company has finally also effected the changes in Uganda. This was revealed during a cocktail  evening hosted at Skyz Hotel, Naguru in Kampala last Thursday.
According to Markus Villig, the company CEO and co-founder, the changes mark a new dawn for the company which has been operational in Uganda for the past three years.
He noted that update brings the brand identity in line with the company's broader vision of transportation that has already expanded from ride-hailing, with cars and motorbikes, to scooter sharing.
"Given our ambition to solve transportation problems on an increasingly broader scale, we want the brand to reflect the company's future rather than the past," Markus Villig noted.
"Our new name 'Bolt' stands for fast, effortless movement – exactly what the experience of getting around in a city should be, be it by car, scooter or public transport. It also underscores our belief that the future of transportation will be electric." He added.
The Estonian-born tech company is estimated to serve over 25 million customers in over 30 countries globally.
The new brand will continue to be rolled out across Bolt's different markets over the coming weeks. Bolt users will not need to take any action as the app will update automatically.
(Visited 1 time, 1 visit today)