Cosmos De Bafia thump KCCA in the CAF champions' league
By James Robert Kayindi 
Uganda Premier League (UPL) defending champions and representatives at this year's CAF champions' league, Kampala Capital City Authority Football Club (KCCA FC) were yesterday dumped out of the competition after being thumped 3-0 by Cameroon's Cosmos De Bafia in the return leg.
KCCA who beat Cosmos De Bafia by 1-0 a fortnight ago in the first leg at Namboole failed to defend their 1-0 aggregate lead as they were condemned to a 3-0 defeat and consequently dumped out on a 3-1 aggregate.
Cosmos De Bafia took a first half lead through Tombi Alemi Francis who netted a brace on the evening. Ekamba Cyrille was the other man on the score sheet as KCCA's road in the competition was brought to an end.
Cosmos De Bafia will now face Tunisia's Esperance who they will host first before traveling to Tunis.
KCC XI: Yasin Mugabi, Sakka Mpiima, Simon Namwanja, Ayub Kizza, Ronnie Kisekka, Hakim Senkumba, Owen Kasule, Michael Birungi, William Wadri, Tom Masiko and Herman Wasswa.
Email Robert: Robert.k.circles@gma­il.com
(Visited 1 time, 1 visit today)
Uganda Cranes players hosted to welcome dinner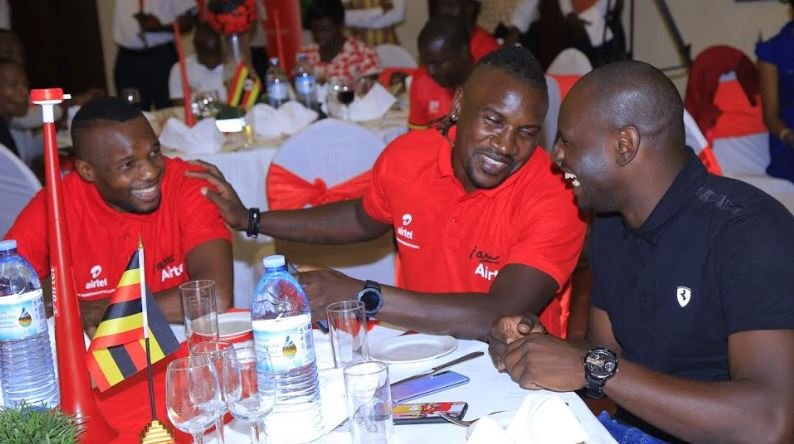 By Our Reporter
On Friday, Uganda Cranes official sponsors Airtel Uganda officially welcomed the National Football team back from the 2019 Africa Cup of Nations in Egypt at a dinner held at the Kampala Serena Hotel.
In his remarks, Airtel's Managing Director V.G Somasekhar noted that he was delighted with the performance exhibited by the players during the AFCON games in Egypt and pledged to continuously support the National team and Ugandan sports in general.
"We are here today to celebrate the bigger achievement we got from the African Cup of Nations. Special thanks to the players, coaches, and everyone who contributed to the team's success in ensuring that we reached the round of 16, as Airtel Uganda, we are married to football in general and the Uganda Cranes. We promise to put Uganda on top of the football map," he commented.
Speaking on behalf of the National team, team captain Dennis Onyango Masinde lauded Airtel, FUFA, National council of sports and his teammates for the collective efforts towards the team's success.
"I thank Airtel Uganda for being the brand behind our success, FUFA, National Council of Sports and the government for the support towards the development of the National team. I thank my teammates for the togetherness from day one even when we were knocked out.
"I'm honored to be part of the team and we shall continue to move together with Airtel as we strive for bigger wins," he noted.
FUFA was represented by Rogers Byamukama who thanked Airtel Uganda for its support towards the sport of football.
"Apart from the National team Uganda Cranes, Airtel Uganda injects millions of money in the Masaza Cup competition and Airtel Rising Stars tournament. It is prestigious to work with Airtel Uganda and as FUFA we are aiming to work harder for project 2026 and the next AFCON qualification," he added.
The dinner was attended by various dignitaries who included Airtel Managing Director V.G Somasekhar who was the host, Airtel's Head of Marketing and Communications Remmie Kisaakye, Hajji Zubair Galiwango, Rogers Byamukama (Head of Marketing and chairman licensing committee at FUFA), the Uganda Cranes players led by the captain Denis Onyango, Hassan Wasswa, Farouk Miya, Emmanuel Arnold Okwi, Tadeo Lwanga, Isaac Muleme and Allan Kateregga, coaches Matia Lule, Fred Kajoba, Musician Eddy Kenzo, FUFA Communications Manager Ahmed Hussein Marsha, FUFA Marketing Manager Esther Musoke, the press and individual guests were in attendance.
(Visited 1 time, 1 visit today)
Photos: When Airtel hosted AFCON viewing party
By Our Reporter
Last Friday, Airtel Uganda hosted football lovers to an AFCON viewing party at their offices in Bugolobi. This was during Uganda's round of 16 tie against Senegal.
The Cranes fans suffered a heartbreak as Uganda was knocked out of the tournament after the game ended 1-0 in favour of Senegal.
Senegal took an early lead through ace player Sadio Mane in the first half. Mane had a chance to double the lead in the second half but failed to convert from a spot kick as Onyango made a big save.
Despite a spirited fight, Uganda's efforts at equalizing came short, and by the final whistle it was still one-nil.
The evening was marked by exuberance and excitement from the viewers as they cheered on while also enjoying food platters and free flowing drinks.
The event concluded with a quiz in which participants were tested on their knowledge in a range of subjects including music and current affairs.
Here are some photos from the event: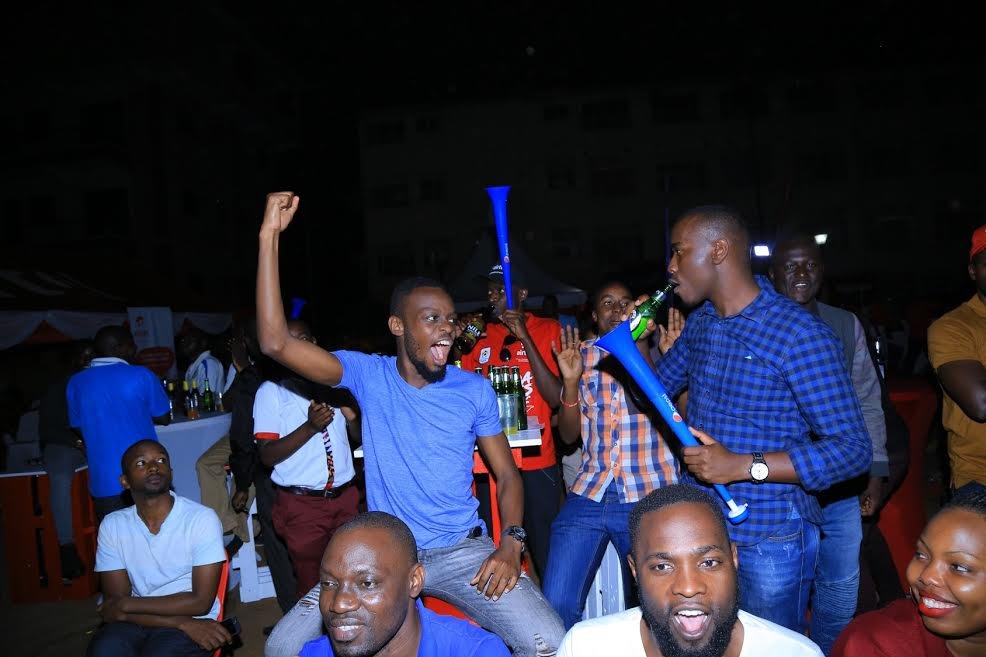 (Visited 1 time, 1 visit today)
SPONSORED: SBA cheer on the Uganda Cranes as they march forward at AFCON 2019
Uganda have reached the knockout stages of the AFCON for the third time in their history after Sebastien Desabre's side finished second in Group A. The news gets even better, though, as Sports Betting Africa are giving Cranes fans plenty more reasons to cheer as the team continue their journey in Egypt.
The Cranes could not have started their campaign any better in Cairo. Tournament veterans DR Congo were the more fancied team ahead of their first game, but Uganda dismissed any such idea as Patrick Kaddu opened the scoring inside 15 minutes. The central African side could not find any way through the Cranes' defence, and the result was settled shortly after half time when Emmanuel Okwi doubled the lead.
Okwi was on the scoresheet again four days later as Uganda extended their unbeaten start to the tournament against Zimbabwe. A 1-1 draw ensured that they were in poll position to finish in second place behind Egypt.
The host nation ran out 2-0 winners in the final group game, but the score line did not tell the whole story. The Cranes had 17 shots, compared to Egypt's seven, but for all their efforts could not find the net. The two sides each had 50% of possession and a pass success rate 75%, suggesting that there wasn't much to separate the teams during the match.
Their next opponents are west coast side Senegal. Like Uganda, they qualified as group runners-up following defeat to Algeria. The Teranga Lions boast top players such as Sadio Mane and Kalidou Koulibaly, but there are reasons to be optimistic for the Cranes. Senegal are still waiting for their first ever AFCON triumph, while they have not won a knockout match since 2006.
The two teams meet in Cairo on Friday night, and SBA are offering big odds of 7.00* for the Cranes to win in 90 minutes. Alternatively, fans can bet on Uganda to reach the next round at odd of 3.75*.
Get your free bet with SBA
SBA are offering a special online reward to football fans this month. Online players who bet 10,000 UGX or more on ANY GAME at the AFCON Last 16 will receive a free bet worth 10,000 UGX! What's more, it doesn't matter whether the original bet wins or loses. Why not bet on Friday's game against Senegal and use your free bet during the weekend matches? More info about Bet&Get promotion.
Bigger odds for Cranes fans
As well as free bets, SBA are have higher odds on special markets for all of Uganda's games, and the offers for Friday's match are big! SBA have boosted the odds for the Cranes to score against Senegal and the 2 nd Half with Most Goals to 4.75! Fans can now celebrate even bigger winnings as they watch the ball hit the back of the net!
*All odds correct at time of writing
(Visited 1 time, 1 visit today)