Comedian Teacher Mpamire to wed next year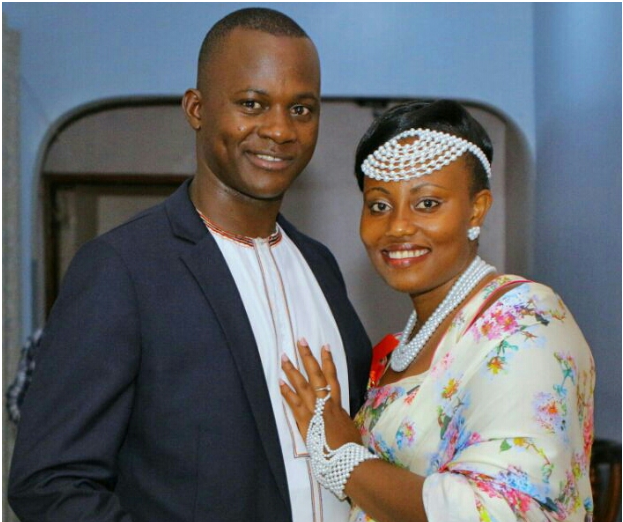 By Prim Kembabazi
Comedian Teacher Mpamire aka Herbert Ssegujja who was introduced by his girlfriend days back is set to marry her next year.
The comedian intimated to us that all is underway to make his wedding to Carol Barekye a reality next year in July.
Keep browsing Uganda's top entertainment website/blog for all your news.
(Visited 1 time, 1 visit today)
Abryanz Awards open for nominations today
By Reporter
Days after announcing the return of the famous Abryan Style and Fashion Awards, ASFA CEO Brian Ahumuza and Talent Africa boss Alli Alibhai have today announced nominations for the ASFA 2019 are open.
"This year's ASFAs feature 14 categories, 4 categories are honorary and will be awarded by the ASFA 2019 panel while the remaining 10 categories are up for nominations. Nominations start today on 23rd August and end on 8th October. We encourage masses to get engaged in the activity so we do not have their stars left out" Abryanz commented during the announcement.
SEE FULL LIST OF ASFA2019 CATEGORIES
Honorees (To be selected by the Asfa 2019 panel)
1. Icon Award
2. Lifetime Achievement Award
3. Positive Change
4. Special recognition Award for Innovation
Competitive Categories
Fashion Designer
Model of the Year (Uganda and Africa)
Fashion Stylists (Uganda and Africa)
Hair stylist (Uganda and Africa)
Fashion Photographer (Uganda and Africa)
Make up Artist (Uganda and Africa)
Most Stylish Artist (Uganda and Africa)
Music Video Award (Uganda and Africa)
Fashion Media Excellence (Uganda and Africa)
Fashionista of the Year (Uganda and Africa)
HOW TO NOMINATE:
Via email:
STEP 1: Give a brief description of yourself or the person you would like to
nominate under a specific category.
STEP 2: Attach a portfolio (work) of the nominee
STEP 3: Send email to nomination@abryanzstyleandfashionawards.com
A confirmation of receipt will be sent for received submissions.
Via website:
STEP 1: Visit
STEP 2: Fill in the nomination form on the website about yourself or the person
you would like to nominate under a specific category.
STEP 3: Attach a portfolio with the nominee's work in the fashion industry.
STEP 4: Submit.
Via Social Media
Using your active twitter, Facebook and Instagram
Post a picture of your nominee
Caption the image with the name of the category and nominee you wish to
nominate.
Don't forget to use the hashtags #ASFA2019 #TheSTARZ
A confirmation of receipt will be sent for received submissions.
(Visited 1 time, 1 visit today)
Photos: What you missed at the Nkozi Hill party
By Our Reporter
Party animals who turned up for the Nkozi Hill party on Saturday must have exited the hilly venue with aching muscles from all the nonstop dancing and all-night partying in what was indeed a lit party.
Revelers lost themselves in the music while excitedly dancing to the myriad of DJ mixes that kept on playing, a perfect cocktail of fun and good times.
Despite being dubbed the camping edition, party animals ended up trading the camping experience for the party vibes as many preferred to blast the night away.
The event was crowned with Voltage Music duo, Kent and Flosso delivering a showstopping performance of their hit songs like 'Byaafayo' 'Pull up' and the crowd's favourite, 'Squeeze' that left the crowd feeling completely alive for the most part of the night.
Revellers were also treated to an outdoor 3D Cinema experience as well as a gaming station that had the much more reserved crew catered for with many getting so involved on their own island of fun.
Sponsored by Tusker Lite, the 'go out of town' party lived up to its billing as many students and party lovers turned up for the massive Nkozi Hill party experience.
Here are some photos from the event.
(Visited 1 time, 1 visit today)
Rema Fires Nikkah Wedding Committee
By Staff Writer
Rema Namakula, the soon to be wife to Dr. Hamza Ssebunya over the weekend was forced to overhaul her wedding committee.
This follows allegations of financial misappropriation among the committee members. Among those fired was the treasurer who could not account for all the funds raised so far.
A new treasurer was appointed and Rema assured everyone that this will be the biggest Nikkah in history.
(Visited 1 time, 1 visit today)