Coke Studio Africa Awarded YouTube 'Silver Creator Award' For Garnering Commendable Following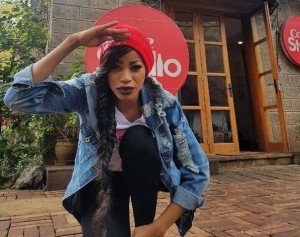 In its fifth year, Africa's biggest music platform – Coke Studio Africa has achieved a key milestone online.  The Coke Studio YouTube channel has been awarded the YouTube Silver Creator Award in recognition for having more than 100,000 subscribers on the channel. In a message from Susan Wojcicki, CEO YouTube, stated, "You've just done something that very few YouTube creators accomplish. You achieved a milestone with hard work, perseverance and probably a healthy sense of humour too," adding, "What you've accomplish can't be taken away from you. And we'd like to recognize you and all your hard work with this award, a small token of our esteem and respect."
The role of Coke Studio Africa's YouTube channel has been to extend TV reach of the show by providing audiences with music content on demand. As such, the channel actively managed to distribute music content across Africa and beyond, with over 90 million views from South Africa, Nigeria, Kenya, Ghana and as far as USA, United Kingdom, UAE, amount to 179,527,578 minutes of watch time.
On receiving the award, Coke Studio Africa Digital Lead, Waithera Kabiru, stated, "Getting to this milestone of 100,000 subscribers on the YouTube channel speaks volumes on the demand for quality local content in sub-Saharan Africa. The Coke Studio YouTube channel has enabled us to do what no other medium can, and that is reach thousands of audiences across the world to share the amazing content that is created on Coke Studio. We are taking Africa to the World!"
YouTube's CEO Susan Wojcicki further stated, "Each and every person who has subscribed to your channel has been touched by what you created, echoed these sentiments. They were inspired and challenged." Susan further stated, "We know that you don't do this for reward. You do it because you have a drive to create and share, because you have found an audience who cares. Adding, "Believe us when we say we can't wait to see what you do next. A million subscribers may seem a long way off right now, but you are closer than you think. And we are rooting for you."
While celebrating this moment, Waithera stated, "We are very proud to hit this milestone and will continue to grow our reach to millions of subscribers! Receiving this award from YouTube is an honour and we hope it inspires other content creators on the continent to keep pursuing their dreams. We will be celebrating with an ice-cold Coca-Cola!"
Coke Studio aims to inspire and introduce Africa's music talents to a new and wider audience through interaction, collaboration and cooperation amongst musical artists while also building a strong brand connection with Africa's young and growing population. Coke Studio Africa has given African artists a platform to meet other artists and top music producers from Africa to share ideas and collaborate.
Several successful collaborations between African artists have been born through Coke Studio. The Coke Studio Africa original hit single "SAID" featuring Nasty C (South Africa) and Runtown (Nigeria) and produced by Shado Chris, is one of these successes. This collaborated track reached over 2 Million views on YouTube in just a few weeks. In 2017, the show also released "Kenya Yetu"—an ode to Kenya, by Coke Studio Africa – 2017 stars: Avril, Sauti Sol, Nyashinski and Dela.
(Visited 1 time, 2 visit today)
Toniks signs under Gifted Music Group
By Staff Writer
The latest news reaching our desk indicates that singer Allan Toniks is officially part of Uganda's ever growing music label, Gifted Music group
The singer who has been quiet for a while is set to do a musical comeback with huge pojects under his new home GMG. Sources close to the record label revealed to us that everything was finalised and within a short period of time, Allan will be officially announced as a GMG member
Toniks is the second artist to be signed under the label after signing sensational singer Smart Djaba earlier this year. Allan's first song under GMG, Romance is set to be out this Saturday 24th February 2018
We will keep you posted
(Visited 1 time, 2 visit today)
Spice Diana breaks silence on allegedly wearing artificial hips.
Embattled singer Spice Diana may fall prey to all the mushrooming bad rumors about her but she will not let one thing go un-explained. The singer who has in the recent past had very rough days has broken the silence on allegations that she wore hips on her concert day and perhaps still wears then. The singer who previously has had bad interview days on BBS and NTV will let all that pass but not the lies that she wore hips.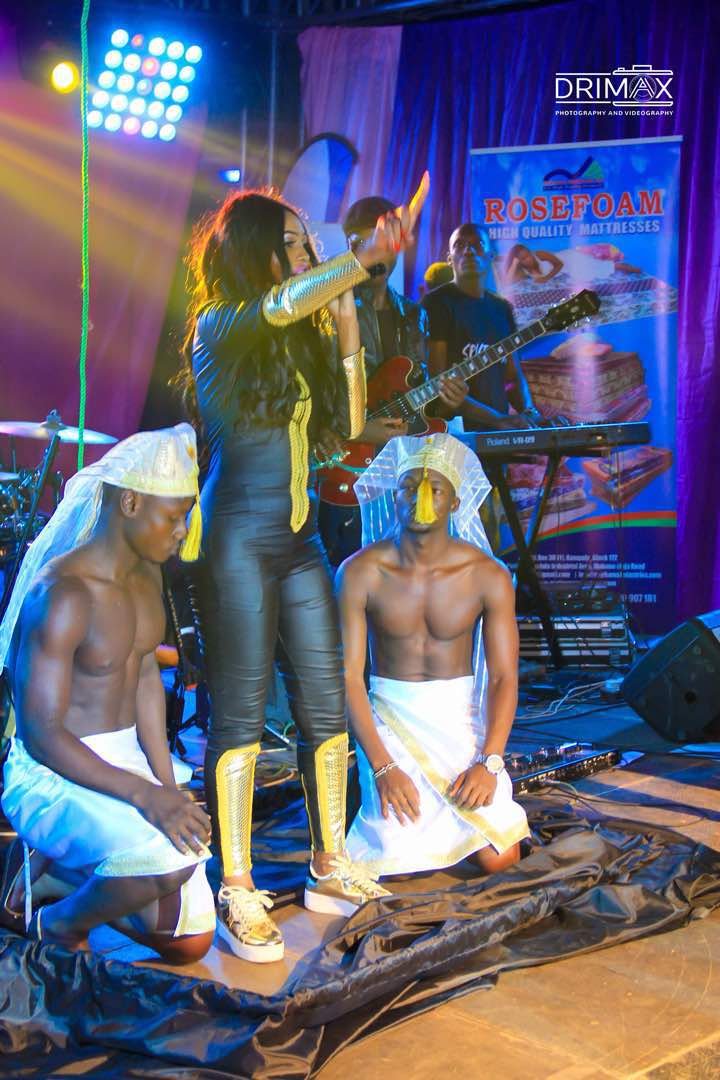 According to Spice Diana, on her concert day she had a costume for the day and was expected to make a grand entrance, to fly in like an angel. "Spice was to come on stage flying like an angel and obviously she had to wear support right from her thighs. Inside her costume she had material from which the ropes that support her were tied and that explains the alleged hip extensions that people are implying." Her manager explained. The singer further confirmed and admitted that had other clothings inside her costume but they were not hip extensions but rather part of her support to her flying entrance.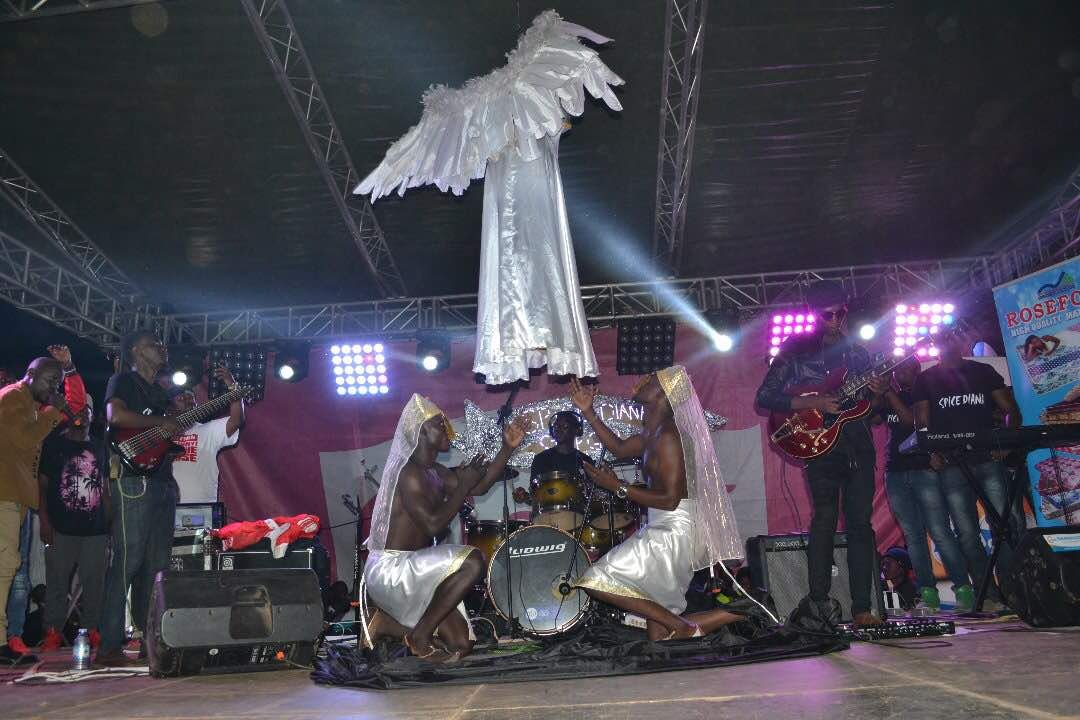 Spice Diana is with no doubt one of the very beautiful female singers we have and we agree she doesn't need hip extensions to rock us.
(Visited 1 time, 2 visit today)
I am a music Dynamo, Jose Chameleone challenges Bebe Cool to a battle of champions.
By Stuart G-Khast.
Singer Jose Chameleone has come out clear and commented on the fast spreading word about his much anticipated battle with Bebe Cool. Chameleone has not declined on any chances that the battle could actually take place.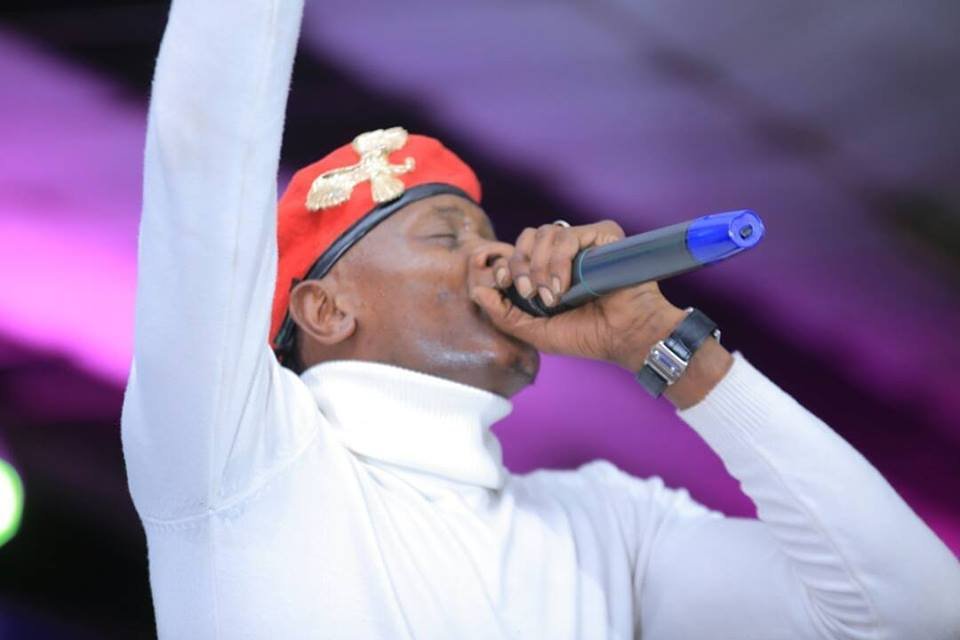 In a long stamen he noted "… I remain the undisputed. I have heard of the battle with my big brother though no one has come forward to put the deal on table. I am a music Dynamo and who so ever wants to battle should know that that's the day you are going to be buried before your disciples!!
And I will put a cross on your grave as I engrave R.I.P. I WILL ONLY ENTER THAT ANTICIPATED SHOWDOWN IF THE KCCA WILL AGREE TO LET IT BE NO TIME LIMIT. He who runs out of music, Goes home.
Jose Chameleone seems ready for what could be the biggest artiste battle of the decade.
(Visited 1 time, 2 visit today)