Coca-Cola Beverages Africa signs MOU to collect more plastics from Western Uganda for Recycling

Plastic Recycling Industries, run by Coca-Cola Beverages Africa (CCBA) Uganda in Nakawa, Kampala, has signed a Memorandum of Understanding with a Plastics Collection Centre in Masaka to cover Western Uganda.
The PRI Factory has processed more than 2,000 tonnes of plastic waste so far this year alone.
Signing on behalf of the Masaka Collection Centre, Director Andrew Bownds, pledged that the Centre would collect fifteen (15) tonnes of plastic waste a month for the first six months, and would increase collection to twenty (20) tonnes of plastic waste a month thereafter, with a future target of 50 tonnes.
"We are happy with the partnership we have with Coca-Cola Beverages Africa. In Masaka, we are operating the Collection Centre in partnership with the Masaka Diocese, who have provided the land, and we are grateful to Father James Sendege for the support," he said.
He thanked Coca-Cola Beverages Africa for enabling the Masaka Collection Centre to create 50 direct jobs.
"We are happy that this project has provided employment to youth and women in Masaka, and to the disabled. We work with the Masaka Disability Union who on their own deliver up to eight (8) tonnes a month to the Masaka Collection Centre using their network mobile collection points," he said.
Norah Odwesso, Group Public Affairs and Communications Executive Director for Coca-Cola Beverages Africa (CCBA), said the Group was excited with the progress Uganda has made with recycling and environmental conservation through the collection and recycling of plastic waste.
"Packaging is a valuable resource for economies around the world. Our global commitment as the Coca-Cola system is to ensure packaging continues to provide great value to our consumers. While doing so, we should ensure we continue to conserve resources and protect the environment – which Uganda is doing very well at Plastic
Recycling Industries as a global shining example," she said.
Odwesso also thanked the Kampala Capital City Authority (KCCA) which is in partnership with Coca-Cola Beverages Africa in running collection centres in Kampala.
Simon Kaheru, Public Affairs and Communications Director at CCBA Uganda, welcomed the Partnership with the Masaka Collection Centre and encouraged more partners in other parts of Uganda to join in collecting and recycling plastic waste.
"We all have a responsibility to conserve our environment by getting rid of plastic waste. Coca-Cola Beverages Africa is taking leadership through Plastic Recycling Industries but we must work through partnerships such as the one with Masaka Collection Centre, and more. The Recycling sector provides income for youth and women in Kampala, and now in Masaka and western Uganda, but we would like to see more of these initiatives so that we take more plastic waste out of the environment and turn it into valuable items and incomes for Ugandans," he said.
PRI buys the plastic waste and recycles it into flake for export to foreign markets that included China and India.
(Visited 95 time, 1 visit today)
Museveni meets President of StarTimes Group during FOCAC Summit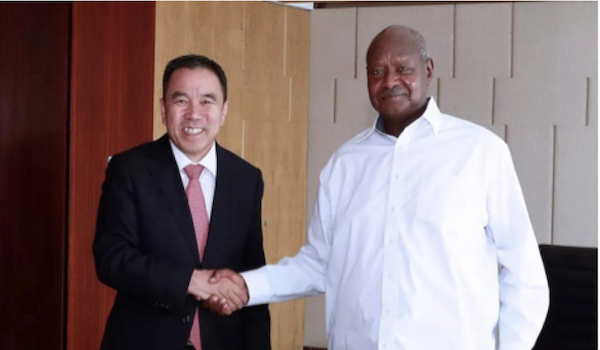 Ugandan President Yoweri Museveni met with the President of StarTimes Group Pang Xinxing on Wednesday when he was attending the Summit of the Forum on China-Africa Cooperation in Beijing. Mr Pang Xinxing introduced that StarTimes created more than 6000 job opportunities since it started investment in Uganda in 2009 and StarTimes digital TV transmission platforms have enabled Ugandan people to watch rich international and local television programs with an affordable price. Pang said: "We look forward to expanding further bilateral cooperation with our advantageous technology and media resources." President Museveni appreciated StarTimes' contribution in Uganda's digital migration progress and the project of "Access to Satellite TV for 10,000 African Villages".
He said that the national digital migration is a very important fundamental project for Ugandan people and it wouldn't be achieved without StarTimes' involvement. Museveni also invited Pang to visit Uganda with hoping that StarTimes can have more investment in the country.
StarTimes now is the biggest digital TV operator in Uganda with holding 75% market because of affordabl prices and rich content services. In August, StarTimes just unveiled the biggest ever single sponsorship in the history of Uganda www.startimestv.com sport after remarkably securing the Uganda Premier League and FUFA Big League "Title and Broadcasting Rights" from FUFA for a staggering US$ 7,240,000 for 10 years starting with the
2018/2019 season. The Vice President of StarTimes Uganda company, Mr Aldrine Nsubuga said: "We however don't just want to entertain football fans with foreign football, we want to be relevant to local football fans. We want them to appreciate their local football and support it with a greater passion which is why we want to bring the local league in every household through our broadcast platforms." The project of "Access to Satellite TV for 10,000 African Villages" is a China-Africa Cooperation program, which was announced by Chinese President Xi Jinping on December 4th, 2015 when he was present at the Johannesburg Summit of the Forum on China-Africa Cooperation. The project is aimed at enabling African families in rural areas to have access to the digital signal with high-quality images and rich TV programs. There will be around 10,000 villages in more than 20 African countries benefiting from the project of "Access to Satellite TV for 10,000 African Villages". For Uganda, 500 villages are
included in this China-Africa cooperation project. As Africa's leading digital TV operator, StarTimes is undertaking the whole project. On 20th July, StarTimes launched the project of "Access to Satellite TV for 10,000 African Villages" in Uganda.
(Visited 95 time, 1 visit today)
Emirates offers Ugandan travelers attractive offers to Dubai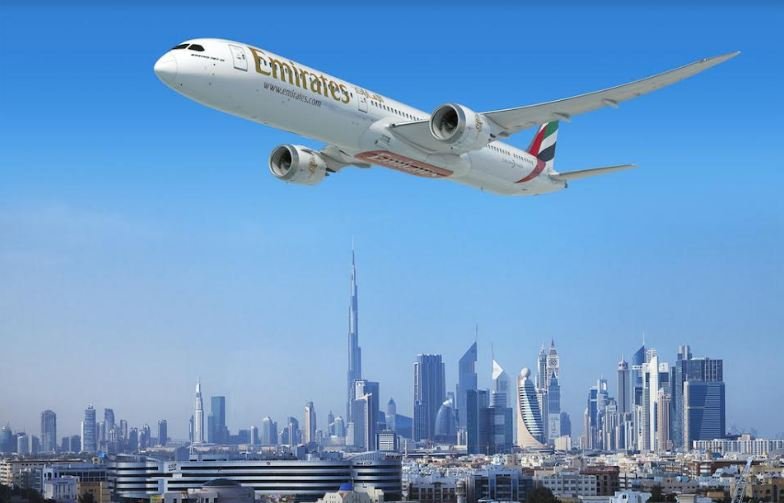 Emirates is offering Ugandan travelers the opportunity to visit Dubai, available at a very special offer for Economy and Business Class roundtrip, a free third piece of luggage of up to 23 kg and a month's tourist visa included in the offer.
Under the special offer, an Economy Class ticket from Entebbe to Dubai costs $359 and Business Class $1,309. The special offer is for a limited time only and tickets must be booked between 13th September 2018 and 27th September 2018, while travel must take place between 13th September 2018 and 31st March 2019. The cost of the ticket includes airport taxes.
Emirates is also offering a 3rd piece of luggage of up to 23kg for Economy Class and up to 32kg for Business Class, with a one-month tourist visa included.
Dubai provides a great escape for visitors. Its year-round sunshine, world-class shopping and restaurants, stunning beaches and iconic buildings offers something for the whole family. Visitors to Dubai can enjoy some of the city's must-see places like Global Village – multi-cultural festival park and shopping destination – as well as theme parks such as Wild Wadi Waterpark and IMG World of Adventures. The city also offers a wide range of accommodation to suit all budgets.
On all Emirates' flights, customers can look forward to hours of entertainment on the award-winning inflight entertainment system, ice, which offers over 3,000 channels of on demand audio and visual entertainment, from the latest movies, music, audio books and games, as well as family friendly products and services for children, including complimentary toys, kids' meals and movies, priority boarding for families and the use of free strollers at Dubai International Airport.
In addition to the on-board comforts and products, customers will experience the world famous hospitality from Emirates' multinational cabin crew who come from 135 nationalities and speak over 60 languages, while enjoying chef prepared regional and international cuisine, using the freshest ingredients, accompanied by a wide range of complimentary wines and beverages.
Emirates flies daily from Entebbe to Dubai.
(Visited 95 time, 1 visit today)
MTN floors Threeways Shipping Group to recover USD 4 million

By Our Reporter
Threeways Shipping Services Group Ltd's persistent applications to courts in a fervent effort to block the hearing of a suit filed by MTN against it and its Directors for recovery of USD 3,761,933 has hit a dead end in a fresh ruling by the High Court Judge, Justice Billy Kainamura of the commercial division who dismissed it with costs.
In his ruling on September 12th 2018, Justice Kainamura agreed with the position fronted by MTN Lawyers that the case involves enormous sums of money and justice would be furthered if the suit is heard on its merits. He further held that Threeways had not set out any legal grounds disputing the hearing of the case and the hearing of the suit had been frustrated by Threeways incessant applications.
The fresh ruling stems from a suit MTN filed against Threeways for defrauding the telecom giant of USD 4million in fictitious claims. Threeways allegedly made the fictitious claims to MTN between March 2009 and April 2012 on over 130 invoices with collusion of two former MTN employees: John Paul Basabosa and Naphtali Were and were paid colossal sums of money. The two employees were jointly sued with Threeways.
However, in 2014 the Commercial court presided over by Justice Christopher Madrama ruled that it was wrong for MTN to pursue the case against Threeways shipping Services yet there was a memorandum signed not to pursue a criminal case against the company at the anti corruption court.
Since then there has been back and forth appeals with MTN seeking to reinstate the suit and Threeways seeking to block it, resulting into the Wednesday ruling in which Justice Kainamura asserted thus: "I am inclined to agree with Counsel for the respondent, this case involves enormous sums of money and justice would be furthered if the suit is heard on its merits. On this premise, I dismiss this application with costs."
MTN Lawyer Bruce Musinguzi said the next course of action is to set down the main suit for hearing at the earliest possible date to enable a speedy conclusion of the case.
A top official at MTN who preferred anonymity because the matter is still before court expressed happiness with the ruling. "It was just a matter of time before the truth comes out," he said, adding, "You cant defraud a reputable company in broad day light, with all the glaring evidence and continue walking around with impunity. We are happy that court will finally dispense justice in a fair hearing."
(Visited 95 time, 1 visit today)