Interview: #ICreateTomorrow winner Cathy Muwumuza speaks out on her London trip, what she learnt and how it will change her life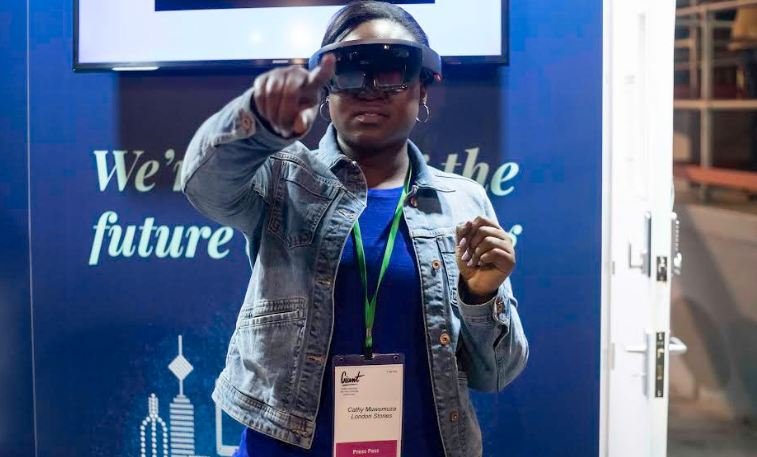 Meet Cathy Muwumuza, one of the winners of the Vodafone #ICreateTomorrow competition, we sat with her to find our about her London trip, what she learnt and how the trip will change her life.
Tell us a bit about yourself and how you ended up taking part of the #ICreateTomorrow competition?
I'm Namubiru Cathy Muwumuza. A healthcare administrator currently working at Ray of Hope Medical Centres. My young sister told me about the competition and she also went ahead and recorded the video that I submitted. I didn't expect to win as most times such competitions favour youths in the creative industry.
Tell us about your experience in London, what did you do whilst you were out there?
The trip to London was a great experience for me. I met people in my healthcare field that are using technology to positively impact and improve health services in UK. It was a trip full of inspiration for me.
What was the highlight of your trip?
Attending the giant health event that had exhibitions of technology advances in the medical field.
What did you learn whilst you were there?
Talking to Ronald HR Director of Vodafone global, I learnt that any great thing has to be done in small steps.
What was your 'tomorrow' before you went out there and did that change at all during the trip?
My tomorrow before the trip was to one day be in position to make policies and decisions that will help improve the state of healthcare in Uganda, the trip to London showed me that I don't have to be at the helm of the sector to make a positively impact healthcare in Uganda but instead I can use technology to improve the state of medical services here.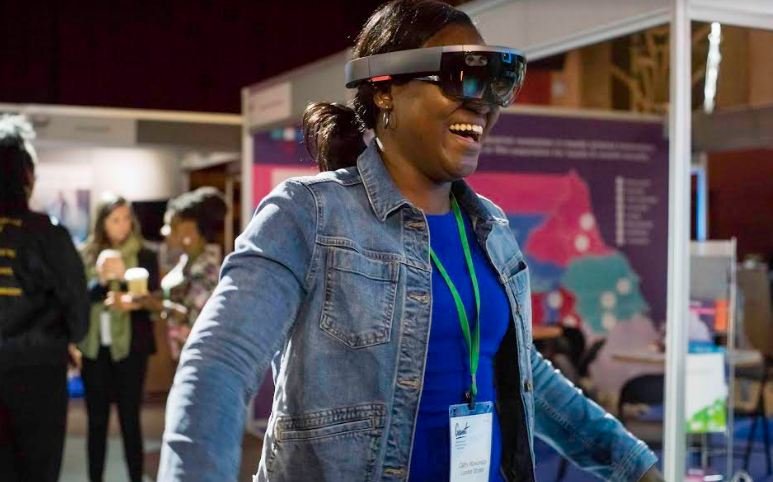 What happens next – what will you differently from before?
I am also currently looking at two ideas for tech solutions to improve Ugandan healthcare. Vodafone is going to support me through an incubator that can help me crystallise my ideas into a tangible plan and give me the connections to start making that dream a reality. I will also stop procrastinating.
What have the reactions of others been since your return?
That was an awesome opportunity you got.
What has Vodafone's role been throughout the experience and how do you feel about the company?
Vodafone put in place quite a unique competition that is doing what it says "helping us create our tomorrow". I now view the company as one that connects with its environment and is aiming at making a difference in our community.
What are your thoughts on the future of Uganda and what young entrepreneurs can do to make a difference?
The future for Uganda is great. If the youths are empowered to participate in building the nation, Uganda will be able to go from third world to first. More companies need to also come up and empower the youths just like what Vodafone is doing.
What advice would you give to others about creating their tomorrow?
Do not underestimate small beginnings and always take opportunities that will make you grow.
(Visited 243 time, 1 visit today)
Capital Kitchen: First luxurious and exclusive eatery opens in Kampala this Saturday July 28 2018

Capital Kitchen (CK) an authentic World Kitchen inspired by the best in the food industry in the world has opened its first outlet in Kampala.
The World Class kitchen, an ultra-modern investment located on the storeyed Thobani Centre on Jinja Road, opposite Orient House, offers an exclusive and indulgent dining experience like never before. It is ideal for people who value class and also want a bit of a bargain.
According to Ashish Sharma, the Chief Executive Officer (CEO) of Capital Kitchen, they are inspired by best in food industry around the world and will bring a variety of fresh food on the menu.
He explains that Capital Kitchen is bringing eight of the best moving contemporary cuisines under one roof.
"Our buffet concept is on the next level. We take pride in confirming that we are creating a niche in food industry of Sub Saharan Africa by bringing down 8 best moving contemporary cuisines under one roof. This will be in a highly authentic and affordable manner, Sharma reveals.
He also says that Capital Kitchen's core value is to provide a pampering experience for customers by providing trendy and world class foods picked from cuisines around the world.
Some of the outstanding cuisines include Brazilian Churasico, Live authentic tandoor, Turkish grill and pastry display.
They have not forgotten on the indigenous Ugandan afraid to try out other exotic foods.
"We are getting ready to serve in such a way so that one can enjoy anything from the get the best African grills to the mouth melting tandoori kebabs. We shall also have the tempting Shawarma /Turkish kebabs, the Teepynyaki/sushi/ Dimsum/legendary stir fry and the Thai cuisine. All these will be part of our food theatre live buffet.
Sharma explains that aside from the buffets, customers will also enjoy bite-sized morsels of homemade cakes, comforting puddings, creamy profiteroles, fresh fruit and gelato galore.
"We also have the stuff that dreams are made of. We have the legendary chocolate fountain, featuring cascading Swiss milk chocolate and a selection of fresh fruit and marshmallows waiting to be enjoyed,"
He explains that for starters Capital Kitchen is out to sell to Kampala an experience and as such, immediate profits are secondary.
Sharma explains: "Our prices are unbelievable low. The price regimen rolls one buffet ticket concept where client can eat everything /anything they can from that massive spread at only sh40, 000
Apart from the one ticket offering Capital Kitchen has also brought more than twenty (20) pre plated meal platters (7 course cuisine based meals) of legendary cuisines for only 20,000.
For more information, contact 0781237890
(Visited 243 time, 1 visit today)
Interview: Meet DJ Kathy, a rising female deejay

Although the deejaying industry in Uganda is still male-dominated, many female deejays are coming up lately. One such is Dj Kathy, a rising young female deejay. We caught up with her for an interview and here are the excerpts:
1. Who is DJ Kathy?
My real name is Namiiro Kathleen Anna. Although I may seem quite reserved, I am a friendly person and very passionate about music.
2. When and what made you fall in love with deejaying?
I fell in love with deejaying in 2012. But my journey in this line of business started in 2010 after joining the Kampala Music School where I studied music and keyboarding.
I think what made me fall in love with deejaying was seeing people do something I felt I could also easily do given my IT background and love for music. I had previously completed a short course in IT at Makerere University during my S.6 vacation.
3. What is your typical day like? Take us through how you prepare for a deejaying gig.
After I have been contacted for a gig and payment negotiations are done, I start preparing a playlist depending on the type of event where I will be playing and make sure I am ready for my set. But If I don't a playlist prepared, I simply study they crowd and play music that gets them excited.
4. Are you still in school? If yes, how have you managed to strike a balance between your academics and deejaying career?
Yes, I am still in school. I am currently in my final at MUBS where I am pursuing a bachelor's Degree in Business Administration.
Juggling between school and my deejaying career is quite hard, but I believe I have managed to do it because of my persistence and taking my studies seriously. Actually for me, education is my top priority.
5. What is that one thing most people are wrong about deejays?
One thing that most people are wrong about deejays is that they think deejays did not go to school. But, I tell you these days, most deejays are graduates. Some even have Masters Degrees. I actually want to be the first in Uganda with a PHD.
Another thing people wrongly assume about deejays is that they all have multiple partners, and that is not the case because every individual has their own principles they uphold. For instance, I am still single and not even searching.
6. What is your biggest achievement as a deejay at the moment?
My biggest achievement always is when I get the crowd dancing to the music I am playing. It does not feel good to be playing music and then see all people seated. It is very demoralizing.
My other achievement was being awarded the "Best Female DJ – Central" at Ug Mix Maestro awards in 2017.
I am also proud to say that I am currently the youngest female professional deejay in Uganda, going by records kept by the DJ Association of Uganda(DJAU).
7. Is a career as deejay fulfilling financially or you need a supplementary job to meet your day-to-day needs?
I am earning quite well through deejaying, because I am usually paid per hour. About a supplementary job, I am still quite comfortable with what I earn for now because my parents still take care of the big bills like tuition and I take care of the smaller bills like my upkeep. But, I think in future I will need another job, and that's why I am still in school.
8. Finally, what is your advice to the youth who are still scared to follow their passion?
If you are following your dream, you have to be very focused because often there are always lots of temptations that could derail you.
The other thing is that you should always pray. I am a strong believer, and I know God will always make a way where there seems to be none.
(Visited 243 time, 1 visit today)
INTERVIEW: Pia Pounds talks relationship with Eddy Kenzo, Fashion and Music

By Demo Riley
She is curvaceous, with a glowing smile and was recently signed to Eddy Kenzo's Big Talent, making her the first female artiste to be signed by Big Talent (at least officially). But who is Pia Pounds? Well, we caught up with her and this is what she has to say.
For starters, who is Pia Pounds?
My real name name is Tracy Kirabo. My father abandoned us and my mum raised us as a single mother but later died and left me and my siblings with her sisters.
I was raised on a staunch Christian foundation, I was the lead vocalist in my church choir all my childhood.
I became immensely drawn to music when I was 8, I felt like no one understood me… and the best way I could express myself was through music. I became an outlaw at the age of 13 when I ran away from home because I felt mistreated and always misunderstood. Call me the black sheep of the family and certainly yes, I am very different.
I struggled while I was a teenager, with tuition and rent because I had to provide all that myself, my situation forced me to grow at a very tender age. I've worked in half the supermarkets and restaurants around Kampala, insurance companies too because I started working during the holidays of senior 3.
I've learnt to be independent and since I was a kid, I've always known music was the only thing I was truly good at. At 14 years of age, I was surrounding myself with music related environment because that's where I felt confident the most.
I have always been insecure and very shy. I love music and art, writing, fashion, food and am a psycho for love.
Well, now that you're under Big Talent, how is your experience working with Eddy Kenzo?
Big Talent in some way is more than just a label to me; it's family. It's one of those places where I feel safest the most. I've grown close to everyone there, sometimes I wonder what took me so long to find them.
We work hard, always in studio, always in training. So far, I love it there. And I hope my dreams really become a reality.
By the way there's been rumor that your relationship with Eddy Kenzo goes beyond just music, how true is that?
I have grown weary explaining to my fans and Uganda at large that me and Eddy Kenzo have only business in common.
Eddy Kenzo is a very tough man, he has no time to play, you have no idea how many times he scolds me(laughs). He's a great mentor and director, his heart is too big and I feel sad that people hardly see all this.
Many female artists whose music journey started off in labels have been dogged by similar rumors, for example Rihanna was accused of dating Jay Z, and Rema was rumoured to be dating Bebe Cool, but time is a healer.
You recently confessed that countless men have been approaching you for sex, how are you dealing with that?
I never said that countless men approach me for sex. The media chose to twist my words into what they wanted to hear.
I simply said in this industry, many females as viewed as sex objects that's why thousands either fail or quit. It's unfair how the world connects sex to our talents that If Pia is an artist it means she's a whore. We are better than that and we deserve a little more respect.
Besides that, who's the lucky man taking care of you?
Honestly, I am not ready to disclose my relationship status.
Three things you can't leave without?
Definitely food, my fully charged phone and lipstick
What would you say is your inspiration, fashion wise?
Like I said, I was always insecure and I thought little of myself. Until one day in 2015 when I met Fatumah Asha. I was in my first year at university and she told me I had such an amazing body and she couldn't wait to have me in some of her dresses. That compliment changed my life, next thing you know I walked into my school Miss registration office and registered as an aspiring Miss IUEA (International University of East Africa) in the competition I was crowned Miss IUEA second runners-up and Miss IUEA talent.
I was filled with so much confidence that out of 54 contestants I was a chosen one. I then met Bettina Tiana who became another inspiration and big mentor, most outfits I put one are chosen by her. I knew fashion was part of me, it makes me confident to put on a good outfit, there's how it transforms my whole look.
Who's your best male artist Ugandan artiste and why?
I have like 5, first the late Moses Radio – this man was exceptional, he wrote so damn well. He's music took me through so many years of loneliness. And vocally, he was a genius.
Second is Eddy Kenzo. Before I knew him I thought he was just lucky but after seeing how creative he is in person, he can freestyle on 5 tracks in one day and he will release them all. He chooses his words in a way that makes them very relatable to the listener and hard to forget. My fave songs from him are – Twala Ewamwe, Stress free and Jubilation.
The third is David lutalo – I think he's a very talented man. He writes so well and he's voice is beautiful, his jam 'So Nice' is always on replay at my house.
Lastly, Fik Fameica. This kid has changed the whole Hip-pop industry of Uganda. I am his big fan.
Musically, what should your fans expect from you this year?
Music, music, music and more music.
The first time I was signed my boss he told me "Gwe ogenda ku kikuba"
We have a lot of work, only waiting for the perfect time to release it. I have great collaborations some with the male artists I mentioned above. I keep bettering my product all the time so the once a song is released, it's hard to be taken un-seriously.
Some of the future prospects?
An album will be dropped at the end of this year. And lots of collaborations.
Last message for your fans?
I love them so much. They push me into becoming the best version of myself. I don't intend to let them down, believing in me is a gift I take very seriously. Greatness is where we are headed.
(Visited 243 time, 1 visit today)