Bright Stars hold Uganda Cranes in trial match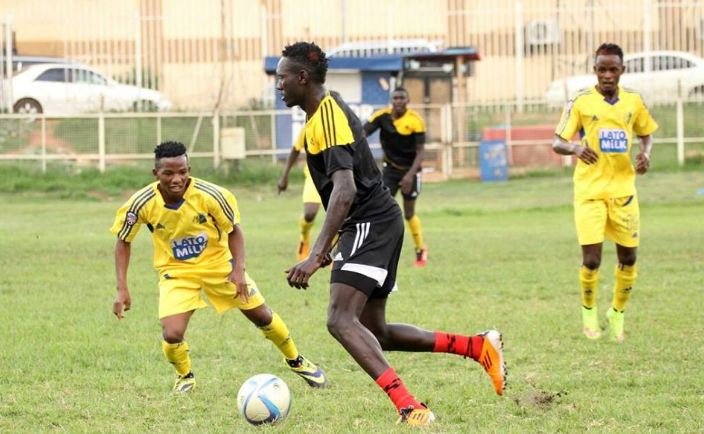 By Robert Kayindi James
Azam Uganda Premier League (AUPL) side Bright Stars held the Uganda Cranes to a one-all draw yesterday in trial match played at the Nakivubo War Memorial stadium.
KCCA's Derrick Nsibambi connected well with Mohammad Shaban's cross to head passed Nicholas Ssebwato to the give the Cranes a lead before Yubu Bogere levelled matters for the Kawempe based side.
Bright Stars are preparing to take on URA FC in the Uganda Premier League while the Uganda Cranes continue with non-residential training ahead of the January 2017 AFCON finals in Gabon. The Cranes take on Uganda Cup reigning champions, Vipers SC today in a similar arrangement.
Meanwhile, coach Micho is expected to name a provisional squad of over 40 players on Wednesday, 30th November 2016 at FUFA House in Mengo, Kampala during the weekly press conference.
Team Line ups:
Uganda Cranes Team 1: Ismail Watenga (G.K), Denis Okot Oola, Joseph Ochaya, Richard Kasagga Jjuuko, Timothy Dennis Awany, Tonny Mawejje, Dennis Iguma, Kezironi Kizito, Derrick Nsibambi, Muhammad Shaban, Edrisa Lubega
Uganda Cranes Team 2: Ismail Watenga (G.K), Nicolas Wadada, Shafiq Batambuze, Rashid Toha, Halid Lwaliwa, Hassan Wasswa Mawanda, Muzamiru Mutyaba, Geofrey Sserunkuma, Ibrahim Saddam Juma, Paul Mucureezi, Yunus Sentamu
Bright Stars 15: Nicholas Ssebwato, Moses Ssekasana, Innocent Assimwe, Jimmy Kakooza, Abdulnoor Kanaana, Sulaiman Ssekajja Ssebunza, Victor Aweko, Abraham Kisa, Methidous Jjungu, Joshua Kawadwa, Jackson Kibirige, Seif Batte, Fred Ssegujja, Yubu Bogere, Ali Okitto Subs: Cleo Ssetuba (G.K), Hakim Mugerwa, Andrew Kaggwa, Martin Kivumbi
(Visited 55 time, 1 visit today)
VIDEO: Bryan White and his Podium team at the Bika tournament

BigEyeUg Team
Tycoon Bryan White and his foundation podium members were at the Bika Tournament grand opening today at St Mary's Kitende Stadium with The Kabaka Of Buganda.
'It Was an honor to be invited to attend this ceremony,' Bryan White said after the event.
(Visited 55 time, 1 visit today)
Waitress wins ticket to watch the World Cup live in Russia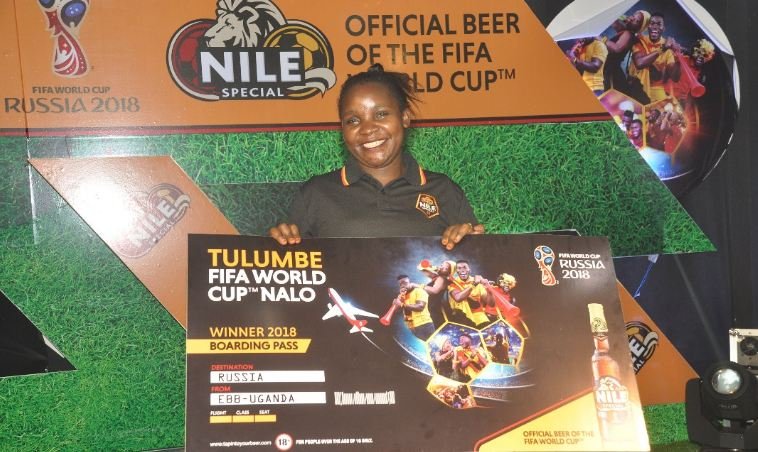 Esther Khissa, a waitress at Twins Center bar in Mutungo, has become the next lucky winner of an all-expense paid trip to watch the World Cup live in Russia in Nile Special's ongoing "Tulumbe Russia" campaign.
Khissa, whose joy was palpable as she was officially unveiled winner, is the 3rd individual to win a ticket to Russia. The first ticket was won by Pius Ogena, a local rugby player while the second was won by Edson Kakumirizi.
Launched in late April, the campaign will see 10 lucky consumers across the country win fully paid trips to Russia. There are also several other goodies including TVs, and Kwese decoders among others to be won. To stand a chance to win, consumers should text a code under the Nile special crown to 8008 or log onto the Nile Special website.
The "Tulumbe Russia" campaign will run for a month ending on May 25th.
Meanwhile, Nile Special is the first truly Ugandan brand to be associated with the FIFA World Cup.
Staff Writer
(Visited 55 time, 1 visit today)
No plans for official England World Cup song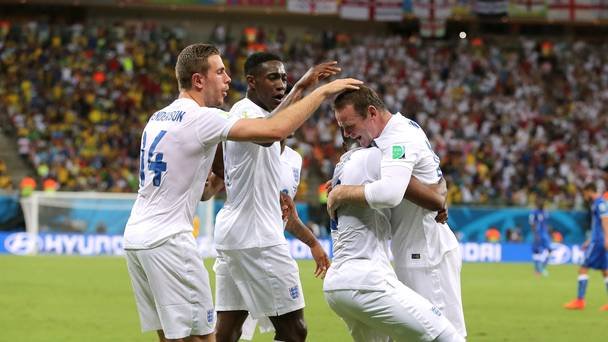 England's latest attempt to reclaim the football World Cup will not have an official soundtrack.
The Football Association said it had not commissioned an official squad single or planned to endorse an unofficial song to mark the 2018 tournament in Russia next month.
An FA spokesman said: "There is no official World Cup song planned."
It is not first time the Three Lions have been without a sanctioned anthem, although unofficial attempts have had some chart success.
Reports of an effort by Chas and Dave, who have just released new music for the first time in 30 years, were met with a muted response from the band's manager and drummer Nik Hodges.
"There's certainly no solid plan," he said.
At the last tournament in 2014, Gary Barlow's reworking of Take That track Greatest Day, featuring stars of pop and English football, such as Pixie Lott and Gary Lineker, was dropped in the lead-up.
A video was unveiled for Sport Relief in March that year but a single, originally planned to go on sale nearer the start of the tournament, was never released.
England did not have an official anthem in 2010 either, although an unofficial release featuring James Corden and Dizzee Rascal called Shout managed to top the charts.
The 2006 World Cup song World At Your Feet was released by Embrace and went to number three in the singles chart.
The Spice Girls performed with Echo And The Bunnymen star Ian McCulloch on (How Does It Feel To Be) On Top Of The World, which was released under the name England United for the 1998 World Cup.
But it was outsold by a revamped version of an official track for the 1996 European Championships – Three Lions 98, by David Baddiel, Frank Skinner and the Lightning Seeds – as well as by Vindaloo by Fat Les.
American signer Jason Derulo has recorded Fifa's official anthem Colours for this year's tournament.
Press Association
(Visited 55 time, 1 visit today)