Big Brother Naija housemates promote girl-child education

It was an exciting and fun-filled Sunday night as the housemates in the on-going Big Brother Naija reality TV show rose to lend their voices to the campaign for girl-child education. The housemates, led by Bisola, treated the viewing audience to a theme song titled "Let's educate a girl-child' in a bid to reiterate the importance of 'girl-child' education.
During their act, all the housemates teamed up, with each one of them displaying his or her creative skill and zeal to collectively pass across their very important message.
The fun last night took a different turn when Iyanya stepped on the stage, joining the list of musical artistes who have performed at the BBNaija reality TV show. The Kukere exponent rocked the live stage with one of his singles, 'Up to something' in which he featured Mr. Oreo. The live show was also spiced by former Big Brother Africa housemate, Tayo Faniran who treated the guests to his new single, 'No calling and Dakun.'
The highlight of the night was when Ebuka Obi-Uchendu, the show host took on the housemates intermittently on romantic intrigues in the house. When Ebuka challenged Bisola over her intimacy with ThinTallTony, the starry-eyed Bisola did not deny her affection for the latter saying that it is a mutual thing.
She openly stated, "I like ThinTallTony very much… I'm comfortable with him," adding that unlike Bally, he reciprocates her feeling. However, she is not oblivious of the fact that ThinTallTony is 'into' TBoss. When teased by Ebuka on her emphasis, 'I love Tony very very very much.' a blushing Bisola jokingly said, "It's because he is TTT."
Ebuka later meandered and teased Debbie-Rise and Bassey on their romantic connection in the house and they both admitted that they have some chemistry. The newly-wed, Marvis and Efe were also not spared as Marvis confessed that she has a soft spot for Efe, while the latter said, "Based on logistics, Marvis remains to be the lady after my heart"
To prepare the housemates for the challenge ahead of them, Tayo Faniran, during an interview with Ebuka advised the housemates to look beyond the ultimate prize, which he believes is transient and focus more on life after BBNaija.
(Visited 78 time, 1 visit today)
Sauti Ya Africa release new video — "Biri Muggwe". Watch it here!

Ugandan music group, Sauti Ya Africa are back with a new single.
The recently crowned Commonwealth Music Ambassadors have released a new single dubbed "Biri Muggwe".
Produced by D-King and video directed by Meddie Menz,  "Biri Muggwe" is a love ballad in which they shower praise on their supposed lover.
Meanwhile, Sauti Ya Africa landed the Commonwealth Music ambassadorial role after winning a music competition which involved the 53 Commonwealth member countries early this year. As part of the deal, they will be recording more music in the UK soon.
Watch "Biri Muggwe" video below.
Staff Writer
(Visited 78 time, 1 visit today)
VIDEO: How Bryan White's car knocked a boda boda man
Gato Preto kick off Nyege Nyege Music Festival

BigEyeUg Team
The annual music festival MTN Nyege Nyege kicked off on Friday at an exclusive launch party at Design Hub in Bugolobi. Music Duo Gato Preto entertained contemporary music lovers to give fans a glimpse into what to expect at this year's festival which is billed to be the biggest since Nyege Nyege was started in 2015.
The festival, which is sponsored by Bell Lager , Uganda Waragi and MTN Uganda, will go back to its home town, Jinja, at the beach front of Nile Discovery Beach. The Afrofuturistic duo Gato Preto –Lee Bass from Ghana and Gata Misteriosa from Mozambique – opened up this year to a line-up of 300 artistes selected from around the world who will be bringing contemporary African music to Uganda. Selected artists will be performing a collection of kuduros, kwaito, Afro house, hiplife, Tuareg rock, cosmic synths, Arab tech, Morrocan bass, zouk bass, soukous, balani, funana, swahaili trap and Tigrinian blues.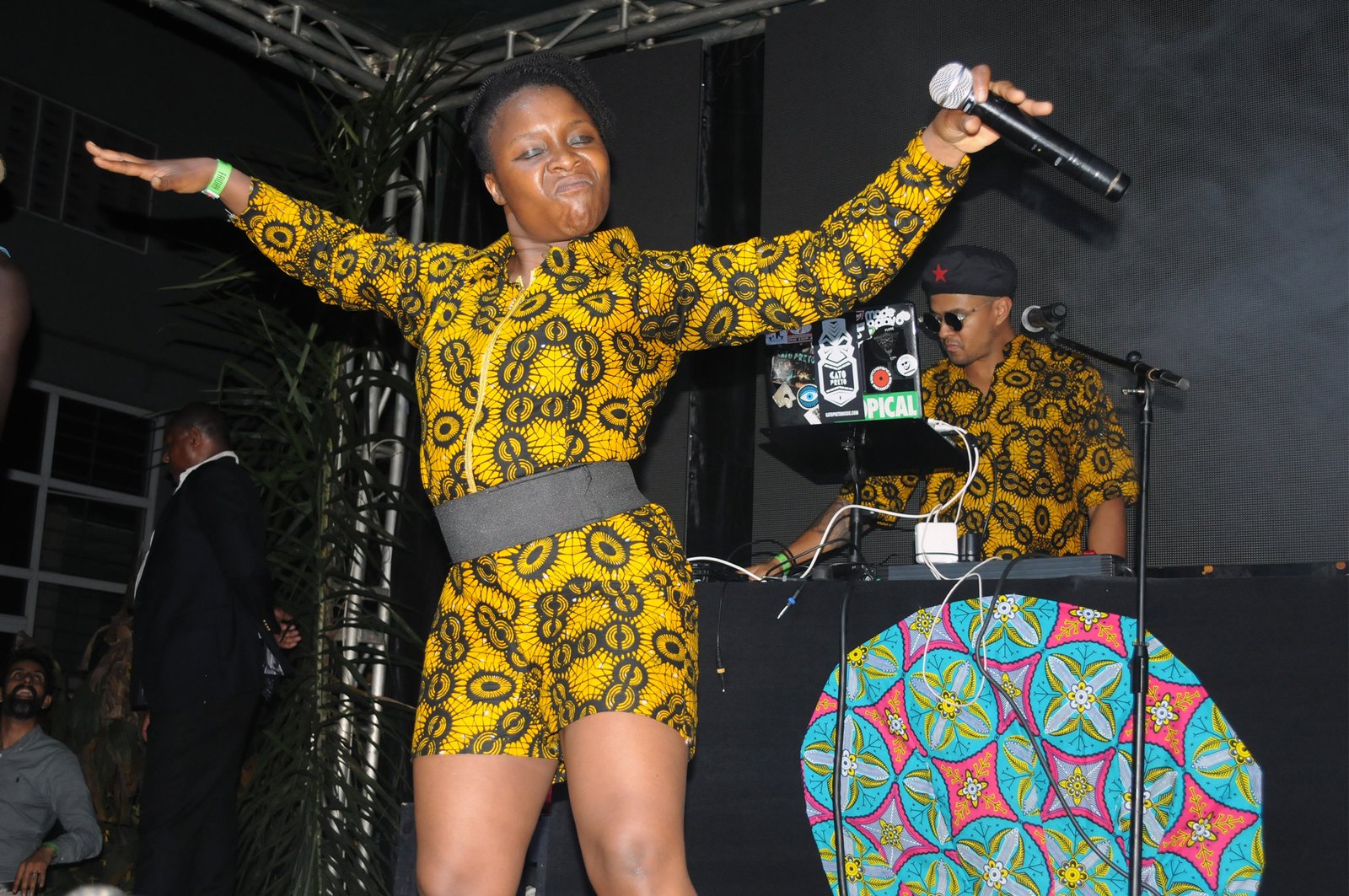 Uganda will showcase the best of the traditional musical heritage with musicians from over 15 tribes and a host of DJ's from around the country including electro Kadodi producers from Mbale, Acholi Dj's from Gulu and a who's who of Kampala's EDM music community.
From South Africa; Sho Madjozi, Rude Boyz, Dominowe and Phatstoki, folk/funk diva Zetina Mosia and underground electro producers Sleeping Buddah. The Tanzanian line up will feature the cream of the Singeli scene of Dar Es Salaam including the "Godmother of Singeli" Rehema Tahiri for an exclusive performance, as well as rhythm heavy Jagwa Music troupe and Gogo multi-instrumentalist Msafiri Zawose. Tuareg rock band Etran de l'Air will leave Niger for the first time to perform at MTN Nyege Nyege.
Kenya will be represented by L'Orchestre Les Mangelepa, considered as one of the golden era of Kenyan Lingala.
"Nyege Nyege is a unique music festival attracting a vibrant audience from Uganda and the world at large. Year on year, the festival has grown in strength and we are pleased to have been part of this journey for the past three years. We have made a commitment to this activity for the next three years and are confident that it will deliver guaranteed unique experiences with Bell Jamz and Uganda Waragi as partners," said Agaba Tumusiime, Brand Manager, Uganda Waragi.
In addition, the festival has birthed Nyege Nyege regional experiences in Gulu, Arua, Mbarara and Entebbe.
Nyege Nyege is a showcase of the connections between Africa and the rest of the world with Cumbia from South America, vodou jazz from Haiti and underground hip hop from America. Nyege Nyege takes its inspiration from the legendary World Festival of the Black Arts' that took place in Dakar Senegal in 1966.
Four days of non-stop musical celebration will include state of the art sound systems, games, picnics, boat rides, film screenings, custom made afro-futuristic decorations, biking and quad biking on the shores of the River Nile in a stunning location surrounded by over four acres of lush tropical forest.
(Visited 78 time, 1 visit today)