Belgian-Ugandan film, "Papi" premieres Thursday
By Our Reporter
All roads will this Thursday lead to Theatre Labonita in Kampala where the hotly-billed  Belgium-France-Uganda co-production film Papi is set to make its local premiere.
Speaking to this website in an exclusive interview on Monday, the film's Belgian writer and director Kjell Clarysse said he was excited to bring the film back to Uganda following a successful run in Belgium mid last year.
"It's a huge honour for me and my team to present the film to Ugandan audiences. We had such a fantastic time shooting here, and we hope everybody will get to appreciate the hard work the Ugandan cast and crew put in," Clarysse said.
The 31-year-old documentary filmmaker and photographer is hopeful his debut feature film will open up doors for more Euro-African co-productions due its universal appeal and positive portrayal of Uganda.
Shot on location in Kampala, Brussels and Paris with a shoestring budget of $15,000 (about Shs 54.5m) back in 2015, the multilingual thriller revolves around its titular character Papi, a Congolese man who finds work as a boda boda rider in Kampala.
Papi's life however turns upside down when he crosses paths with a troubled local woman and a mysterious European expat, triggering a series of gruesome events that will leave the viewer with a chill.
Congolese actor and fashionista Papy Tshifuaka leads the film's ensemble cast in the titular role while Belgian film star Fredrik Declercq plays the villain. The duo is supported by a strong team of Ugandan actors including Rehema Nanfuka, Daniel Omara, Felix Bwanika, Wilberforce Mutete and TV personality Deedan Muyira.
Tickets to the premiere cost Shs20,000 and will be available at Theatre Labonita box office on the D-Day. Gates open at 7pm.
(Visited 1 time, 5 visit today)
MTN Uganda announces sponsorship of the Nyege Nyege Festival
MTN Uganda has become the official title sponsor for the annual Nyege Nyege International Music Festival. The announcement comes after MTN Uganda reached an agreement to sponsor the festival for the next three years. The sponsorship is effective from the September 2018 edition.
"MTN Uganda is delighted to be the title sponsor of the Nyege Nyege International Music Festival. As a brand we recognize that being part of this celebration of the arts and culture for three days non-stop helps create sustainability of this very important festival," said Olivier Prentout, the Chief Marketing Officer MTN Uganda.
He said this at the unveiling ceremony that took place at The Square, Industrial Area on Wednesday evening.
MTN is sponsoring the Nyege Nyege International Festival with the aim of ensuring it continues to develop, attract artists and the thousands of music, arts and culture enthusiasts that show-up for the three days.
"This festival is a celebration of music and culture from all over the world. This 3-day celebration allows people to connect, learn something new and have a good time. MTN feels that this is the right festival to partner with since we are all about celebrating, innovation and facilitating the growth of others," Prentout added.
The festival not only attracts local revelers but is also an opportunity for Uganda's tourism sector to thrive as people from several parts of the world attend. It will take place from Thursday, 6th September to Sunday, 9th September 2018 along the shores of The Nile in Jinja.
"We would like to thank MTN Uganda for believing in this celebration of music and culture. This will be an opportunity for us to keep hosting the event and supporting the ever-increasing numbers that turn up to celebrate," said Derek Debru, one of the Founders of Nyege Nyege.
(Visited 1 time, 5 visit today)
Spice Diana breaks silence on allegedly wearing artificial hips.
Embattled singer Spice Diana may fall prey to all the mushrooming bad rumors about her but she will not let one thing go un-explained. The singer who has in the recent past had very rough days has broken the silence on allegations that she wore hips on her concert day and perhaps still wears then. The singer who previously has had bad interview days on BBS and NTV will let all that pass but not the lies that she wore hips.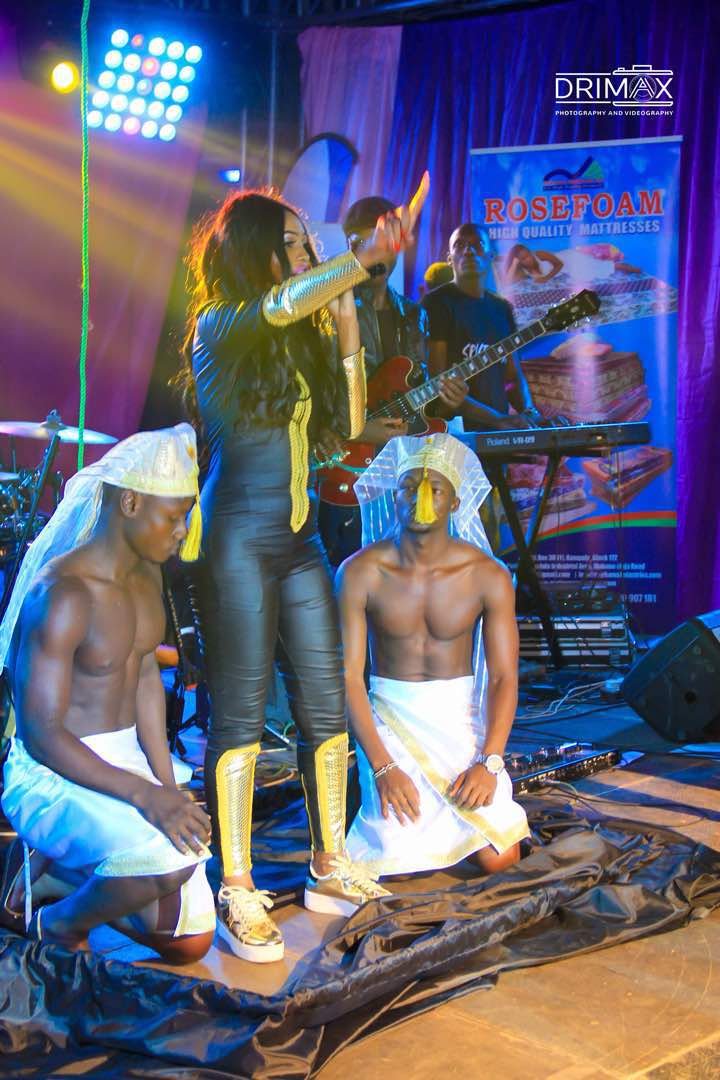 According to Spice Diana, on her concert day she had a costume for the day and was expected to make a grand entrance, to fly in like an angel. "Spice was to come on stage flying like an angel and obviously she had to wear support right from her thighs. Inside her costume she had material from which the ropes that support her were tied and that explains the alleged hip extensions that people are implying." Her manager explained. The singer further confirmed and admitted that had other clothings inside her costume but they were not hip extensions but rather part of her support to her flying entrance.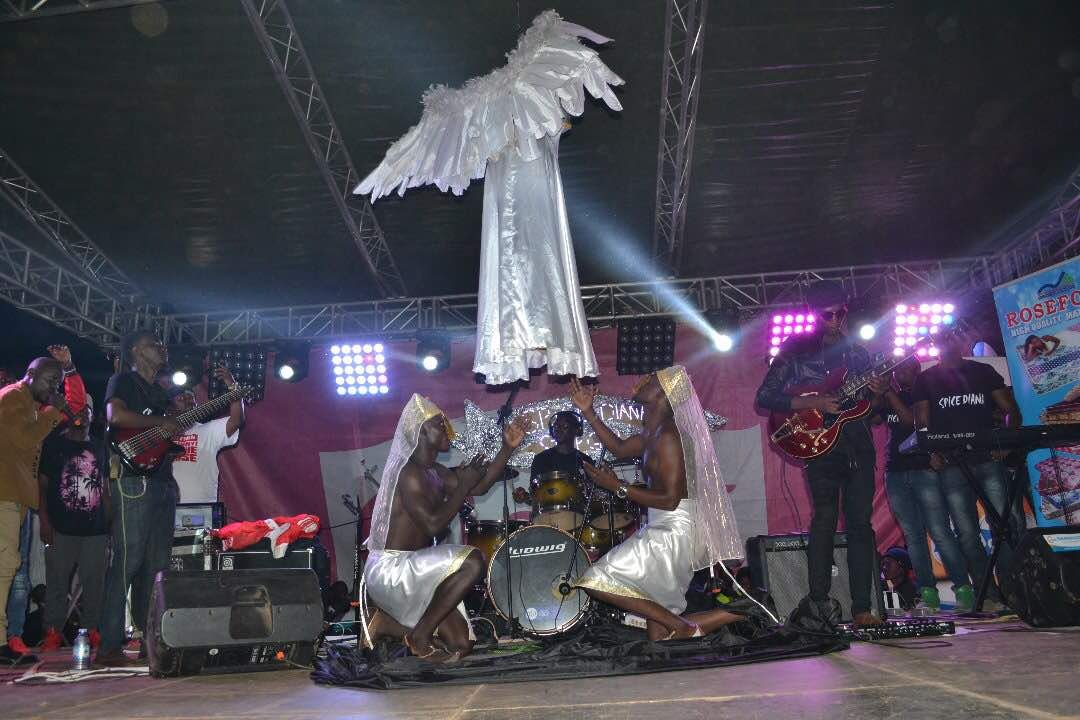 Spice Diana is with no doubt one of the very beautiful female singers we have and we agree she doesn't need hip extensions to rock us.
(Visited 1 time, 5 visit today)
I am a music Dynamo, Jose Chameleone challenges Bebe Cool to a battle of champions.
By Stuart G-Khast.
Singer Jose Chameleone has come out clear and commented on the fast spreading word about his much anticipated battle with Bebe Cool. Chameleone has not declined on any chances that the battle could actually take place.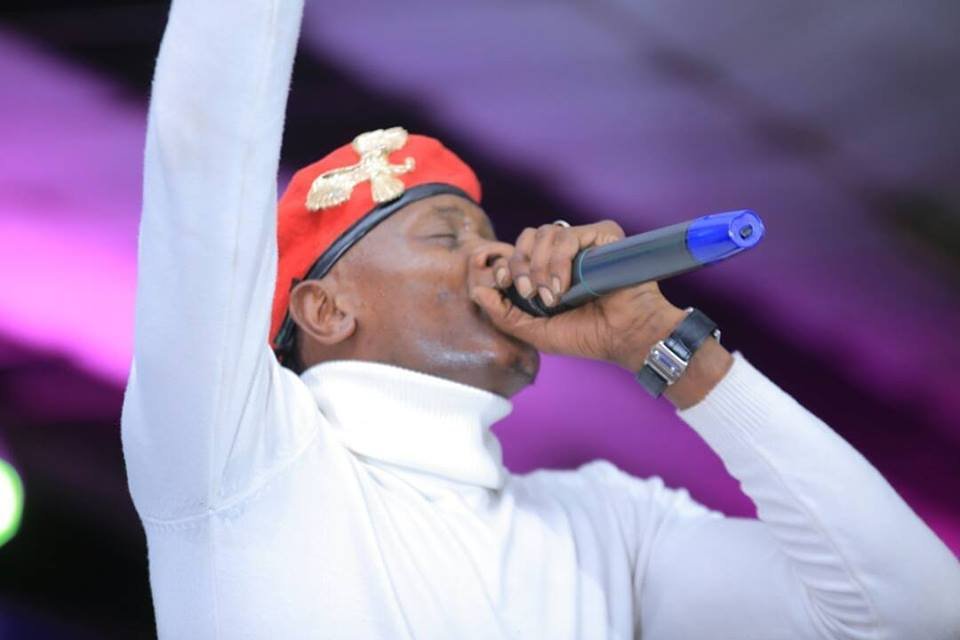 In a long stamen he noted "… I remain the undisputed. I have heard of the battle with my big brother though no one has come forward to put the deal on table. I am a music Dynamo and who so ever wants to battle should know that that's the day you are going to be buried before your disciples!!
And I will put a cross on your grave as I engrave R.I.P. I WILL ONLY ENTER THAT ANTICIPATED SHOWDOWN IF THE KCCA WILL AGREE TO LET IT BE NO TIME LIMIT. He who runs out of music, Goes home.
Jose Chameleone seems ready for what could be the biggest artiste battle of the decade.
(Visited 1 time, 5 visit today)