Bebe Cool tips Irene Ntale to take on the Big stage

No upcoming singer has received as much positive criticism as Irene Ntale. The petite singer with body of a French model could make one develop a feeling of "vraintment dessole" considering that she hails from the same nation as Straka Mwezi.
However, not her voice! Her love themed lyrics paint a colour of romance bringing the French city of romance, Paris into picture.
While announcing the release of their duet dubbed "love letter" at McKenzie's launch of Kella PR at Gato Mato on Thursday night, Bebe Cool showered her with praises tagging the priceless "next-big-thing" label.
Described by Sunday Magazine in 2010 as "songbird with succulent melody and flow of lyrics like honey dripping on rose petals", Irene has been poised to take on the big stage.
The critic went on to flatter her vocal prowess mentioning her vocal range in same breath as Whitney Houston and challenging her to emulate former I-Jay singers Juliana and Iryn.
A lover of acoustic sounds, Irene started her musical journey while at Makerere High School, Miggade, then later joined Victory church choir, Ntinda and has since grown to host her own theme night, "Acoustic Night with Irene Ntale" at the prestigious Emin Pasha hotel.
Will she translate these praises to fuel her rise? The spotlight is on her!!
(Visited 1 time, 1 visit today)
MTN Uganda launches Two in One Mi-fi and Powerbank

By Staff Writer
Device is a two in one Mi-Fi and Powerbank
Can be used by up to 10 users, has 5,000 mAh battery
The device is also 2G, 3G and 4G compatible and retails at only UGX 189,000
Kampala, Uganda – Friday 21st December 2018: In this modern era, being able to be fully connected to the internet and having your phone fully charged is almost a primary need!
Ask anyone who holds a phone and their biggest fear is running out of battery on any given day. In addition, the need to be 'connected' is important to keep up with communication with business, friends and family.
Due to this, many had to move around with two important devices, a Mi-Fi and a power bank. However, thanks to MTN Uganda, the days of walking around with two bulky gadgets will now come to an end with the introduction of a two-in-one Mi-Fi.
"As part of our twentieth anniversary celebrations, we are giving Ugandans a perfect gift for their communication needs in the form of an exciting new device" said MTN Uganda's Chief Marketing Officer (CMO) Olivier Prentout.
He continued: "Our customers will now be able to stay connected to the best 4G Internet while keeping their phones powered up throughout the day thanks to the never seen before MTN 2-in-1 Mi-Fi and Powerbank."
The device will enable users to keep up to date with all the online action, news as well as be connected with their work. According to MTN Uganda, the product is as a result of feedback from customers who complained about carrying bulky power banks and Mi-Fis separately, sometimes making their pockets and bags heavy.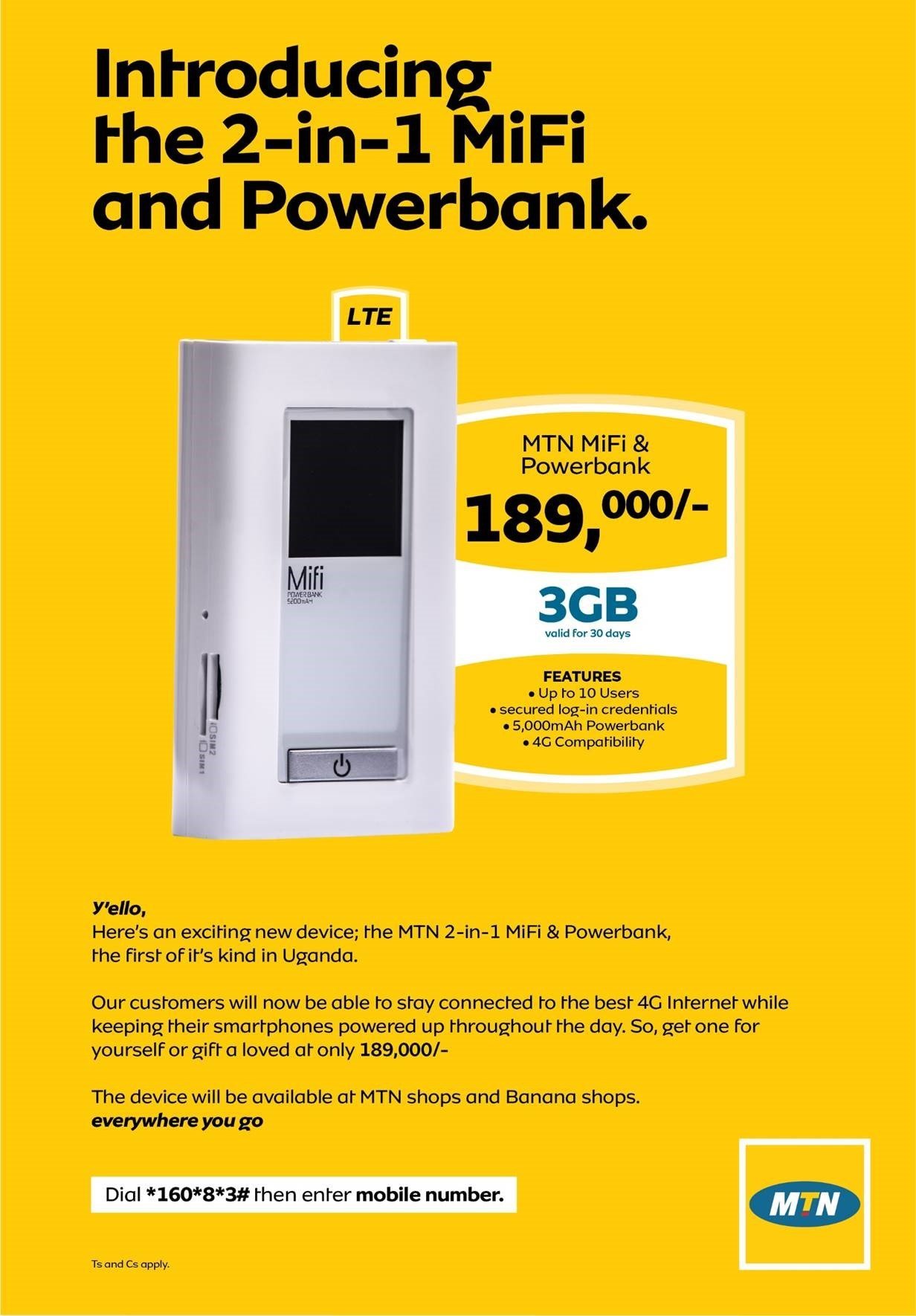 The following are the key features of the MTN 2-in-1 Mi-Fi and Powerbank:
4G compatibility
Can pick 2G and 3G MTN networks as well
1.5-inch display
Can connect up to 10 users
5,000 mAh battery
LTE compatible
The MTN 2-in-1 Mi-Fi and Powerbank can fully charge a smart phone (as a power-bank) more than twice, making the device a must have for smartphone device owners, individuals working on the move or remotely, students and firms or start-ups that work in small groups or in close proximity who jointly need internet connectivity.
The device, which retails at only UGX 189,000 and comes packed with 3GB valid for 30 days, is now readily available at all MTN shops, Banana Shops, partner dealer shops and on Jumia online shopping website (www.jumia.ug). Major phone shops will also stock the devices
(Visited 1 time, 1 visit today)
Salvador Checks Apass and Ykee Benda over twitter brawl

By Consolate Namyalo
If you do not know about yesterday's tweef between musicians Ykee Benda and Apass ,you are definitely living on another planet.
The two artists got into it after an exchange related to Fik Fameica's flopped concert escalated into a battle of words between the two, pitting their fans against each other. The exchange kept going for a while, as twitter spectators had the time of their life laughing at all the banter.
Comedian Salvador however came through to challenge the two artists, asking them to give Fik Fameica respect for going all out and having the courage to put on a concert, telling them that until they put on their own concerts they should look at Fik as a teacher they need to learn from.
"My message to @IAmApass and @YkeeBenda  … until both of you do a major show… please give credit to @FFameica for going all out.. right now he is the teacher … esp you my kid bro A Pas … tusigale nga tuli bakakamu.. Do a show and let the masses judge."
We hope this quells the situation.
(Visited 1 time, 1 visit today)
Win big with EliteBet this weekend with Chagga, See how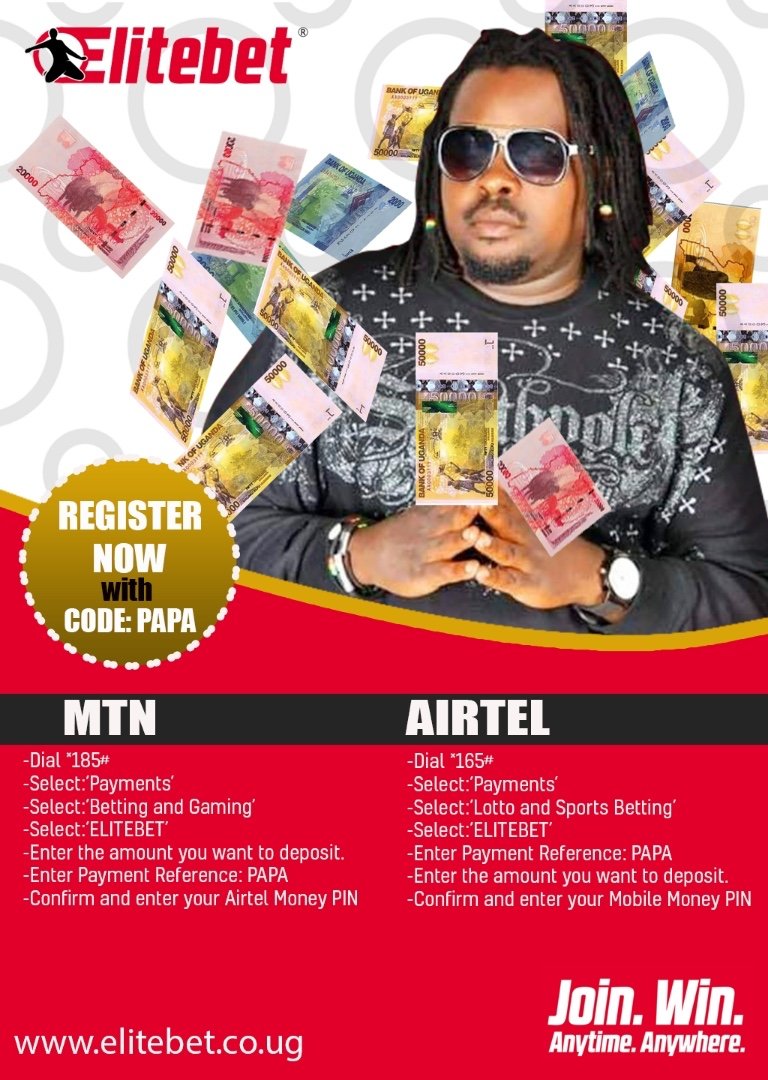 Elite Bet will get its clients winning big this weekend. The betting company will this weekend allow you bet on the Liverpool, Man U match and get paid instantly and ti your last money.
Log into the website and deposit with code PAPA and stand win big.
Elitebet is the only betting company that doesn't charge customers witholding tax on customers winnings and mbu you can bet with just 1shs and withdraw all your winnings up to zero balance instantly on your mobile money.
(Visited 1 time, 1 visit today)