Bebe Cool, Eddy Kenzo to headline "Friendship Week" concert
By Our Reporter
Local musicians Bebe Cool and Eddy Kenzo are set to headline the "Friendship Week" music concert.
The concert which is slated for Saturday, 25th March will be the culminating event of the France – Uganda Friendship Week.
The "Friendship Week" will kick off on 18th March 2017 to coincide with the celebration of the Francophonie Day, a fete that brings together all the French speaking population across the globe to celebrate the French language and Francophone culture.
Speaking at the launch of the France – Uganda Friendship Week held at the French Embassy on Wednesday, the singers vowed to stage a memorable performance.
"I  love football and music. I am very happy to be part of this and promise to give 100 percent at the concert," Eddy Kenzo said.
"I want to thank you for giving me the opportunity to be part of history during this special week. I promise to give my best on the day," Bebe Cool also noted.
The concert, which is being organised by the French Embassy in partnership with Talent Africa, will also be graced by other artistes including Sheebah Karungi, Navio and Buganda cultural ensemble, Nilotika among others.
Meanwhile, the music concert will be preceded by a charity football match between the Uganda Cranes and French military team. The event seeks to raise funds that will go towards building sports facilities in a chosen disadvantaged school.
The friendship week purposes to organize a joyful, positive series of events consecrating the friendship between Uganda and France through music, culture, food, wildlife and sport.
(Visited 1 time, 1 visit today)
Opinion: What Solomon Serwanjja's AIBs win means for NBS Television's investigations desk
The hashtag, #NBSInvestigates, is a usual fixture among Ugandan trends online, with some of the most impactful news stories in Ugandan journalism history aired on the segment. It airs during NBS Television's Monday edition of Live at 9, their prime news bulletin.
Solomon Serwanjja is only one of the investigative reporters that contribute to it, and his piece, done in conjunction with BBC Africa Eye, "Stealing from the Sick", won a major international award – the Association for International Broadcasting (AIBs) Investigative Documentary Award.
This comes after Solomon Serwanjja was named the 2019 BBC Africa Komla Dumor Award that has him currently training with the BBC in London, England.
At the AIBs, "Stealing from the Sick" was nominated alongside some strong pieces like, Fault Lines – Targeted by a Text by Al Jazeera English, War Crimes for Likes by BBC Arabic Documentaries, Disasters at Sea – Coffin Ship by Exploration Production Inc., Inside Facebook: Secrets of the Social Network by Firecrest Films for Channel 4, The Atom Araullo Specials Babies4sale – Philippines by GMA Network Inc., and Wie is Schild & Vrienden echt? (Who are the Real Shield & Friends?) by VRT NWS.
That a Ugandan story is nominated among these is a milestone, that it wins is a major landmark for Ugandan TV at large, let alone the Investigative desk at NBS Television.
In the story, Serwanjja exposed the plight of Ugandan malaria patients who continue to suffer because of lack of access to drugs, with some even losing their lives, at the hands of government officials who steal and sell the drugs meant to be given out for.
But this is only one story. Some of the other pieces on #NBSInvestigates that moved the nation have also included Inside the Makerere University Sex-for-Marks Scandal by Raymond Mujuni, The Gang Terrorizing Kampala(Kifeesi) by Solomon Serwanjja, Girls in Risky Business by Canary Mugume, among others.
With the major wins by a man who is widely regarded as the one that started the investigative journalism at the Lower-Kololo-based station, I suspect coming investigations will be carried in even higher regard going forward… Maybe the next few pieces' adverts should now start with, "From the producers of the major award-winning Stealing of the Sick…"
Staff Writer
(Visited 1 time, 1 visit today)
Kenya's Dj Creme, Cindy lined up for Nomad Bar anniversary celebrations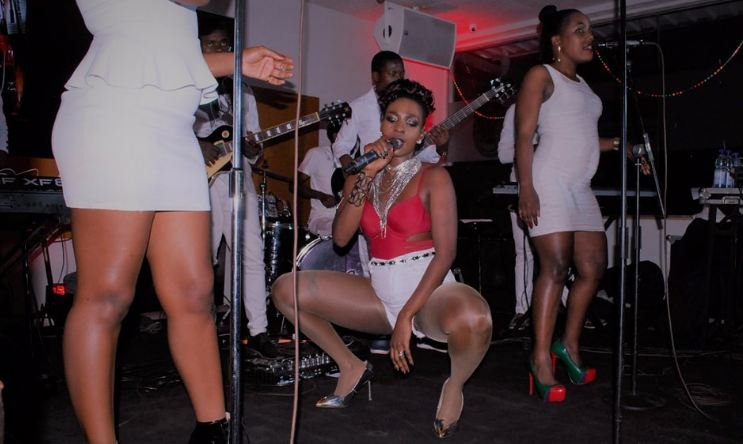 By Our Reporter
Nomad Bar and Grill is making one year in business this month. To mark the milestone, the bar establishment is organising a mega bash to celebrate with it's patrons.
"We want to give back to our patrons that have supported us over the past one year," the bar manager noted. "We have lined up lots of entertainers to give revelers a good time."
Slated for this Wednesday, November 20th, the party will be headlined by Kenya's celebrated deejay, Crème de La Crème alongside Ugandan dancehall star Cindy Sanyu.
The Bunga-based bar has changed the nightlife scene in the neighborhood and given competition a run for their money with it's VIP themed nights during which they have hosted big names from across the region like Comedian Eric Omondi and Diamond Platinumz among others.
The anniversary celebrations will coincide with the Black Bottle-themed night hosted by Bad Black which happens every Wednesday.
(Visited 1 time, 1 visit today)
Herbert Skillz gives remarks on his joint album with Jethron (Alonestar) ft Ed Sheeran
By Reporter
Herbertskillz of Sound Makers Music said he met Ed Sheeran's rap star cousin Jethro Sheeran (Alonestar) who is also an extremely successful musician and who shared many of Ed's early experiences within the music industry with him, After Jade his wife and manager arranged for them to meet in a studio in London a few months ago.
Since then they have been working hard in various studios in Bristol and London and from Sound Makers studio on a new Album to be released early next year and which features many fantastic talents including Jethro and Ed Sheeran. The album, Sunshine and Rain uses many of HerbertSkillz Beats and Herbert is responsible for much of the production, Jethro wrote many of the lyrics for the songs including a song Jethro wrote and made with Ed and in which Ed sings the chorus.
Jethro said "Its going to be a massive album, I love it and Im sure everyone else will too"
When I heard Herbertskillz music and production I knew it was right for the song and many more on my album, he has a very special touch which makes the music unique, and many top artists, labels and film companies agree.
Regarding his connection with Ed Sheeran, Jethro, who sings under the name Alonestar, said: We are cousins and have always got on really well and out of all of the family we're the ones who are musical and we used to sing and perform together at local gigs and to the rest of the family at Christmas, and family gatherings."
"Eventually we started recording our own songs and I took Ed to his first recording studio at Lime House and we made our first song together ."
Jethro and HerbertSkillz said they have been invited to perform a song they have collaborated on and which has Ed Sheeran in the Chorus, in a blockbuster film scheduled to come out next year made by Millennium Films, who in 2019 had the biggest box office movie of the year "Angel has Fallen" starring Gerard Butler.
The song is going to be released next year as a single and will feature on Jethro Alonestar's new album, and Herbertskillz said the song the film company want to use features Ed Sheeran, however, I love most of the songs on the Album and we are hopeful that many more will become international and festival hits next summer.
Jethro Sheeran has been talking with Millennium Films, who love one of the songs and they want us to perform it in one of the movies in a club scene, which we are very excited about.
In the mean time we have done radio interviews about the album on Ujima Radio station in Bristol with Tom Page, a photo shoot, and are now looking forward to performing at a Charity Boat Party on the River Thames next week in London, Alonestar is headlining the event with Sound Makers Herbertskillz, and many more celebrities and top DJ's. The event is to raise money for a Cancer Charity and is hosted by some popular British TV stars.
The event is called the "Monster After Launch Boat Party" and is on the river Thames Westminster London and tickets are available online costing £20 approx 100,000 ugx.
After the show there will be interviews on British TV and Radio to do and more studio sessions, going full steam ahead on the album, the flim deal and hopefully a video for one of the tracks being made here in Uganda next year with Jethro Sheeran and some of the other international artists that are involved in it coming over to Uganda.
When asked about what the future holds , Herbertskillz said mine and Jades focus since starting Sound Makers, has always been to make high quality music which is enjoyed by people and flies the flag for Africa in the music industry around the world. He continued our focus as always is on our family life and career, helping others, creating great music, with superb talents, moving forward with good heart and positive vibes, of course my new singles and album with Jethro Alonestar Sheeran , shooting an amazing video in Uganda, and performing with Jethro Sheeran next year. Things are moving in the right way and with hard work and a bit of luck I think we can make it and so I'm happy.he Smiles
(Visited 1 time, 1 visit today)