Bazebo's retail online shopping goes live in Uganda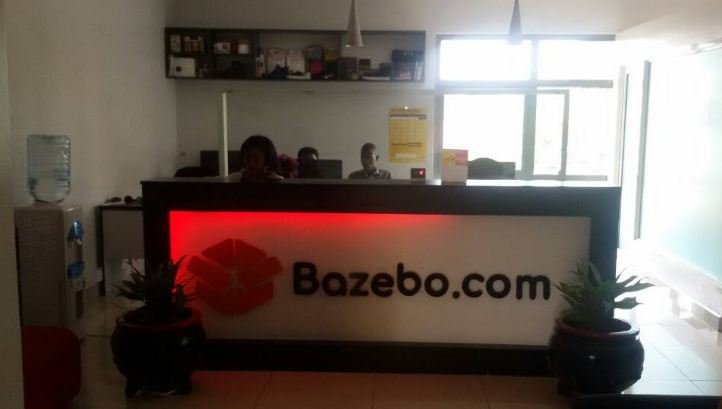 Ugandans can now shop directly from worldwide renown stores such as Amazon, eBay, Macy's, Victoria Secrets, Zappos, Dash and many other's with the coming of Bazebo, East Africa's premier online retail shopping and selling brand. Its operations in Uganda started on Saturday following a soft launch. As the internet becomes more affordable and accessible, online shopping is expected to grow as Ugandan shoppers begin to realise the benefits of online shopping.
The Ugandan-based Bazebo platform enters the market as a replacement for Nigerian-based Goods Express, which closed shop in November last year. Previously the Goods Express online platform & partnership had been tainted with increased purchase returns, inability to track products in real-time and delayed deliveries compelling the Ugandan counterpart to terminate the partnership and seek a more superior system as compared to what Goods Express Uganda was offering.
Moses Ihoza, Chief Executive Officer of the Acacia mall based Bazebo says, "As promised we are excited to have landed a Superior online retail platform to Uganda's market and we have laid ground in the rest of the East African markets to allow instant cohesion when we launch in a big way. The website is now open for our customers to purchase all they can and enjoy the experience – I believe the best online experience there is in Uganda today. Our customers can browse and evaluate from over 400,000,000 goods/ brands available and give us feedback. We have partnered with stores such as Amazon, Macy's, eBay among many other in order to meet and exceed our customer expectations in the shortest time possible."
From clothing to medications and supplements; technology to home furnishings and car accessories almost anything imaginable can be bought at Bazebo online and shipped right to customer's preferred location. For emergency and quick deliveries like medicine and perishable items, Bazebo has installed drones, maybe the first in Uganda, that are meant for deliveries in rural & remote places. Uganda will have followed Rwanda and Tanzania among East African countries to launch a drone delivery program.
Customers can choose from a range of payment methods, including both Airtel and MTN Mobile money. Bazebo promises a 4-10 day delivery period, instant refund policy, free international return policy, and a product quality filter which shows how new the product is and different prices available on a product type.
"Our primary mandate is to give our customers the best deals, solutions and support for the ultimate online shopping and selling experience. We will guarantee you quality brands, affordable prices and the best online shopping experience you can get," Ihoza added.
(Visited 1 time, 2 visit today)
Coca-Cola, REHORE sign MoU to empower women in refugee settlements
Coca-Cola Beverages Africa (CCBA) Uganda has signed an MOU with REHORE, a local NGO that will see over 10,000 women refugees in Bidi bidi, Kiryandongo and Nakivale camps empowered for improved livelihoods. This initiative is one of the several that Century Bottling Company in Uganda has embarked on under the global 5by20 Coca-Cola pronouncement over the years.
5by20 is the Coca-Cola Company`s global commitment to enable the economic empowerment of 5 Million women entrepreneurs across the Company`s value chain by the year 2020. "Women around the World are already pillars of our business system and as part of our Women Economic Empowerment Program; we shall this time round empower refugees in camps in partnership with REHORE which will be the NGO that will actually do the day to day running of the project in the camps. By doing this, we affirm our need to build both our business and the communities in which we operate". Conrad Van Niekerk, Managing Director, Coca-Cola Beverages Africa Uganda.
"In Uganda, running successful businesses is mainly a male domain. Through 5by20, we address the most common barriers women face when doing business which include; Lack of basic business skills, Lack of financial services or assets and lack of access to peer networks and mentorship. This initiative offers women access to business skills training, linkages to financial services and connections with peers and Mentors, along with the confidence that comes along with building a successful business. I am glad that we are able to support women through this initiative and our value chain." Conrad added.
This program through REHORE will identify women refugees in Kiryandongo, Nakivale and Bidi Bidi Settlement Camps who will be beneficiaries of a skilling program using locally available resources within the camps in addition to retailing Coca-Cola products and establishing plastic collection initiatives in the camps. The activities will include bee keeping, backyard gardening, echo bag production, candle making, hair and beauty skills, catering, sewing and tailoring, soap making, colouring and painting as well as art and craft.
"We are pleased that together with our partner the Coca-Cola Beverages Africa, we are making an important contribution towards realization of the government vision 2020," Joseph Rwamihigo, the Founder of REHORE stated.
(Visited 1 time, 2 visit today)
MTN Uganda to unveil Sponsorship of the Nyege Nyege Festival
MTN Uganda is expected to announce sponsorship of the Nyege Nyege Festival, an annual non-stop musical extravaganza that takes place along the shores of the River Nile.
Nyege Nyege Festival, which means "The irresistible urge to dance", brings the most cutting-edge musical acts from around Africa and beyond in a magical setting on the shores of the river Nile in Jinja Uganda. This year it is set to take place from Thursday 6th September to Sunday 9th September 2018.
Speaking ahead of the official launch the MTN Chief Marketing Officer Mr. Olivier Prentout was ecstatic about the partnership and the role the festival plays in the hearts of Ugandans.
"Since its inception, the Nyege Nyege Festival has been revered for its work in exploring, producing and releasing outsider music from around the region and beyond. Ugandan artistes will enjoy a unique opportunity to showcase their music and arts on the same stage with other 100 foreign artists and thousands of audiences attending the event and viewing it online. Through this partnership, we look forward to celebrating culture, booting tourism and creating a platform for people from all walks of life to enjoy and celebrate all kinds of music; as you know, music is food for the soul!", Prentout said.
Details of the sponsorship will be announced today, Wednesday 21st February 2017 at The Square, Industrial Area.
Last year, a host of artists from Uganda, East Africa, Africa and Europe descended in Jinja along the banks of River Nile for a three-day festival of music and dance. So successful that the rain couldn't take away the enjoyment of the attendees.
(Visited 1 time, 2 visit today)
MTN announces new data rates
MTN Uganda has revised data rates to continue the drive towards ensuring offering affordable internet to Ugandans. The reduction in data is expected to drive further internet connectivity, facilitate business growth and enable communication through internet-based channels.
The rate reduction, according to Wim Vanhelleputte the MTN Uganda CEO is an indication that as uptake and internet usage continues to grow, the internet rates will also continue to fall. "What we are currently witnessing is data revolution coming into full swing. The reduction in pricing is by over 100%, indicating our commitment towards internet connectivity and affordability for all," he said.
The revised data bundles are not just price based but also include increased volumes for a lower price. For instance, the lower data bundle threshold has been increased to 15MBs from 10MB at a price of Shs250. For Shs5000, a customer would get 325MB but with the new rates, a customer gets 1GB for that price. This is more value for the customer at the same price.
For Shs100,000, you can now get Shs30GB for a month. In the old rates, a customer had to pay Shs285,000 to get 30GB.
"It is important that our customers not only get lower rates, but also experience a good quality network – where we are keen to continuously invest; everywhere. MTN Uganda over a two year period of 2017 and 2018 has budgeted over Ugshs 400 Billion invested in network upgrades in order to improve customer experience. This will increase our 3G sites and 4G/LTE sites to deliver a bold digital world to our customers," he added.
According to Wim, MTN Uganda's planned investment will upgrade the network in order to ensuring quality, good coverage and better experience. Further investment in the network also means the internet speeds continue to improve, which will facilitate business growth and innovation.
"In the world right now, the internet is driving innovation to unprecedented levels. We are seeing this in our numbers and data continues to be one of the fastest growing sources of revenue and subscriptions for MTN Uganda. We expect this trend to continue," Wim pointed out.
(Visited 1 time, 2 visit today)