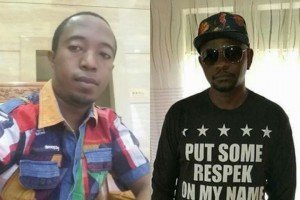 By Staff Writer
For the past years, Jeff Kiwa has established himself as one of the best artiste managers we have in the industry, having  worked with top artistes like Jose Chameleone, Radio and Weasel until 2015 when he started Team No Sleep, consisting of Sheebah, Pallaso (who later left), Bakri and Akay (RIP) among others.
However with the growing Ugandan music industry, other talent managers have emerged and are giving the Team No Sleep boss and others a run for their money.
B2C soldiers manager Andy Events is one of the new talent managers on the block that have proved to be a genius in the music business.
While Jeff Kiwa's Team No Sleep is falling apart, Andy Events has got his groove on and seems to have a lot more to offer.
Three years ago, few people knew about the B2C but Andy Events has made them stars and kept them among the fan's favorite for the past two years, something that makes us believe that at this rate, he could beat Jeff kiwa at his game if the later doesn't pull up his socks.
Despite having an impressive record of turning young artistes into stars, Jeff Kiwa has failed at maintaining a good artiste-manager relationship. It will be remembered that Jeff has fallen out with Jose Chameleone, Radio and Weasel, Pallaso among others.
Andy Events on the other hand has been able to keep three talented artistes (B2C) together and also maintain a good relationship with them. Anyway the true narrative will be written over the coming years.
(Visited 383 time, 1 visit today)