Airtel Uganda subscribers usher in 2017 with Tulumbe AFCON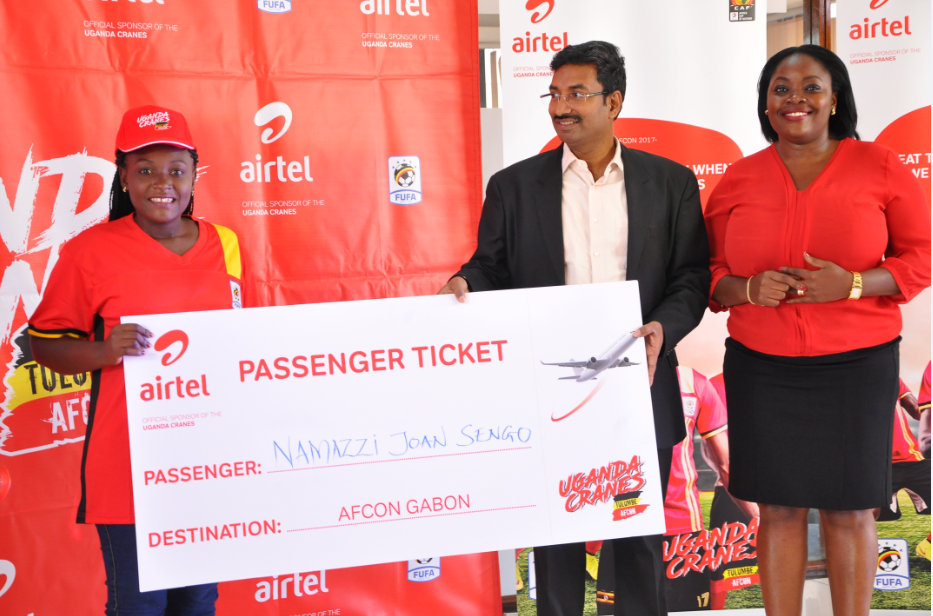 Uganda, Kampala, 30th December 2016– Airtel Uganda has today handed prizes worth millions of shillings to lucky winners in third draw of their Tulumbe AFCON campaign. The prize awarding ceremony took place at Airtel Uganda's office on Clement Hill in Kampala.
Speaking at the handover, Mrs. Remmie Kisakye Kakuru reaffirmed Airtel Uganda's commitment to football in Uganda.
"Our support for the development of football in Uganda begins at the grassroots with our Airtel Rising Stars platform. That support is further displayed in our sponsorship of the Uganda National Football team; the Uganda Cranes who as you know made history this year by qualifying for the 2017 AFCON tournament."
"It is upon this win that Tulumbe AFCON was built. Essentially, Airtel is rallying Ugandans to support the Uganda Cranes as they head to Gabon in January 2917," she added.
Also speaking at the event, Phanindra Nichanametla, Airtel Uganda's Finance Director congratulated the winners and encouraged the rest of the country to actively participate in the campaign saying, "These winners are from various parts of the country including Mbale, Masindi, Hoima and Bulooba, among others. My hope is that this will encourage everyone across Uganda to participate in Tulumbe AFCON."
The day's big winner, Ms. Joan Namazi Sengo took home the coveted ticket for 2 to an all-expenses trip to Gabon come January. Ms. Namazi is also the first female winner of the tickets to Gabon. Barely able to contain her excitement, she expressed her gratitude to Airtel Uganda and support to the Uganda Cranes.
This is the third round of subscribers to benefit from the Tulumbe AFCON campaign.
For one to take part in the campaign, Airtel Uganda subscribers are required to dial *162#, where they have the choice to opt into the campaign by selecting option 1. Customers will then be made aware of their target and will be required to recharge and use Airtel Uganda services up to this target. Upon reaching the targets, subscribers will receive 100% bonus, which, on accumulation, will be rewarded to them as airtime to be used for voice (prepaid), data and SMS.
Participants are entered into a weekly draw where they could win 5 TVs, smartphones, and an iPhone 6 Plus. The grand prize of a pair of tickets to Gabon is awarded fortnightly. Winners will be contacted by Airtel on 0752-600-222.
About Bharti Airtel
Bharti Airtel Limited is a leading global telecommunications company with operations in 20 countries across Asia and Africa. Headquartered in New Delhi, India, the company ranks amongst the top 3 mobile service providers globally in terms of subscribers. In India, the company's product offerings include 2G, 3G and 4G wireless services, mobile commerce, fixed line services, high speed DSL broadband, IPTV, DTH, enterprise services including national & international long distance services to carriers. In the rest of the geographies, it offers 2G, 3G and 4G wireless services and mobile commerce. Bharti Airtel had over 361 million customers across its operations at the end of May 2016. To know more please visit, www.airtel.com
For more information contact:  Faith Fiona Bugonzi Airtel Uganda M: +256752600229
(Visited 197 time, 1 visit today)
J.K Holdings drags CMA's Kiryabwire to Law Council.

J.K Holdings has petitioned the Uganda Law Council over Capital Markets Authority's Angella Kiryabwire for bleaching the professional ethics and the non discourse agreement.
In the letter dated May 18. 2018 from Tumukunde & Luwaga Co. Advocates and signed by Tumukunde N, J.K Holding accuses Angella Kiryabwire for leaking their confidential information to their competitors.
According to the letter, Ref/ 18/TL/05, J.K Holdings Limited sought to establish a Collective Investment Scheme through CMA, upon which Kiryabwire requested the company lawyer to furnish the authority with a checklist of all documents needed before approval.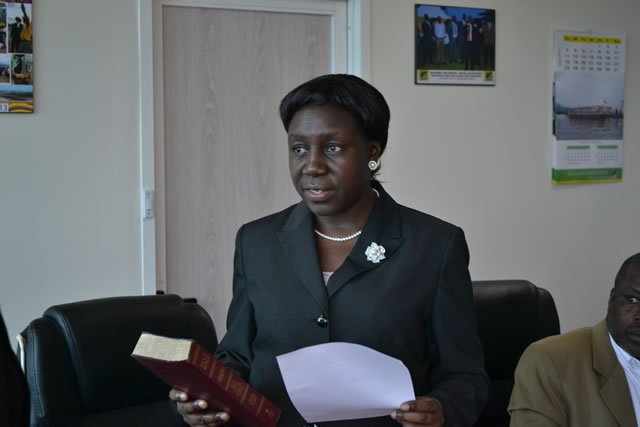 The letter says that though Kiryabwire and JK. Holdings signed a Non-Disclosure of Information Agreement to third parties before the elapse of six years unless ordered by a competent court, she went ahead and shared the information with Stanlib Uganda Limited who runs a collective investment scheme called Money Markets Fund and IRSTA Limited.
JK. Holdings' lawyer explained that they had mail correspondences between Kiryabwire, the Chief Executive Officer of Standlib Limited Mrs. Annette Rumanyika Mulira and Lydia Muleembe of IRTSA Limited.
"On August 12, 2018 at 11am, Mrs. Angella Kiryabwire sent all our documents we shared with her to kirabwiretrevor@gmail.com after a few minutes kiryabwiretrevor@gmail.com forwarded all the documents received to Imuleembe@gmail.com this is the personal email of Lydia Muleembe the CEO of IRSTA Limited,"
As a result to sharing this information our software servers have been hacked into, several messages have been sent to our prospecting investors discouraging them from investing with us. "Our prospecting agents in Uganda who had agreed to work with us have been contacted and told not to work with us because we are a fraudster. This has greatly damaged the reputation of the company and its prospecting business," the letter adds.
"The location of our intended premises which was among our Trade secrets disclosed to Mrs. Kiryabwire has been taken over by our competitor IRSTA Limited."
According to J.K Holdings, the application to operate a Collective Investment Scheme by IRTSA was granted within one week. The company claims that though they had filed their application over one year ago, they had received no explanation from CMA as to why their application had taken that long.
"The actions of Kiryabwire contravene Rule 7 of the Advocates Professional conduct regulations SI-267-2."The letter states.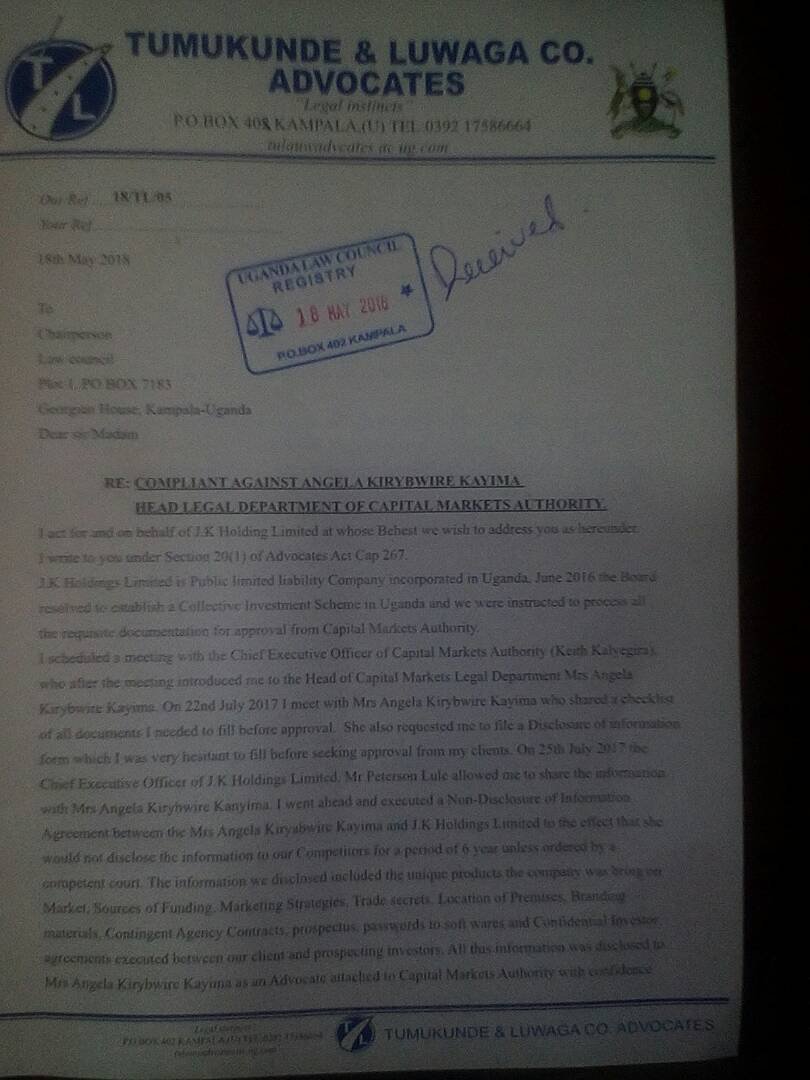 "We disclosed this information to Mrs. Kiryabwire trusting that she is an advocate of the High court who respects Advocates Professional conduct regulations. The information we disclosed included; the unique products the company was to bring on the market, sources of funding, marketing strategies, trade secrets, branding materials, contingent agency contracts, prospectus and passwords to soft wares executed between our client and prospecting investors."The letter explains.
Now that Tumukunde &Luwaga CO. Advocates on behalf J.K Holding Limited has filed a complaint against Angela Kiryabwire head legal department Capital Markets Authority, shows that Angela Kiryabwire Kanyima is no stranger to controversies.
Angela Kiryabwire superintended over the money bonanza in the 74 Km Katosi road scandals where Shs24billion was dished out to a non existing US firm without a bank guarantee.
Kiryabwire as Chairperson of the Uganda National Roads Authority (UNRA) Board failed in her oversight role and tax payers' money was lost.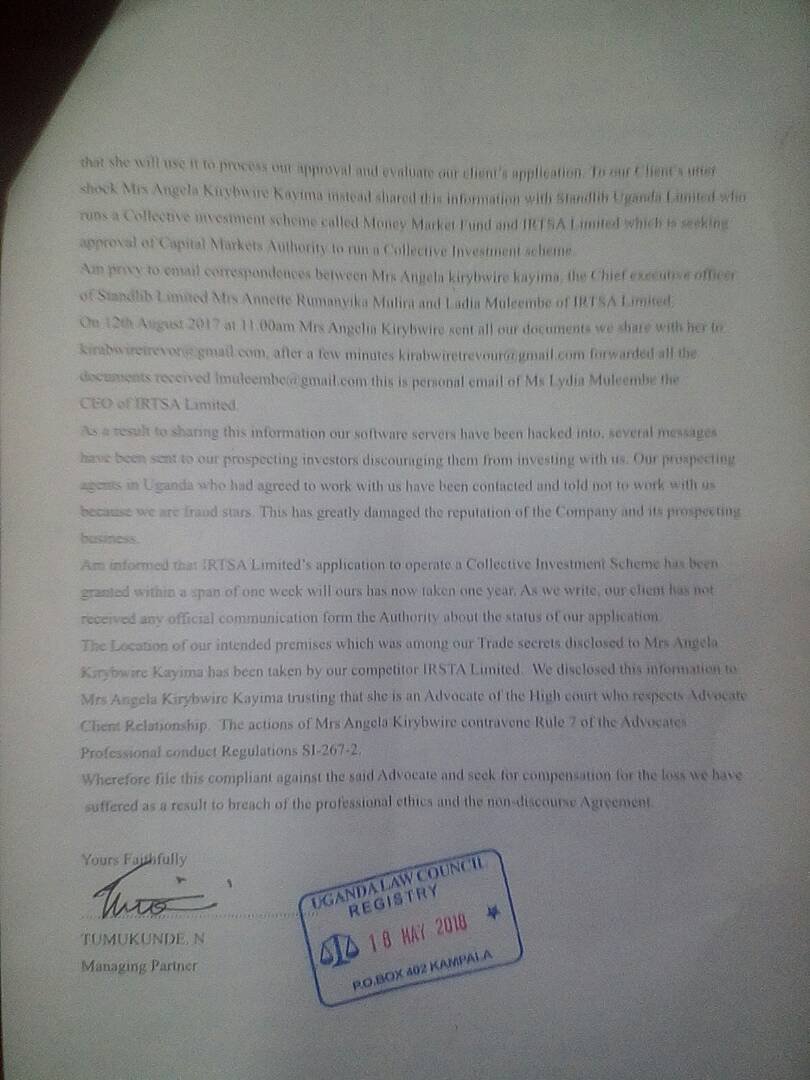 The story was first published by Uganda's leading daily; the New Vision how UNRA through the Housing Finance Bank paid sh24.7b to a 'ghost' firm without a bank guarantee.
Kiryabwire moved and sacked UNRA managers except herself. The Minister for Works and Transport later sacked Kiryabwire and her entire board from overseeing UNRA and replaced her with an efficient and confident former State Minister for Finance; Fred Jachan Omach.
(Visited 197 time, 1 visit today)
Swangz Avenue announces All-star tour

By Our Reporter
Music fans across the country should brace themselves for a big music fete coming to their region soon as Swangz Avenue has announced a national All-star tour.
In partnership with Bell Jamz, a platform that has consistently supported local music, they will present a three months national music celebration as they mark 10 years of creating great music.
The announcement was made at The Square on Tuesday evening in the presence of renowned Ugandan artists, song writers and music enthusiasts.
The feat will feature four regional music celebrations to deliver the best of Ugandan music around the country. The all-star tour will kick off in Mbale on June 15th, head to Gulu on 7th July, continue to Mbarara on 21st July, then Arua on 4th August and culminate in Kampala on August 31st.
"Over the last 10 years, we have witnessed the growth of Ugandan music and local music talent. From the big names that were here a decade ago, to the new faces who are churning out great music. The All Star Tour will bring all these in one big music celebration, on one stage, to perform the best Ugandan hits", said Benon Mugumbya, Founder, Swangz Avenue.
The artists who will feature in The All Star Tour include Fik Fameika, Ykee Benda, Bebe Cool, Winnie Nwagi, Sheebah, Vinka, Vampos, A Pass and more.
While announcing the partnership, Bell Lager Brand Manager, Francis Kirabira said "This event will tell a story of the Ugandan musical journey by the best hit makers on the market today, Swangz Avenue. Bell Lager has a long history of Ugandan music association and has contributed to uplifting, grooming and nurturing local music talent. The All Star Tour will prove to Uganda and the rest of the world that Ugandan music is a force to be reckoned with."
Both Bell Jamz and Swangz Avenue promised world class music production at the regional events and even more so, at the grand finale. The shows will feature the best sound specialists and equipment in East Africa.
"This is a big celebration of Ugandan music and will give a platform for our Ugandan artists to showcase their talent. This is the support our local music industry needs as we groom more and take Ugandan music to another level," Kirabira added.
(Visited 197 time, 1 visit today)
Angela Kiryabwire of CMA reportedly destroys creation of 5,000 jobs in Uganda in search of UGX300million bribe.

Unemployment in Uganda currently stands at an alarming rate of over 65%. Millions of graduates roam the streets of Uganda every day looking for jobs without any glimpse of hope. The few jobs that are out there are extremely low paying with well-educated people earning less than UGX200, 000 per month. Thousands of Ugandans are now running to the Middle East for slavery with dead bodies sent back home every week from gross maltreatment and dehumanization. The unemployment has been a constant worry for everyone from the President to the Parliament, Parents and general public with no single solution in sight until Development Channel came onto the scene in November 2017.
The organization started with three employees in its first month, added 17 more the next month, grew to 96 full time staff by the third month, 360 Full time staff by the fifth month and now created a world class customer service center to employ 5,000 Ugandans offering full training and salaries from one million shillings and above. There is also the plan to employ another 20,000 Ugandans in product assembly, packaging and fulfillment for their brand of mobile phones designated for shipping across Africa.
However, a terrible threat in government is bent on destroying all of this and quench the only light that thousands of unemployed youth that have seen in the country. Angela kiryabwire of the Capital Markets Authority (CMA) approached Development Channel seeking a bribe of UGX300Million for the claim that its "incentive" to the initial computer tablet buyers in the country contravenes the mandate of the government agency she represents. Not able to get the money she wanted, she began series of malicious attacks against the organization not minding the hundreds of families that draw monthly salaries from there or the thousands of job seekers about to be employed. She first used government funds to publish in the newspaper that the company was illegal which had no effect as the public could see the truth for themselves. Then she wrote to Jinja Road Police station and claimed the company was defrauding people. Jinja Road Police station summoned the directors of the company, did their investigations and closed the matter saying they couldn't see any proof of fraud. Then she wrote to the CID headquarters who also came to the corporate headquarters of the company, did their investigations, summoned management to the headquarters, did further interrogations and point blank told the CMA that they can't see any complainant in any of the allegations, also dismissing the case. This lady was completely unsatisfied and continued to use her contacts in government as well as government given powers to continue her destruction plots. This time, she again wrote to the newly formed Financial Intelligence Authority(FIA) who without any due process investigations of hearing from the company in question, froze all their accounts denying access to funds for the payment of wages, support of staff or even fulfillment of the orders of hundreds of Ugandans. The FIA is also without any conviction or even trial by any court of law in Uganda threatening to confiscate all assets that belong to the organization including buildings secured for creation of 5,000 jobs.
"A person who only rides on the connections built by her family name and in the 21st century, does not have a single clue that APPS are actually now companies, yet is leading one of the most important aspects of the Uganda private sector development in capital markets leaves too much to be desired of this government in appointing progressive and deserving people to positions of authority." Her blatant disregard for the lives and wellbeing of thousands of Ugandans is alarming to say the least. The United Kingdom is protecting Russian billionaires who stole government wealth from oil and invested in their country (Chelsea Football Club is a classic example) just to ensure that jobs are created for the citizens and here we are seeing a government official bent on destroying job creation efforts on the grounds of invalidated suspicion. Wow Uganda! When will government officials simply begin to care for our own citizens and not just their selfish interested.
Development Channel stakeholders from employees to shareholders who are in their thousands as well as the sympathetic public are planning a massive protest march to the headquarters of the ministry of finance against this high level bias and gross victimization bringing more embarrassment to the government than it needs right now. The FIA should better release their funds and stay away from creating unfavorable business environment for job creators and the ministry of finance should call Angela Kiryabwire and the CMA to order or this issue will definitely get much worse than anyone can imagine since countless retired Uganda army professionals who served in dangerous foreign missions are also stakeholders in Development Channel.
The Buildings that Development Channel has acquired in Bukoto dubbed the "Twin Pillars" which will have over 5000 people employed.
A part of the 5000 new people that will start working with Development Channel attending an orientation meeting
(Visited 197 time, 1 visit today)