Africell Uganda partners with iDroid USA in the "Bakakase" Campaign to give out free smartphones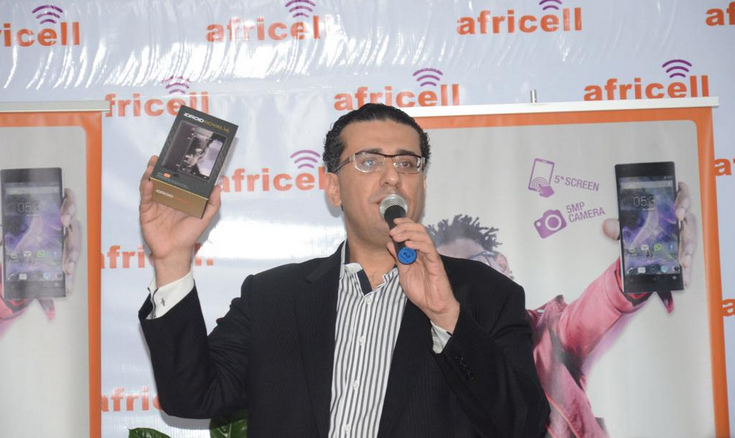 For the first time in Ugandan communication history, a telecom company is giving away a smartphone free of charge! And that Telecom is Africell Uganda Limited!
In a campaign codenamed 'Bakakase'—assure them, Africell is giving away the iDROID Royal V4, a high end smartphone manufactured by iDROID USA, launched only two weeks ago by the smartphone and mini computer company at an introductory price of 499,000.
The idea is to pay it forward to all Ugandans—ensuring a smartphone for every Ugandan and later enable Africell leverage internet infrastructure investment.
This project is riding under the ambassadorship of all-time campaign superstar, Mun*G usurped from Airtel and this will be going on for an indefinite while.
A couple of million phones are in stock. All you need to do is to get your free iDROID Royal V4 smartphone is pre-buy one year's data; at discounted price of 349,000shs only.
Customers will not only boast of holding the newest iDROID gem with its sophisticated yet user friendly features, but also enjoy reliable high speed internet all year long—without having to pay a single extra coin.
The iDROID Royal V4 surpasses the demands of a powered smartphone user; incorporating next-generation brilliance and traditional hardness. It comes with the quadcore processor characteristic of all iDROID smartphones, 8GB internal memory expandable up to 32GB, 1GB Ram, 3D and technology. It runs Android lollipop with an extra-solid screen built with guerilla technology communicating sleekness and durability.
The free iDROID Royal V4 smartphone will be available at selected Africell stores effective tomorrow 7th August, 2015.

(Visited 1 time, 1 visit today)
Movit donates Ugx 150 million worth of hand wash and sanitizer towards fight against COVID-19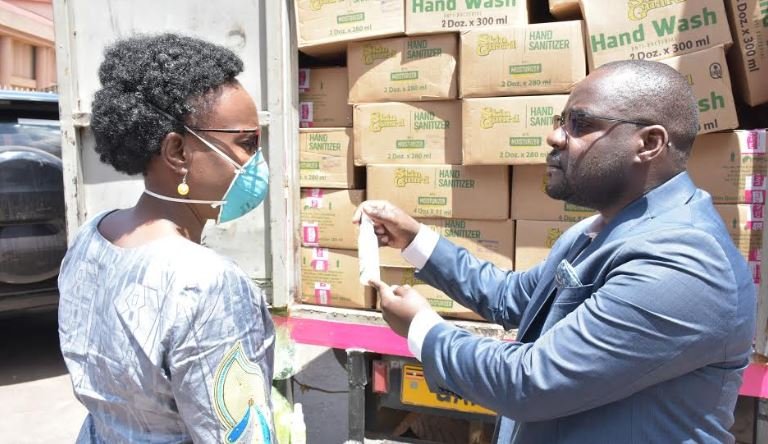 By Our Reporter
Movit Products Limited has contributed 500 cartons of Skin Guard Anti-Bacterial products worth UGX 150M to the Government through the Ministry of Health as support towards the fight against COVID-19.
The donation was made by the CEO Movit Products Limited Mr. Bruce Mpamizo to the Minister of Health Ruth Achen at the Ministry of Health head offices.
The Skin Guard Products that were given are 200 cartons of Skin Guard Hand wash, 200 cartons of Skin Guard Soap and 100 cartons of Sanitizer gel.
The Skin Guard products will be donated to the hospitals for healthcare workers caring for patients on the frontlines of the current COVID-19 public health crisis.
The CEO Movit products Limited Mr. Bruce Mpamizo giving away the products said "As Movit Products Limited, we stand with our customers in all situations. Today we are here to support the ministry of health because we were enabled by our customers to do so. We believe that this is the beginning of a long-standing partnership with the ministry of health and we expect to provide even more support as we continue the fight of the spread of Covid-19 together."
The Minister of Health Ruth Achen on behalf of government thanked Movit Products Limited for the generous contribution and support. "Movit has donated Hand Wash and Sanitizer which has 70% alcohol which is the right content that we desire and Soap to wash our hands to ensure that we do not infect our selves and friends with Covid-19." She said.
In addition to the donation, Movit Products Limited has implemented other measures to ensure the companies most crucial operations are not stifled as the company still needs to deliver much more need hygiene products solutions and keep the employees safe.
Movit Products Limited has also partnered with KCCA to install hand washing units in markets and around the city center with Skin Guard hand wash to encourage washing hands and staying safe from the corona virus.
The company has introduced a new product, Skin guard Hand Sanitizer Gel and spray at discounted market prices with an aim of ensuring the product is affordable to more people within the public.

(Visited 1 time, 1 visit today)