African Music Festivals That Are Worth Traveling For

Music is an art that brings souls together. It is what binds hearts, speaking the deepest of languages that is understood by thousands around the world.
Now, imagine mixing music and travel, the two will give you adventure and joy. Although music festivals are not that big of deal to some people, they create one of the most diverse interactions for so many people across the globe. They travel from wherever they are just to attend some of the biggest music festivals in the world.
Clear your calendar this year for some of Africa's biggest music festival.
Bushfire Festival- Swaziland
The festival supported by MTN is going into its 11th year of being one of the most celebrated festivals across Africa. Bushfire festival has a line up of over 100 artists reportedly coming from over 45 countries all over the world. Each with a diverse genre of music for the revelers to enjoy. The festival lasts two days and gives the proceeds of the event to charity in Swaziland. This year, the Bushfire festival will take place from the 26th – 28th of May which will mark 11 years and growing strong. The event brings together arts, food, and music for people who attend.
Mawazine Festival- Morocco
The festival which takes place in Rabat, the capital of Morocco, attracts some of the world's biggest artists such as Wyclef Jean and Christina Aguilera. The festival has been running for over 16 years and is founded by Maroc Group. Its name "Mawazine" means Rythm of Music and this year it will be happening from the 12th – 20th of May with five stages for different genres of music where one of the stages allows revellers to attend the concerts for free.
Festival des Musiques Urbaines d'Anoumabo- Ivory Coast
The festival was created in 2008 and since then it has grown to attract crowds beyond the West African nation of Ivory Coast. The festival takes place in Anoumabo, a site that is in line with the founders (Magic System) of the festival whose history is rooted in the area. FEMUA as it is commonly known will take place from the 19th – 24th of April with artists representing the best of French speaking Africa.
Sauti Ya Busara- Zanzibar
Meaning "sounds of wisdom" the festival came into inception in 2014 and is organised by a Non- profit Organisation called Busara Promotion with the goal of promoting East African music. 11 years later, it has grown to hosting artists from all over the world and showcasing the beauty of live East African music. Although the event already took place this February, you can still plan for it next year.
International Jazz Fest- South Africa
In the heart of Cape town every year, is one of the grandest festivals on the continent. The jazz festival attracts some of the biggest music acts in the world to grace the industry all performing live on five different stages. The show boasts of a diverse attendance of music lovers from all over the world as well as catering to acts from South Africa. The jazz fest will take place from the 31st – 1st of April this year in Cape Town.
Credit: travel.jumia.com
(Visited 187 time, 1 visit today)
Ed Sheeran and Kendrick Lamar reign at Billboard Music Awards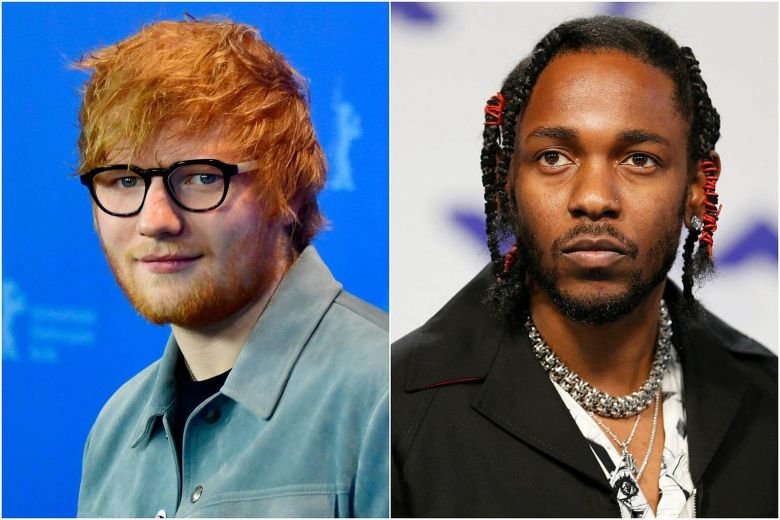 LAS VEGAS – Pop crooner Ed Sheeran, rapper Kendrick Lamar and funk maestro Bruno Mars were among the top winners at the 2018 Billboard Music Awards held at the MGM Grand Garden Arena in Las Vegas (May 21 morning, Singapore time).
Among the performers ramping up the wow factor at the event hosted by Kelly Clarkson were Korean boyband BTS.
Their slick dance moves in performing their new single Fake Love drew a rapturous response from the audience.
Here is the list of winners:
Top artist: Ed Sheeran
Top male artist: Ed Sheeran
Top new artist: Khalid
Top female artist: Taylor Swift
Top Billboard 200 artist: Drake
Top touring artist – U2
Top R&B artist – Bruno Mars
Top duo/group – Imagine Dragons
Top streaming songs artist – Kendrick Lamar
Top radio songs artist – Ed Sheeran
Top rap artist – Kendrick Lamar
Top country artist – Chris Stapleton
Top Billboard 200 album – Damn. (Kendrick Lamar)
Top selling song: Despacito (Luis Fonsi & Daddy Yankee featuring Justin Bieber)
Top radio song: Shape Of You (Ed Sheeran)
Top social artist: BTS
SOURCE: straitstimes
(Visited 187 time, 1 visit today)
Nyege Nyege tickets go on sale at discounted rate

BigEyeUg Team
Ever since MTN announced it's 3 year partnership with Nyege Nyege a few months back, things have been changing.
Just when the name of the three day festival changed to MTN Nyege Nyege, we have been told that for the first time ever, Nyege Nyege tickets are on sale months before the event and at a discounted rate.
MTN Uganda Chief Marketing Officer, Olivier Prentout announced on Friday night at the Nyege Nyege warm up party that 200 tickets will be available on MTN MoMo Pay at a discounted rate of only 50,000/-.
To buy a ticket via MoMoPay, customers have to dial *165*3# and use the merchant code 116969 to secure a 3 days pass ticket.
'You will also get to enjoy a cashless experience at the festival in September with the ability to pay vendors, buy airtime & internet using your MTN mobile Money,' Oliver said.
The Nyege Nyege festival will take place from September 6th-9th at Nile Discovery Beach in Jinja. The festival is supported by Talent Africa Group and Bell Lager.
We will keep you posted.
(Visited 187 time, 1 visit today)
FUNNY! Amooti Ombubalanguzi's 'Cuban Doctors' skit will leave you in stitches

BigEyeUg Team
Comedian Amooti Omubalanguzi is known for his crazy skits but his recent one about 'Cuban Doctors' will leave you in stitches. Watch, Laugh and share.
(Visited 187 time, 1 visit today)