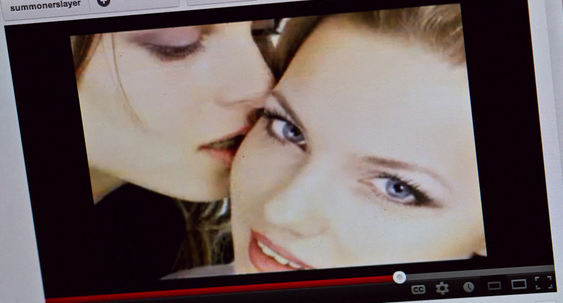 One way to find out surprising things about porn is to attend a shoot for yourself, which is what Jenn Tisdale did, when she got invited to star in a porno with James Deen, although a comedian, she couldn't resist the good looking porn demi-God James Deen, as reported by Kenny Thapoung, Women's Health.
"I had no desire to do porn," says Tisdale. "But it was more about who was asking to have sex than my interest in porn. If I saw [Deen] on the street, I'd be interested in sleeping with him."
She also narrated everything she had to go through before filming, they had to do a background screening and STD testing on her. She was eager to do it because of what she wanted to write about. She also found 3 things surprising things at the shoot.
1. Having sex during period isn't a big deal 
A lot of guys usually try to stay away from a lady when she is observing her monthly visitor. In porn, it's no big deal, there are ways of dealing with it, one way is use period sponge, push it up but She found out there are other ways. "I warned James mine was coming, and I asked him what the professionals do," says Tisdale. Because it's necessary for show to proceed. With pros like Deen, he recommended the scene be moved away from the bed, to the bathroom so, it doesn't look like such a mess. Genius plan, isn't it?
2. It doesn't always end with climax
Well, isn't that a no-brainer, which means their lives are closer to yours than you thought. Just because they're porn-stars doesn't mean all their sex ends up with orgasm. Even the mighty James Deen couldn't make Tisdale orgasm. "There are all sorts of things you can do in bed to make sex fun without having an orgasm," she says. "[Deen has] done this so many times, so he knows how to move a lady around."
3. They actually care about each other 
Most times when you watch porn, you can see the guy shag the lady like he despises her, but it's not the case. It also seems like the guy is the only one having a good time and the woman is left to fend for herself. Deen shocker her when he asked about what she liked in bed. "He asked ahead of time what I did and didn't like," she says. "I told him exactly what I was comfortable with and what I liked, and he was fine with that."
Source: Pulse.ng
(Visited 891 time, 1 visit today)