28-Year-Old Indonesian Guy Marries 82-Year-Old Woman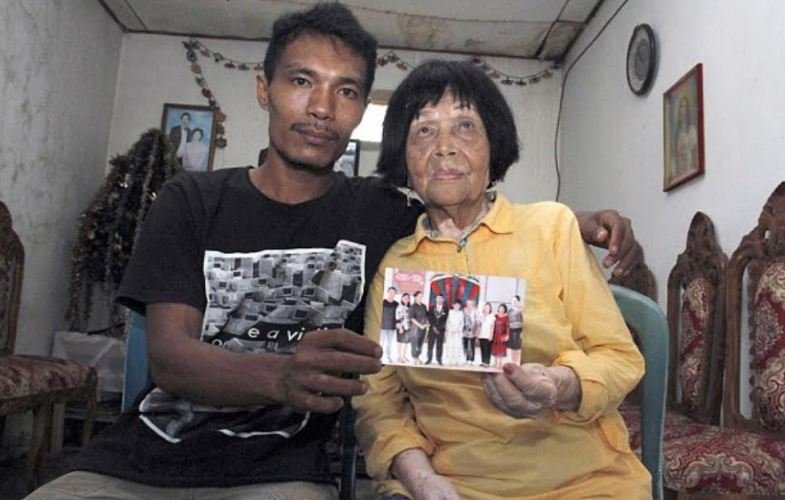 How did the 28-year-old Indonesian guy marry the old woman? How did they get acquainted? Read the information below to learn more about it.
The 28-year-old Indonesian married the woman who is more senior than him for 54 years.
The man Sofian Loho Dandel works as the mechanic, as reported in Tuko Kenya. A year ago, he was called by the stranger, Martha Potu. She has dialed the number by mistake. Dandel was fascinated by her voice from the first hearing.
"I have just answered a call. It was pleasant to me how she was presented and how politely she spoke. We talked about an hour. Then have begun to call up. She likes my chores, she was careful and energetic. I became attached to her more and more. Earlier, I never dated anybody. And now I have understood what it is to fall in love," Dandel said.
After a while, the guy has decided to come to visit the beloved. He was shocked: the 82-year-old woman opened the door. All the time, while they communicated, Martha didn't disclose her age.
Dandel learned that she lived alone. The husband died 10 years ago. Two children have gone to work abroad. Touched by Marta's history, Dandel has promised to stay with her forever. Relatives of the groom were shocked by age of his darling.
"We didn't know that he has chosen a granny! He didn't say how old she was until we met her. Of course, we were struck. But we saw that they really loved each other. Therefore, we have accepted his choice," Dandel's mother, 60-year-old Magdalena says.
On February 18, a couple got married. Martha calls the young husband "Charisma". "I prayed to God that he has sent me the lover, which will be able to take care of me in old age. And he has heard my prayers," the woman said.
As you see, there are such situations in the real life. As many people say, "love has no age".
(Visited 243 time, 1 visit today)
800 couples in mass wedding on Valentine's Day
By Our Reporter
Valentine's Day is widely celebrated as a day for love and romance. And each year on February 14th, many people exchange gifts and flowers with their special loved ones. However, this year, it was more than just exchanging gifts and flowers at Christian Life Church in Bwaise as couples made vows to love each other till death do them apart.
This was during a mass wedding presided over by Pastor Jackson Ssenyonga where 800 couples exchanged their vows and officially entered into a covenant of holy matrimony.
The colourful ceremony kicked off early in the morning and the church premises were already a beehive of activity  by 9 am as the brides and grooms gleefully prepared for their big day. The joy for the newly weds-to-be was palpable all through out the preparation — from salon services, to dressing up and then the bridal procession.
Grooms, in their dark suits, welcomed their brides who were draped in white gowns and together they ambled into the waiting area amid loud cheers and ululation from friends and relatives who had come to bear witness to their union. Pastor Ssenyonga officially kicked off the ceremony in the scorching sun where the couples patiently waited in the shade of their umbrellas. It was a brief session after which he then led them into the church where they exchanged vows.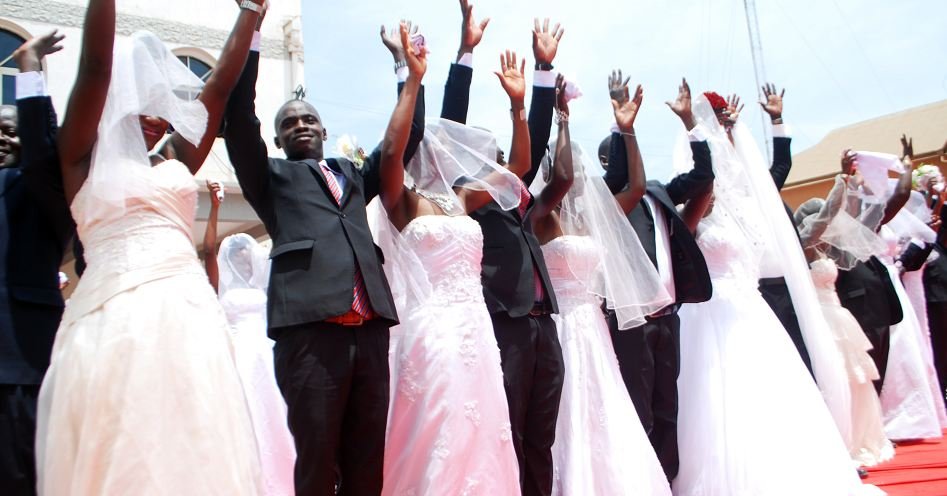 The mass wedding was sponsored by Movit who provided free salon services and bridal cars for the 800 couples.
"We have provided free salon services to all the couples who were wedded today and also the bridal cars that transported them to the function." John Tumwesigye, the Movit Events and Promotion manager noted.
"We are very happy to be part of this function because we believe that together we can go further and this is also part of our corporate social responsibility. We pledge to continue such support to our customers and the communities at large." He added.
(Visited 243 time, 1 visit today)
Singles for special Valentine's Day treat at Pearl of Africa hotel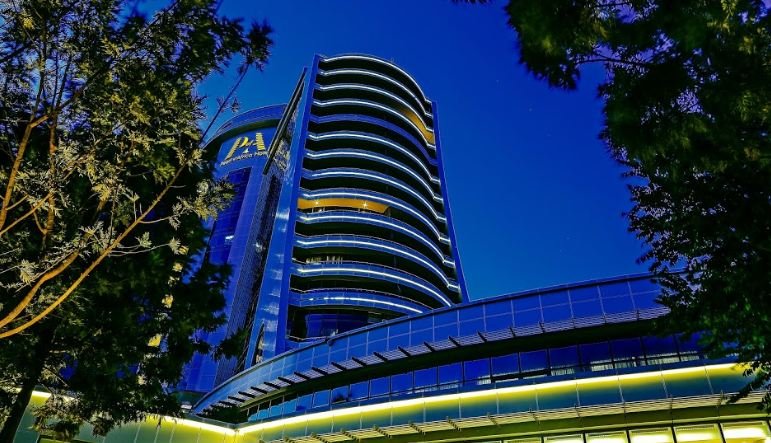 By Our Reporter
Valentine's Day is upon us! Celebrated annually on 14th February, the day evokes thoughts of romance for couples as they flaunt love for each other through romantic dinners and exchanging gifts.
With love in the air, the day generally brings a downcast feeling for singles. However, as couples rekindle their romance and create more memorable moments with their loved ones this year, Pearl of Africa hotel does not want the singles to feel left out.
The hotel is organising a special Valentine's Day treat for the singles. Dubbed "Singles Mix and Mingle" party, it will be highlighted by a special performance from a surprise act and a blind date with lucky individuals hooking up.
"We wanted everyone to be part of the lovers' holiday," Brian Jjuko, Head of Sales and Marketing at Pearl of Africa Hotel explained. "That is why we are giving singles a chance to be part of the valentines celebration this year. The event is free of charge and will take place at our Sunset sports bar."
Meanwhile, the hotel is also organising an exquisite dinner for couples. Boasting of over two swimming pools, an advanced gym & spa with a panoramic view of the city form its elevated position on Nakasero Hill, the hotel offers a perfect setting for a romantic evening.
(Visited 243 time, 1 visit today)
NSSF to raise shs400m for Kampala public Schools in the 2018 Kampala Hash 7 Hills Run
KAMPALA February 12, 2018:- The National Social Security Fund (NSSF), together with Kampala Capital City Authority and Kampala Hash House Harriers, have today launched the 2018 Edition of the NSSF Kampala Hash Seven Hills Run aimed at raising shs400 Million for the renovation of selected public schools in Kampala.
The run will be held on March 25, 2018 starting at Pearl Africa Primary School, Nsambya. It will cover a distance of 21km, traversing the historical seven hills of Kampala – Nakasero, Kibuli, Old Kampala, Namirembe, Rubaga, Lubiri and Nsambya.
Addressing media at the launch of the run at Mbuya Primary school, NSSF Managing Director Richard Byarugaba said that this year's proceeds from the run will go towards the renovation of selected public schools that include Mbuya Primary school and St Paul primary school Nsambya.
"We are proud to have raised more than shs190m in the previous runs, supporting 4 schools namely Nakivubo Settlement Primary school, St. Ponsiano primary school, Makerere University Primary school and Summit View Primary school. This year, we have challenged ourselves to raise more than double that amount for more schools to benefit from this cause. I therefore call upon corporate companies doing business in Kampala to join this cause to improve the learning conditions of the children in public schools in Kampala," Byarugaba, said.
Kampala Capital City Authority has 79 Government grant aided primary schools with a total enrollment of close to 70,000 with an allocation of about shs500m per year. Due to the inadequate funding, most of the schools have dilapidated facilities and require refurbishment, amongst other challenges.
The KCCA Ag. Deputy Executive Director, Juliet Namuddu, said, "We plan to continue to improve the functionality of the schools' infrastructure through renovation of existing facilities as well as construction of new facilities. It is through such partnerships with organizations like NSSF that we will achieve this"
The Kampala Hash House Harriers Master, Steven Luswata said that this year's run will be bigger and better compared to the previous ones.
"We expect about 2000 runners to participate this year. The 7 seven hills challenge is no mean feat – I therefore advise participants to start preparing now by running three to five times a week so that their bodies can adjust gradually to the long hilly run on the d-day."
Over 8 companies are already on board including Vision group, Monitor Publications, Pinnacle Security, Housing Finance Bank, Cementers limited, Galaxy fm, Bank of Uganda and Mukwano Industries.
NSSF has in the past years engaged in a number of social responsible projects like the recent countrywide blood donation drive which collected over 5000 units from staff, members of the Fund and the general public.
(Visited 243 time, 1 visit today)