2017 Predictions: 17 Trends That Will Drive Uganda and The Global Stage
By Ian Ortega
The work of a prophet puts him on a slaughter board, he risks losing it all, looking a fall in the eyes of many. Yet, should his predictions turn out right, he's boastful, but to many, they are quick to dismiss them as mere coincidences. Despite all this, I have chosen to take up the task of predicting what 2017 will look like in Uganda and the Global stage at large.
1. The Age of Attention 2017 will be driven by attention. 2016 marked the final days of the age of information. In 2016, everyone finally accepted that the ages were no longer driven by information. If it were about information, everyone had this in plenty, it was at our finger tips. So 2017 will be the first time the industries consciously acknowledge and work within the confines and rules of this age of attention. Attention will be the currency of 2017. Brands will be seeking people's attention. More than ever before, the concept of influencer-marketing will take a bigger chunk of advertisement budgets. Want to get a message out? Get 2000 influencers all speaking the same message.
2. There Is No Such Thing As Bad Publicity After Donald Trump's win, another consciousness that will drive 2017 will be the final acceptance that there are only two kinds of bad publicity-no publicity (for brands), and one's obituary. Individuals will thus be courting attention at all costs, and this will involve creating one's own good and bad publicity. It is going to play out hard as individuals awaken to a realization of thriving on bad publicity. It will be no surprise that more polarizing views will come in from individuals. What quicker way to gain attention than to be polarizing, controversial and contrarian to the majority?
3. Pursuit of Sustainability in Business Models The sustainability agenda is going to be very central for many brands. And for many brands, this could mean, getting leaner, waste reduction at all stages of production, driving out costs, and producing more with less. As a result January 2017 will come with its own staffing reductions in many organizations. Nation Media Group has already announced its own plans in this line that will see NTV Uganda, and Daily Monitor move into one building and roles getting reviewed and revised.
4. The Dawn of a Counter-culture in Uganda What does the popularity of Snap-Chat say about 2017 especially in Uganda? 2017, Uganda will have its own counter-culture revolution. It is finally happening. The youths will become more anti-authority, they will literally craft their own culture from scratch. They will defy the status-quo. There is a young generation that is finally getting to University. It is going to be very tricky to deal with this new generation, and their new normal. This generation is very liberal, and hippy in a sense. How do the different power-structures position themselves for this counter-culture? It will be a difficult puzzle to crack.
5. The First Biggest Online Media Buy-Out Let me say this with boldness that 2017 will bring with it Uganda's first biggest online media buy-out. In 2016, more than 50 online media houses opened up in Uganda. The industry has thus achieved its critical mass. And investors are looking at how to cash in on this trend. It should be no surprise when a big online media buy-out occurs. We could see a Huffington Post taking over a www.campuseye.ug or a www.bigeye.ug. This is surely bound to happen.
6. Real Time Marketing Will Run The Day How do brands take the day? What happens when the Mannequin Challenge is the trend of the week? What does a pharmaceutical company do about it? What does a chocolate company do about it? It is going to be a hard time, yet also a sweet time for the marketing departments. Hard time for those who won't know how to jump on real-time events and position their brands to milk out something from those trends. It will be a sweet time for those who understand this real-time marketing.
7. Uganda Solidifies Its Position As East Africa's Music Base. 2016 saw the birth of BaxRagga, a music style that is modern yet also intertwined with Uganda's traditional sounds. That has always been a challenge for many music generations. Now that Uganda has cracked that code. It is going to be the next music powerhouse, not just in East Africa but in Africa. There used to be Congo, there used to be South Africa, then came Nigeria. It is clear than the next movement is to East Africa and Uganda is that country ready to own this.
8. A Re-birth of Ugandan Feminism Some have often thought that feminism had died off in Uganda in a sense that the waves that swept Uganda in the nineties, those voices, had all gone silent. In 2017, feminism in Uganda will acquire new faces, new front-liners and the voices of Ugandan feminists will be hard. Ugandan feminism will be the new elitism for the young and emerging Ugandan lady. It is going to be a re-birth like no other. Again, it is another big current to watch out for, failure to understand it could lead to loss of careers for many.
9. Uganda Leaves Somalia, and what next? A quick pattern shows that there has never been a time when the Ugandan army was not engaged in some active battle of sorts. It has either had something in kisangani, DRC or a confrotation with LRA, an involvement in South Sudan or peace-keeping in Somalia. What then happens when Uganda leaves Somalia? What happens? That is going to be a huge challenge. Could Uganda take on Burundi and change the regime there? Could Uganda add more troops and pursue Kony till he is arrested? 2017 will answer that question.
10. The Year of Investment Clubs and Mobile Banking. Mobile Banking will officially overtake traditional banking in 2017. And not just that, Investment clubs are going to be the trend in 2017. The 2016 disruptions that saw Crane Bank going under receivership eroded many Ugandans trust in traditional banking. As a result, Ugandans will be looking out for options that put them more in charge of what they can do with their money. We can comfortably expect the popularity of SACCOs, Investment Clubs and Mobile Banking. April 2017 will have Uganda play host to the Banking and Mobile Money Summit which will take place for two days.
11. Uganda Fails To Advance Past Group Stages in AFCON. I will be hated for this. But patriotism aside, Uganda won't progress past the group stages in AFCON. It will draw Ghana. It will lose to Mali. It will also lose to Egypt. It will end the competition with three goals and one point. Let them prove me wrong on this one.
12. Worst Economic Growth Figures in 25 Years. 2017 will see a contracted growth. For the first time, Uganda's economic growth will be slowed down to rates unseen before. This will be the worst economic growth figure in the past 25 years. Bigger businesses will close down, at rates faster than seen before. It is going to be challenging. Whereas the oil industry will have more activity, this will do very little to contain the effects from other areas of the economy that are badly hit.
13. Does the Real Estate Industry Recover from the Bubble Burst? This is going to be a question hard to answer. Many years back, I was one of those lone voices that declared how the real estate industry in Uganda had been over-valued. This was driven largely by two factors, money gained through corrupt dealings and in-flow of cash from South Sudanese rich men. So when Dr. Sudhir Ruparelia came out in 2016 with a quote; "half of Kampala is on sale but there is no one buying", many didn't realize the intensity of those words but for a few, it was a rubber stamping that the real estate bubble long-predicted had long arrived. You can read my 2014 prediction here.
14. A Bad Year For Start-Ups Start-up entrepreneurship had become a fad in 2016. But with a hard-biting economy, one that will worsen in 2017, 2017 will be a year of correction. It is going to be a bad year for many who joined this start-up movement as a way of jumping on the latest trend instead of trying to meet a certain need or solve a specific problem. Let me predict that 50% of the start-ups in Uganda, even those that looked popular in the glare of the eyes won't make it beyond 2017. It is going to be a year of survival for the fittest. But it's all good for the industry, for when times get hard, only the good really survive.
15. A Year of Transitions In 2017, transitions will become clearer more than ever. In USA, Donald Trump will swear in as president for the next four years. In Uganda, the old will start to consciously hand-over to the new/young. The Ruparelia Group of companies has just completed its transition. Come 2017, Rajiv Ruparelia (son of Sudhir) will be the new Managing Director of this entity. The official declaration will be made at his wedding. 2017 will be defined by transitions in all sectors, fathers handing over the mantle to their sons. Expect a good number of shockers in this area.
16. Randomness, Randomness and Randomness I can't end my predictions without stating this fact that 2017 will be about random events. Random events that shake us. Many we can never foresee. Some of these events have their own second-order effects, those ripple effects. Perhaps an assasination than shifts the centres of power.
17. Individualism/ Self-Indulgence/ Rise of Narcissism If there is one thing that will define personalities in 2017, it will be individualism. Expect to see that excessive or unrestrained gratification of one's own appetites, desires, or whims. It is going to be a year of narcissim, everyone will try to milk out what they can, and everyone will make this public, no one will try to hide it.
That said, let's review these at the end of 2017. What intrigues me is that numerology seems to be in contradiction with my predictions. 17 in Numerolgy signifies; Insight, responsibility, self-discipline, strength, compassion, spiritual consciousness, wisdom, a desire for peace and love for all of humanity. In the Bible the number 17 symbolizes "overcoming the enemy" and "complete victory."
(Visited 300 time, 1 visit today)
Jose Chameleone extends charity to Congo.
Profound singer Chameleone did not only make us proud when he filled Goma grounds in DRC over the weekend but also extended his giving heart to the Congo people.
Jose Chameleone after his successful show in DRC visited Don Bosco Ngagi orphanage where he donated essential items amounting upto 3000 dollars. The singer supplied the orphanage with bags of rice, Posho, sugar, beans and boxes of soap to better the lives of the young unprivileged children in the camp.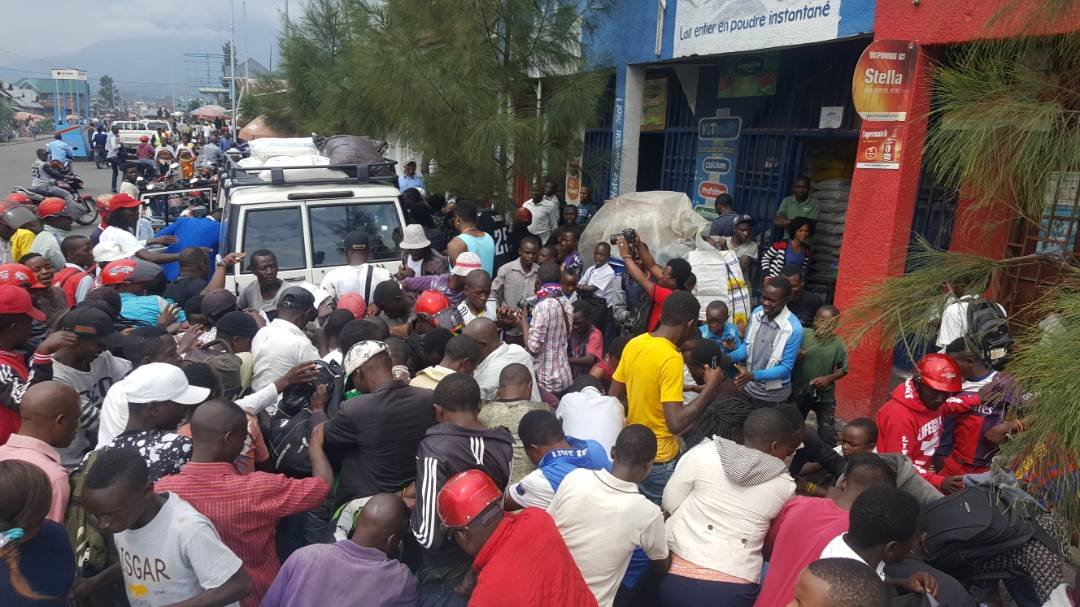 "It does not make sense for me to come here and make upto 30,000 dollars and I cannot even leave 10% of it to the people that gave it to me." He said. Jose Chameleone added "May the almighty guard us all so we can meet soon enough. Let us stay in peace like the event theme was, Amani is peace and let us keep that."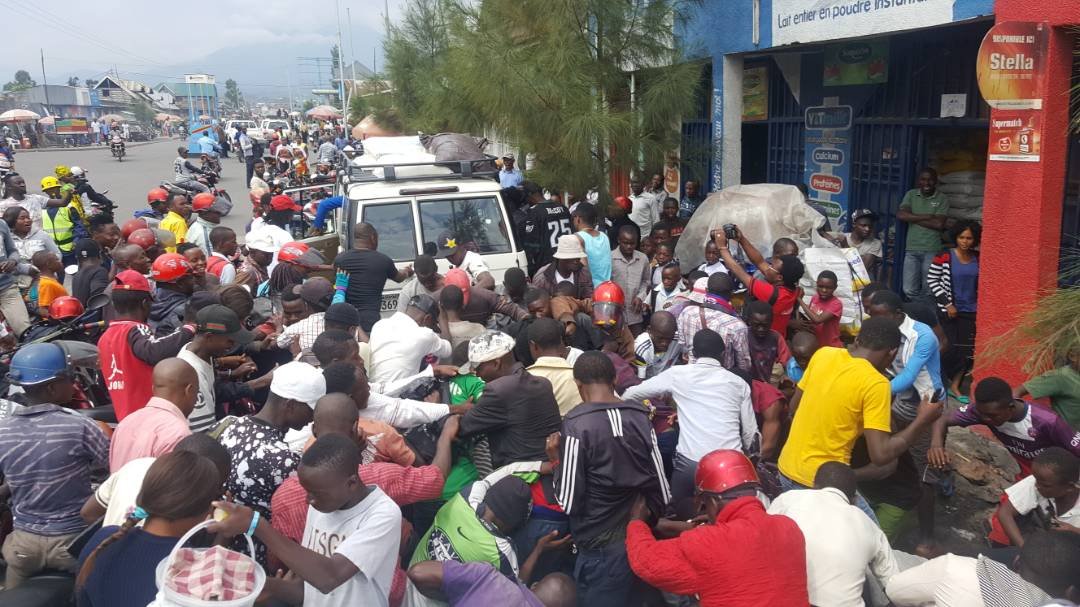 Chameleone has previously been so involved in Charity under his charity organization "Chameleone foundation" where he has schooled children, provided basic needs for the needy. Just like his music, the singer could be breaking boarders with the organization.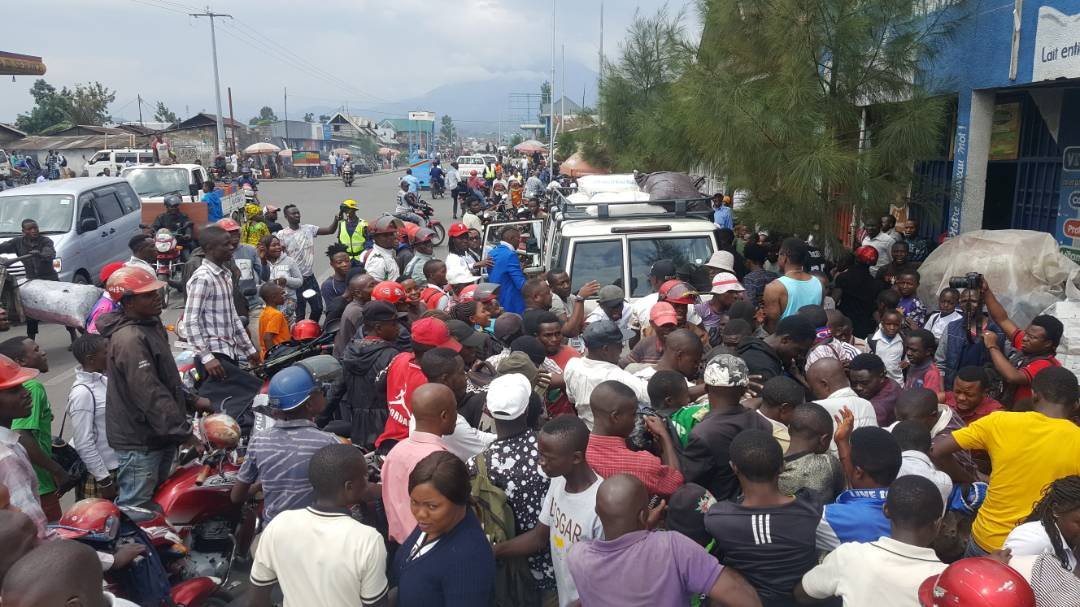 (Visited 300 time, 1 visit today)
Photos: Pallaso shoots new video in Rwanda.
Team Good Music singer Pallaso is not taking the any year lightly. Pallaso has vowed not to rest his workaholic nature at all. The singer recently flew to Rwanda to do and shoot a video that will kick start the year. Pallaso has vowed to leave no stone unturned.
Here are some moments from the shoot.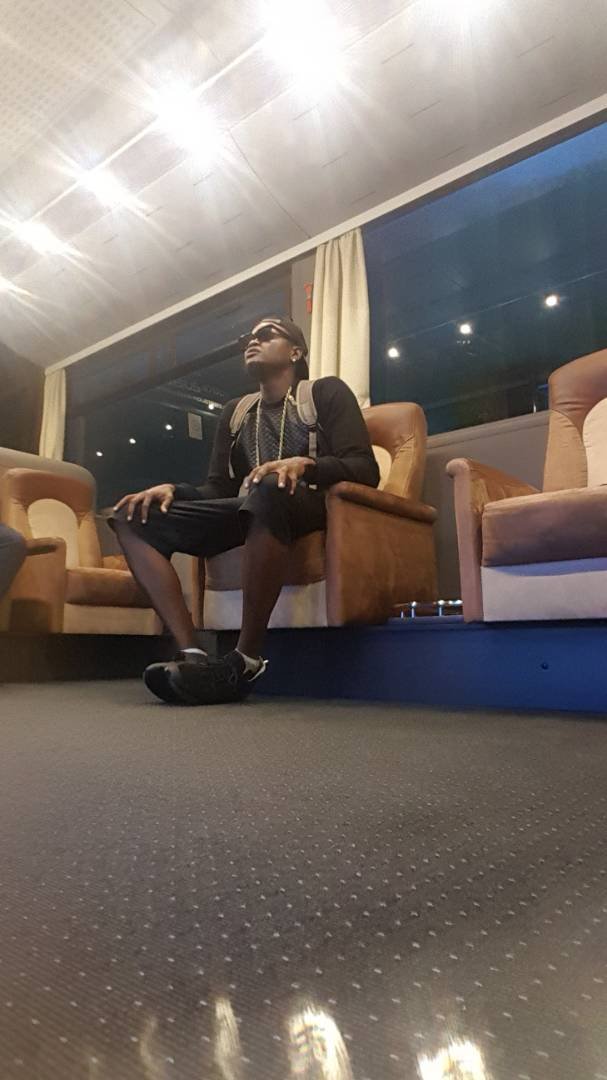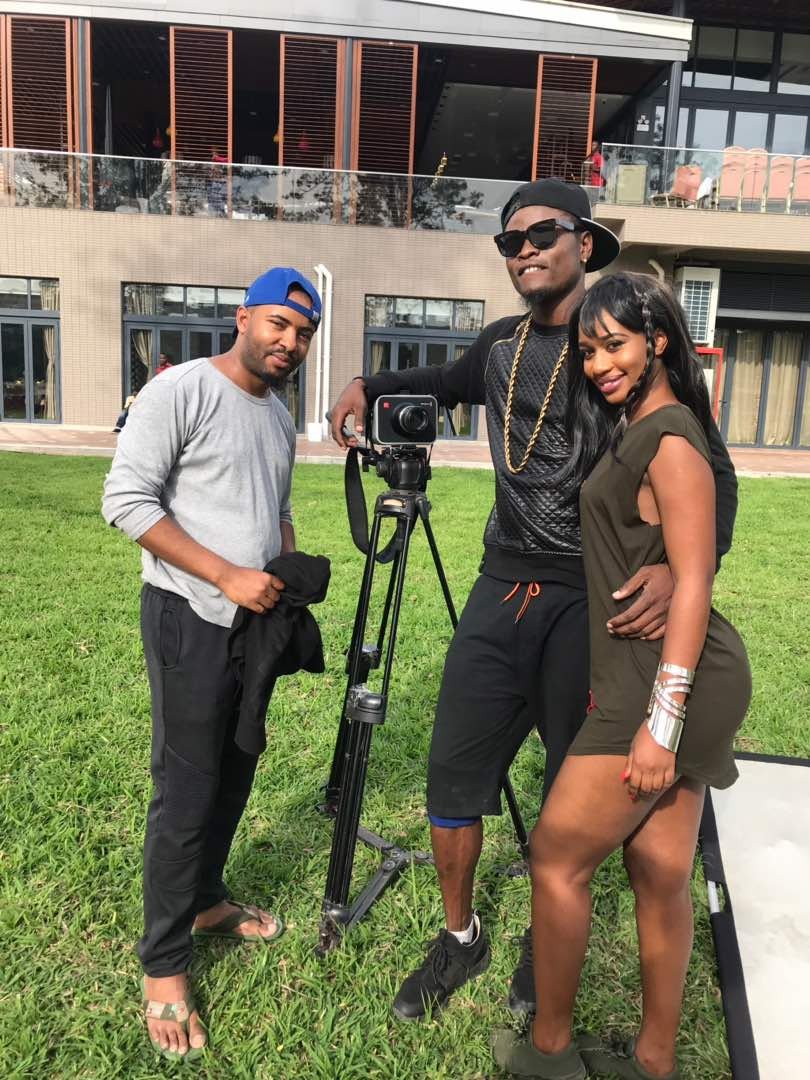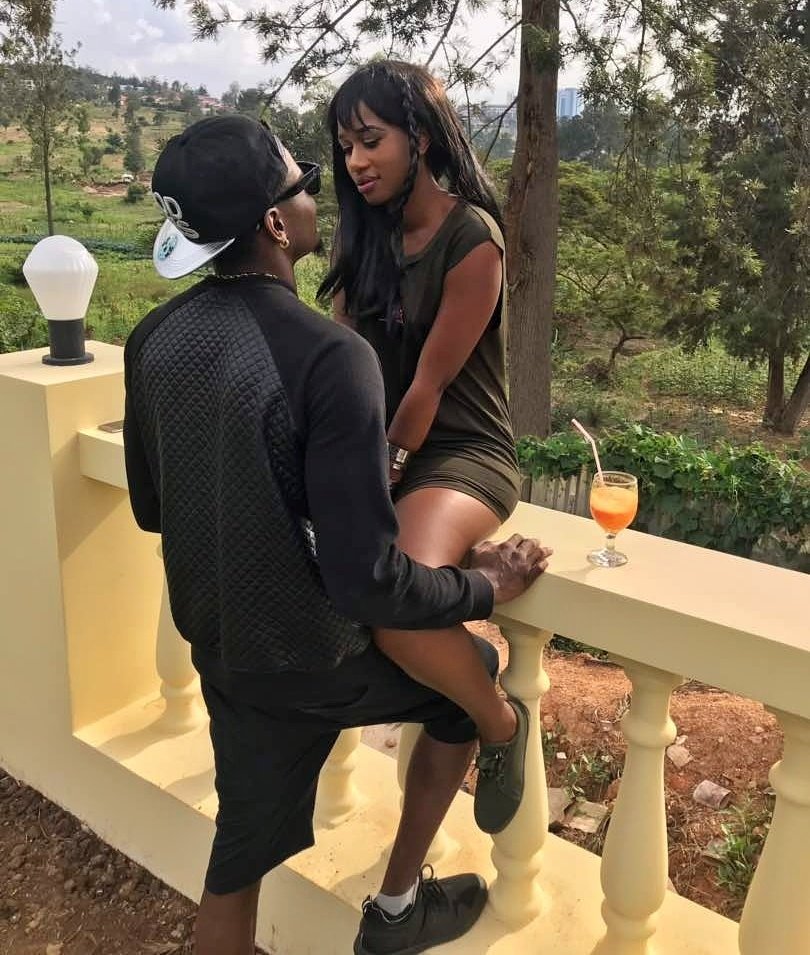 Staff Writer
(Visited 300 time, 1 visit today)
Video alert: King Saha outs new video.
King Saha who recently flew to Tanzania to shoot two videos has finally released his debut video this year. The new video is titled "Am on my way" another of his love cries.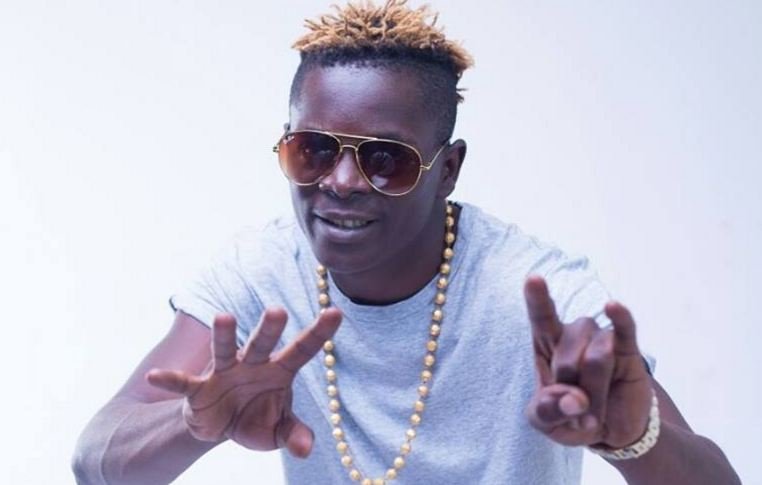 Watch it here: https://www.youtube.com/watch?v=jCAccdKgL24&feature=youtu.be
(Visited 300 time, 1 visit today)