15 Awesome Quotes From Fela Kuti: Africa's Greatest Musician
When you play on Fortebet, you win big money.More here.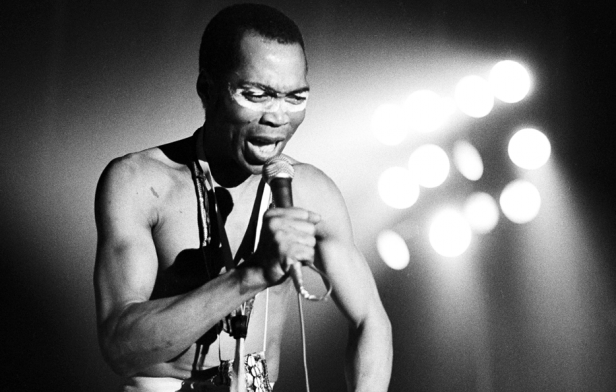 By Ian Ortega 
1. "I do not believe any more in the marriage institution. The marriage institution for the progress of the mind is evil. I learned that from prison. Why do people marry? Is it to be together? Is it to have children? People marry because they are jealous. People marry because they are possessive. People marry because they are selfish. All this comes to the very ugly fact that people want to own and control other people's bodies. I think the mind of human beings should develop to the point where that jealous feelings should be completely eradicated."
2. "I don't treat women as objects to be used. I just don't agree to possess a woman."
3. "A radical is he who has no sense…fights without reason…I have a reason. I am authentic. Yes, that's what I am."
4. "To think how many Africans suffer in oblivion. That makes me sad… Despite my sadness, I create joyful rhythms… I am an artist… I want people to be happy and I can do it by playing happy music. And through happy music I tell them about the sadness of others… So really I am using my music as a weapon."
5. "Look, we're very backward. The African continent is degenerating into what I call the era of second slavery. And it's caused by a conspiracy of Western Governments on one side and illegal African Governments on the other side, operating without a constitution. My Government is like that, a military Government that runs the country by decree."
6. "Now, there is a lot of violence between the armed forces, the police and the citizens. If I became president now I would immediately pass a law that makes every citizen a policeman or a soldier. Today's society has so many laws and so many institutions, but Africa needs a different approach before it can develop as a continent."
7. "…I can't f**k without grass, man. If you f**k with grass once, you won't want to f**k without grass anymore. It would be a useless exercise,…That's why I started smoking grass o."
8. "Sex is a gift of nature. Why do men make laws to check it? A law telling you where to f**k and another telling you when to f**k."
9. "…man is here against his will. Where do we come from? What was before us?…when you think you die, you're not dead. Its a transition."
10. "I don't tell lies against anybody. That's why I always win all my wars."
11. "Privatization in Nigeria is selling the Government to individuals. And with the debt equity swap, the World Bank is ruining my country with what it owns; it means my country is on the market. I've never seen that before, historically. It's happening in Nigeria, Ghana, and these leaders accept this arrangement. Which makes me feel that they are agents for the Western system: they do everything, they have the guns to persecute, and people become poorer and poorer, which is making life difficult for Africans." "That's why I use politics in my music. That's the only way a wider audience will get acquainted with the important issues. It makes sense culturally as well. In Africa, we don't sing really about love. We sing about happenings. That's the tradition: there are no love songs like 'Darling, Kiss Me." "It just shows how low the mentality of my country's leaders was. I thought they had developed a little bit of sense."
12. "A Nigerian senator just told me : "If even only 5000 Nigerians started imitating Fela, it would soon be very chaotic here !" "Fela : No, it would be a revolution!"
13. "To be spiritual is not by praying and going to church. Spiritualism is the understanding of the universe so that it can be a better place to live in."
14. "I want peace. Happiness. Not only for myself. For everybody."
15. "Bleaching of the body to look lighter is immoral."
(Visited 1 time, 1 visit today)
OPINION: Why Musicians need to register with the local CMO
When you play on Fortebet, you win big money.More here.
By David Tayebwa.
For the start, I would like to explain what a CMO means and why you should be part as a musician. From my experience in working and engaging with a number of musicians as a Music Industry Consultant, leader of Africa's A&R and music Licensing firm (Opus Music Publishing Group) and as a music Copyright Expert & tutor, I found out that there are a few people that know about CMOs and what they contribute to the music industry.
In musical terms, CMO stands for Collections Managent Organization and in Africa, I can pick examples such as MCSK (Kenya), SAMRO and CAPASSO (South Africa), COSOTA (Tanzania), COSON (Nigeria) and in Uganda where we have Uganda Performing Rights Society (UPRS). I know that this name sounds familiar especially with the negative publicity that has been echoed through the media and rants about it's Administration, however that will be another topic for the next time. My focus is to inform you the musician who needs to understand the niche that comes with registering to these organizations that can catapult your career to a higher level by using the knowledge and structures already put in place.
Back to the point, CMOs are bodies that are responsible for licensing music that is Distributed, performed or broadcasted to the public. In simple terms, take PROs to be like tax bodies that collect revenue from businesses and media for the music they play or reproduce to attract customers or earn revenue in some way. So after this body collecting music revenue(also known as Royalties), it distributes this money to musicians attached to it as registered members. Being a registered member is always a prerequisite in order to be able to receive the collected revenue. (Click HERE to know how to register with UPRS, Uganda)
I know you will ask yourself if that is the only reason why you should become a member, though am here to explain some of the other reasons why you should run to register with any local CMO other than just for royalties. You also need to know what other activities they conduct and what kind of rights they administer. There are Organizations that administer compositions while others work with Sound Recordings/ Masters or even one can administer both.
What else do they do?
Before we all reach at the level of giving you Royalties, these organizations conduct activities such as Registration of musical works, assigning identification codes, reciprocal representation, Catalog Administration and licensing. All these are processes they work on to get to collect that revenue which I think you should get to know and use to your advantage to professionalize your career. I will use UPRS for majority of my examples since I have spent much time working with them.
Registration of your works. This comes in many levels but the first is at membership registration. Though in many times the process takes up to a months time to become a member, the organization organizes for you a personal indentification code or what they call IPI/CAE codes. These help to differentiate Musician 'A' and Musician 'B' in the database.
Secondly after becoming a member, the next process will be to register your works (compositions or Sound Recordings) and this helps to create and identify features on your works called Metadata. These will include information on your works such as track titles, composer, author, label, Producer, publisher, track duration, year of release and splits incase the song was created by many contributors. All this information helps then to assign a standard identification code; International Standard Musical Works Code (ISWC) for Compositions while International Standard Recording Code (ISRC) for sound Recordings/Masters.
All these help you to be identified as the rightful owner of these works when they feature on the Global Songs Database. Now you see that you can easily be identified as a musician globally because of the CMO? Some user apps like Shazam use this metadata to present to you the song identifying service.
Catalog Administration. These organizations are able to administer over a vast Catalog starting from that one track you have so far to even tens of thousands (if not Millions) of songs and to time immemorial. When also Administration this catalog they will help to generate music consumer insights and reports which you can acquire at your discretion in order to know your local audience. In what I know atleast UPRS is growing from using Sample techniques of gathering user information to use scientific or technology enabled reporting. Thanks to Fezah Monitoring App that has improved this through the Partnership they had. In another way, you can also play a big role of providing such information through SetList submissions. Since most of you perform your own music, I think you have a task of updating UPRS on what stages you have Performed on so that they follow up on those licenses.
Music Licenses. Every CMO has a task of licensing and Collecting Royalties on behalf of the members. These royalties are generated in many ways including; Blanket Licenses, Performing royalties(radio, hotels, lounges, bars), mechanical Royalties (Distribution and renting of songs, streaming and downloads) and Synchronization Royalties (for videos in adverts, films, Documentaries, TV shows and social media).
Reciprocal Representation. Local CMOs under CISAC (International Confederation of Music Societies) do sign agreement with societies in different countries/territories to represent the other. That means that if UPRS signed a reciprocal agreement with COSON, they will both administer each others catalog in that territory and actually collect Royalties accrued if your music was performed or broadcasted in that country.
To conclude this, local CMOs play a vital role in effectively administering over your musical works despite a few hitches that come with the management and Administration of these organizations.
To my side, I think it is much safer to always first register your works in a CMO of your birth/resident country. I know that tech can now enable us to just skip the local CMO to register with the one from another country but also know your target audience first. In many ways, your songs will get much audience from your local fans and it will mean a lot when you start with your large audience, because that's where CMOs can collect for you much revenue.
Lastly, I wish to educate, inform and skill more musicians and professionals on how we can grow and sustain our ever-growing African Music Industry through a book series "THE MUSICPRENUER" that am writing. Sooner than now wait for my first Book Edition starting with "Understanding Uganda's Industry and Music Markets."
About Author:
David Tayebwa is a Ugandan musician (Guitarist), advocate, music tutor and African Musicprenuer. He is the Founder of Opus Music Holdings Ltd (a music Publishing, Record Label and Music Royalty Financing Enterprise) and a Music Copyright Expert/Music Administration Consultant.
(Visited 1 time, 1 visit today)