11 Things You Need To Do If You Feel Your Partner Is Ignoring You

Men sometimes can be really difficult to understand. They might seem to be very chilled out and simple souls, but their complex behaviours can sometimes leave you wondering what they actually intend to do or want. More so in a relationship, there are times when they just completely shut off or ignore their partner. It could be because of work stress, family problems, mood swings, or just the need for some space. But at the time like this, what should the woman do?
Should she get after him to tell her the reason behind this behavior, should she fight, should she ignore him or do something else? Well, we get you the solution right here, by giving you a list of things you must do if you feel your man is ignoring you at any point in your relationship.
#1. Don't underestimate your 'self-worth'
Whether you are his girlfriend or wife, working or a housewife, never ever think that there is something wrong with you or it must surely be your fault that he is ignoring you. You are strong, true, confident and independent. Never blame yourself and underestimate the awesome person you are.
#2. You create a strong curiosity
If he is not talking to you properly, don't start talking to him or clinging on to him the minute he comes in front of you or calls. Act mysterious and busy. This will create a curiosity in him, wanting to know what is more interesting to you than him.
#3. Come in the good books of his family and close friends
If his family and friends can't stop bragging about you all the time (good things of course), what choice will he have other than coming back to you and behaving well. Also, let him enjoy his moment of 'my choice rocks'!
#4. Get to the spa, get relaxed and get pretty
You need to seem irresistible to him. Go to the spa, get a good facial and massage, wear sexy clothes and put on some makeup. Make him want you even more. He will surely forget the meaning of ignoring, by seeing you this way.
#5. Be a confident girl
Men love women who are confident, well most of them at least! Stand on your decisions, be independent and don't give him a 'girl next door' image of yourself. But at the same time, know the difference between being confident and being bossy.
#6. Be good to him, appreciation won't hurt
Compliment him, appreciate what he does well, ignore what he messes up and be nice to him in general, not because you have to but because you want to.
#7. Just try to talk it out and don't push him too hard
If he is not telling you what is bothering him, just let him be. Pushing him too hard might actually cost you your relation. When the time is right, he will come and confide in you himself and until then, just be calm and patient.
#8. Stop being the nagging woman
You may say you don't, but you actually do. While it is alright sometimes, nagging and cribbing when he is not in the right frame of mind might make him ignore you even more.
#9. Get on to the internet, watch a movie, read a book or do the things you otherwise don't have time for
Basically, in the time you get free from him, instead of stressing about why he is ignoring you, just do all the things you wanted to do for a long time, but just never got the time as you were busy with him.
#10. Facebook to the rescue
Post awesome picture of yourself, post check in's at nice places with your friends along with happy statuses. You being unaffected by his ignoring will want him to get you back more than ever.
#11. Make out
Kiss him passionately, use the power of touch and mesmerise him by your killer moves. There is no way on earth he will be able to ignore you after that.
Source: Bollywoodshaadis.com
(Visited 1,539 time, 1 visit today)
How to Attract the Opposite Sex Effortlessly

Do you want to know how you can become more attractive to the opposite gender and catch all the attention? Grooming tips and great clothes can make you look good, but to be attractive to others around you requires something completely different. Find out here.
Love Yourself
Nothing is as attractive as someone who is completely comfortable with the way they look and who they are. Believe in yourself and that you are worth everything that comes your way.
Think Positive
View the glass as half full. Compliment and remind yourself to do it and you'll see the results in no time. The ability to see the good in everything not only makes your life easier, it gives a spring in your step and adds to your charm.
Indulge Yourself
Forget about your diet at least one day in a week and treat yourself to some creamy Belgian dark chocolate ice cream. Step out from under your umbrella and dance in the rain. The ability to let loose and not worry about the reactions of others makes you shine.
Keep an Active Social Life
We are, as a species, social in nature. We love to be with our fellow humans and take great pleasure in social groups, so throw off those comfy tracks and go out no matter how tired or lazy you feel. Once you get there, the fatigue will vanish, leaving you with a sparkle in your eye. Seeing someone having fun with their friends is hot!
Don't Think About the Competition
It'll just bring you down. People tend to underestimate themselves, which is good in a few ways, but always keep in mind that you have a few traits that no one else has, and this sets you apart.
Smile
It's scientifically proven that smiling and laughing release endorphins that make you feel happier. Not only does it give you a mood booster but it makes you look more approachable and not intimidating in the least, so people will be more open to coming up to you.
Be Mysterious
You have to leave the opposite gender guessing. That's part of the fun and leaves them wanting more.
Be Able to Laugh at Yourself
Whether you have spinach in your teeth or whether you fell down the stairs, if you stop and think about it, it is funny. So laugh and watch how many people warm up to you.
Make "Me Time"
Everyone needs to spend at least half an hour a day by themselves. Meditate, reflect on the day or just relax. It'll do you a world of good. Deal with all your work beforehand and spend some time by yourself before you turn in, so you can fall asleep and wake up with a sunny, happy aura that others would love to share.
You see, being an attractive person with loads of sex appeal is easy, as long as you remember that it is more about yourself, your happy aura and your confidence than anything else.
lovepanky
(Visited 1,539 time, 1 visit today)
The Top 12 Qualities Men Want in a Woman

She is family oriented.
Before I get heat from people who say that not everyone is close to their family and that doesn't make them a bad person or whatever – that goes without saying. Let's keep in mind that I speak from my own perspective and to me, a woman who values both her and my family is important when considering a long term future. I'm sure most men who someday want a family of their own would agree with me.
She is kindhearted.
I'm not quite sure how to explain this one. I feel like just the word 'kindhearted' in itself gets the point across. A woman who is thoughtful. Loving. Caring. Who does small things for you for no other reason that she loves you (as you do for her). A woman who, when she smiles at you, gives you no choice but to smile back. A woman who radiates warmth from her heart. That is a woman a man would want to marry.
She is intellectually challenging.
There is no denying that someone's looks are what initially draws us to them. It's difficult to spot a great personality from across the room. Many a fling was built on physical attraction alone, but how long can it last?
When conversations lack depth or intrigue, we often fill our time with physical activity together, but it is impossible to build a real connection or lasting relationship with someone on that alone. Being intellectually challenging and having the ability to hold real discussions about meaningful topics, will always trump shallow beauty in the long run.
She is understanding and empathetic.
Being compassionate, supportive, and encouraging towards your partner is a huge part of building a successful relationship. Nobody wants a person who is a "Debbie Downer" all the time and will not support them in their endeavors or their times of need. Life is full of challenges that any couple will face together, particularly a married couple. Sometimes men need a shoulder to cry on, too.
She is ambitious.
In addition to supporting and encouraging you pursuing your own goals and dreams, she will have her own as well. A mature woman has a vision for her future and chases after it with voracity.
A mature woman will be someone you can take on the world with. A partner in crime, a teammate in your relationship, and in life.
She is consistent.
Being consistent is a valuable virtue because it lets your partner know that you really are who you are. You haven't sent your "representative" to get to know them during the first couple of months of dating, but then suddenly transform once they've committed themselves to you.
To clarify the point, think of consistency as the opposite of volatility. If someone is unpredictable and volatile, it's difficult to know how they will be acting towards you on a certain day, and that gets old no matter how aesthetically pleasing she is.
She is willing to put in effort for you.
I am all about giving in relationships. I believe seeing your significant other happy should also make you happy – but it is important to understand that it goes both ways.
Her putting in effort doesn't have to be much. It can be something as simple as slipping the waiter her debit card to pay for dinner. It's no secret that sometimes the romance wears off of longer term relationships, but you shouldn't let it – and neither should she.
If a woman continues to do what she knows attracted you in the first place, even after she got you a long time ago, it shows she cares about keeping you around.
Side note: Equally as important is to make sure both teammates always show the other their appreciation for this effort. Feeling taken for granted can easily lead to resentment and other negative results in a relationship.
She holds similar values as you.
This is often an extension of the family-oriented point in the beginning, because many times our value system comes from our upbringing. The things we find important (or not), the things we believe in strongly (or not), the way we treat others, and ourselves. It doesn't matter how attracted you are to someone or even how well you get along, if your values don't align, you will always be clashing in the long term.
Physical attractiveness.
Sorry, but it has to be said. The good news is, every man is attracted to a different type of woman and has his own personal tastes. Meaning, I am in no way suggesting a woman has to fit a certain image of 'beauty' in order to be considered 'wife material.' But, as is true for both men and women, there needs to be a physical attraction between two partners to kick off a relationship, which also plays an important part in holding it together.
She is friendly and sociable.
I know, at least for me, I enjoy being social and I love having my girlfriend by my side. So, naturally, we will find ourselves together out at events or even just bumping into people at a restaurant or bar. No man wants to be worried about the attitude his girlfriend or wife is going to give to the friend he is trying to introduce her to. He doesn't want her to turn up her nose or be short with them – it is important that as his teammate in life, she is his teammate in all areas of life.
It is important for a couple to be able to be playful and joke around with each other. It helps lighten the mood, makes extended periods of time together more fun, and laughing together never gets old.
She is loving and affectionate.
This is more of a bonus point. It may not need to be said, because a few of the points above just direct back to someone being loving in general, anyway. But, I think it's important to state just the same.
For me, affection is important. Holding hands, hugs, just being physically close together. It symbolizes a connection. It's a warm, loving feeling, and I would have a hard time building a long-term relationship with a woman who shrugs off your arm when you put it around her or always feels 'separate' from me.
Needless to say, every man likely has a different 'checklist' for what he is looking for in the woman that he would consider potentially making his wife someday, but my instinct tells me one would be hard-pressed to find a guy who didn't agree with the points listed here.
goodmenproject
(Visited 1,539 time, 1 visit today)
What makes a relationship work, according to men who know

Being married can be a tough gig at times, even when you're part of a family which has been divinely selected to rule over the United Kingdom in perpetuity and is worth roughly £65 billion.
So ahead of 'that wedding', we've collected some of the most helpful pieces of wisdom ever shared with Esquire when we've asked the simple question: what makes a relationship work?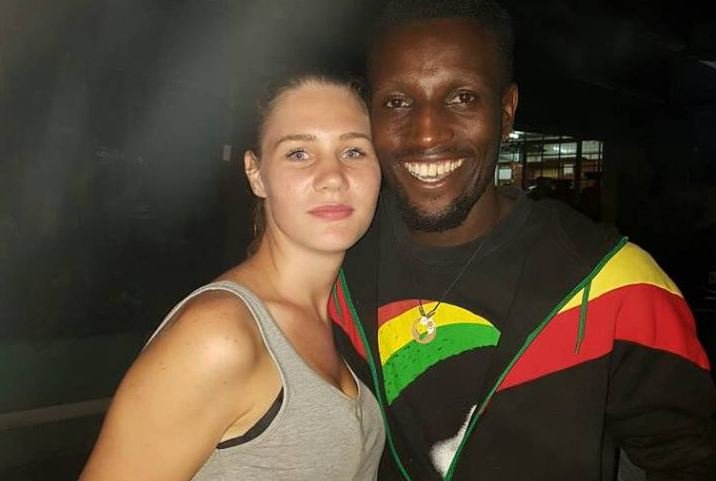 From Oscar winning actors to businessmen to designers, this is what they've had to say. Thank us later, Harry.
"It's about learning to give and take, learning to be interested, and interesting, learning to not just talk about yourself, listening to how their day has been, as well as your day. It's just keeping your feet on the ground. Do the washing up. Wipe the tops. I love that. It's so therapeutic."
"All marriages have ups and downs. If you fight through whatever the problem is and solve it then you'll end up staying together. If you'd rather be bitter and not communicate then you create chasms that can't be crossed."
– Samuel L Jackson
"The reason I think I'm in a happy relationship now is because I manage my expectations. I don't see my partner as a carer or someone who's meant to generate joy for me, but as an independent person that I share my life with. The problem is that we don't recognise the parameters of consumerism. I don't think we see how entrenched it has become in our mentality, that we look at all experience as something we can somehow devour or use."
– Russell Brand
"Honesty is important in a relationship. One time in the early days of us dating, Susanne made us a fish pie, and it was rank. So I told her. It still crops up now and again, 20 years later. But I had to tell her or she'd make it again, I'd still be eating it. That's the problem with people – they tip-toe around each other. She's had haircuts and I've gone: 'Why have you done that? What a horrible style'. And I want her to be honest with me."
– Karl Pilkington
Source: Esquire
(Visited 1,539 time, 1 visit today)